Tulisa denies alleged air incident
X Factor judge Tulisa Contostavlos has taken to Twitter to set the record straight.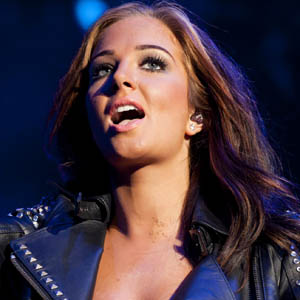 X Factor Tulisa Contostavlos isn't one to bite her tongue. So, when reports surfaced alleging she'd been in an 'altercation' with an air steward, Tulisa didn't hesitate to hop on Twitter to set the record straight.
Reports say she was believed to have been on a flight from London City's Airport when a steward asked her boyfriend and N-Dubz band mate, Fazer, to switch off his phone prior to landing. The Daily Mirror alleged Tulisa got angry with the steward, after they asked Fazer repeatedly to switch off his mobile.
However, Tulisa has set the record straight, Tweeting: "I completely deny that I was abusive to airline staff on our flight to Majorca a few weeks ago. My PA had a disagreement with staff over his mobile phone but I categorically did not swear at the steward. I'm disgusted that someone would make this up about me!"
The Metro quotes her lawyer as saying: "At no stage was our client abusive or foulmouthed towards any member of the crew during the course of the flight."
British Airways, the airline in question, released a statement saying: "British Airways has a record of an incident on a flight from London City to Palma, Majorca, involving two passengers using mobile phones.

"A lady in the party who wasn't using her phone was abusive towards the crew, telling them to leave her friends alone. BA takes a firm stance on the use of mobile phones. The incident was resolved by the cabin crew."
Meanwhile, singer Lily Allen took to Twitter this weekend to heap praise on Tulisa, writing: "I think Tulisa is doing such a good job #xfactor, I love her."

Typical "Don`t you know who I am?" behaviour from jumped up "celebrities".
I would much sooner believe British Airways than her.
They think rules don`t apply to them. The pig- ignorant use of mobile `phones is getting beyond a joke in all walks of life. The`re only used as a toy by most young people. I say put 50% VAT on their price and usage.
I would have hoped that Tulisa would have been more mature than to do something as "diva" as this. I hope for her sake that this is untrue, as she comes across as a decent person on X-Factor. If it is true, then she should be ashamed of herself and very much needs to grow up.
Alan Smith, that is a highly assumptive conclusion you have come to regarding mobile phone usage, one which I'm afraid is incorrect. You are obviously overlooking the integral part they play in business life today (and have always done). 
I shouldn't have to mention that mobile phones are incredibly useful tools and are the solution to many problems, increasingly more so as smartphones mature and evolve in the future. Yes, we must accept that in a variety of cases, using a mobile phone can be inappropriate, rude or even dangerous. Aside from this, you have to accept that today is a day where technology dependency is evident, and it'll only heighten as civilisation becomes more advanced.
To me, your last comment makes you sound like some sort of intersection between a technophobe and someone that likes to spout off stories that start with "You young whippersnappers..." - that's really not a mindset that will work any more. Even if you dislike technology, don't try to (this includes outlandish suggestions such as tax hike) stunt it because you're a fan of mediaevalism. 
Are you sure you want to delete this comment?
Selena Ledgerton

Selena is MSN TV's dedicated reality TV blogger. From X Factor to Big Brother, Selena gives you live updates throughout the shows, plus news and views during the week.
Is the X Factor better now that Simon Cowell's back?
Thanks for being one of the first people to vote. Results will be available soon. Check for results
Yes - he's the main man

42 votes

No - it's still awful

53 votes
Total Responses: 95
Not scientifically valid. Results are updated every minute.