Rylan Clark fame hungry? No question about it!
All the latest news and gossip from The X Factor...
Rylan Clark has been branded 'fame hungry' thanks to three days of madness and mischief. Since getting through to next week's X Factor live show on Sunday night, Nicole Scherzinger's 'entertainer' has celebrated in style... and grabbed as many headlines as possible along the way.

Okay so that's nothing new, but is it getting serious? Are we witnessing a hopeful harlequin with a heart or an acting attention addict that's about to 'do a Cocozza'?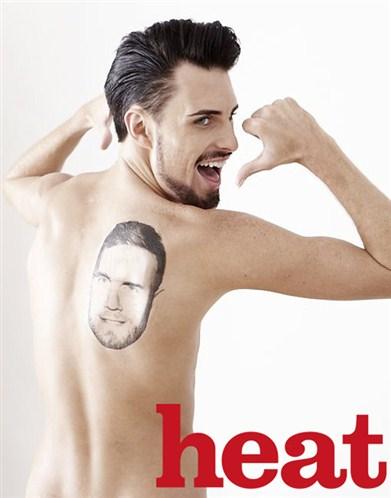 Me? I don't think I'd go as far as Frankie, but I'm convinced that Mr Clark knows exactly what he's doing. He's always ready to cough up some controversial clap-trap and his face is literally everywhere! If he can't be papped, he'll be sure to bang his latest turn on Twitter and let's not forget rolling down the street drunk and being ejected from the X Factor pad (not that old chestnut!) Attention seeking? You better believe it baby!

Let's take a walk down memory lane... (well the last three days).
It all started the moment Rylan made the cut on Sunday night's show. Both mentor Nicole and Rylan were over the moon but it didn't take long for the celebrations to get out of hand.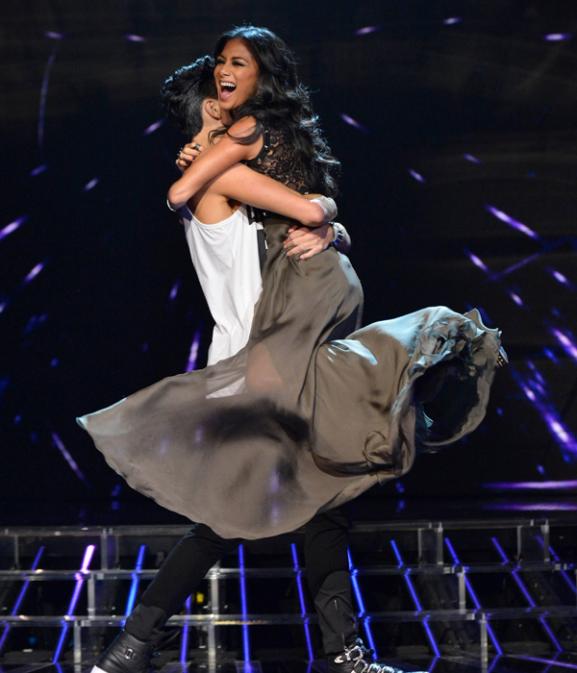 Within hours both Rylan Clark and Lucy Spraggan were papped stumbling out of London's G.A.Y club. Rylan was heard to ask the paparazzi, 'why do you always take pictures?' "This is our life!" Seconds later he fell into a wall, broke into song, told a photographer that he 'was fit' and doubled over next to a parked car. Much as he could speak and was relatively coherent at the time, he then allowed Lucy Spraggan to carry him indoors - there should have been a warning for the amount of flash photography!
Click here for Rylan Clark and Lucy Spraggan's drunken antics!
Rylan admitted in an interview with Heat magazine that mooning later that night was not his finest hour: "Oh god, the hotel were not happy with that kind of press. I can't believe it. I was so drunk, but I said I'd do it and I f**king did it. The X Factor team warned me not to but they love it really."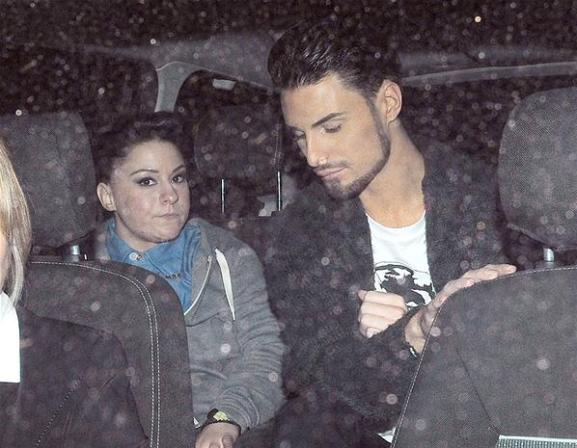 The following morning, both he and Lucy were out on their ear. Temporarily ejected from the Corinthian Hotel and off in a cab with their tails between their legs.
Rylan said: "I'm holed up in a hotel in Wembley for five days. I've got to behave myself." The question is can he? Bookies William Hill are offering odds of 6/1 that he or any of the other contestants are asked to leave due to their behaviour. Should we be concerned about this? Could Rylan be the next Frankie Cocozza?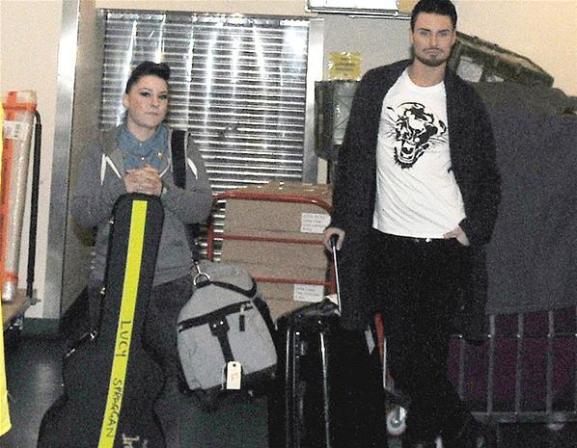 Former
Fame Academy
vocal coach
David Grant
believes it's not about the bad behaviour and all about the attention. He slammed Clark on Sky News yesterday: "You have had in the many years of X Factor many people desperate for success. But this is the first person I have ever seen that would dress up and cross the street to be at the opening of an envelope."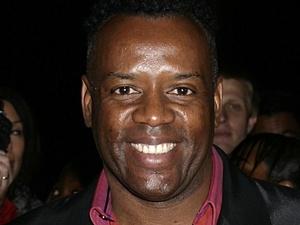 "If you are a circus act and you are somebody that people are going to look at because it is car crash TV and on the other hand you have the really good singer, the really good singer goes home because of the circus act. It's not a talent show."
"Every time you think X Factor is a talent show, something like this happens to remind us that it's not."
I'd have loved to have argued David's point round about now, but frankly thanks to the latest photo I have of Rylan I can't.
Yet to be papped with his new haircut, he thought he'd tweet this subtle snapshot to the world.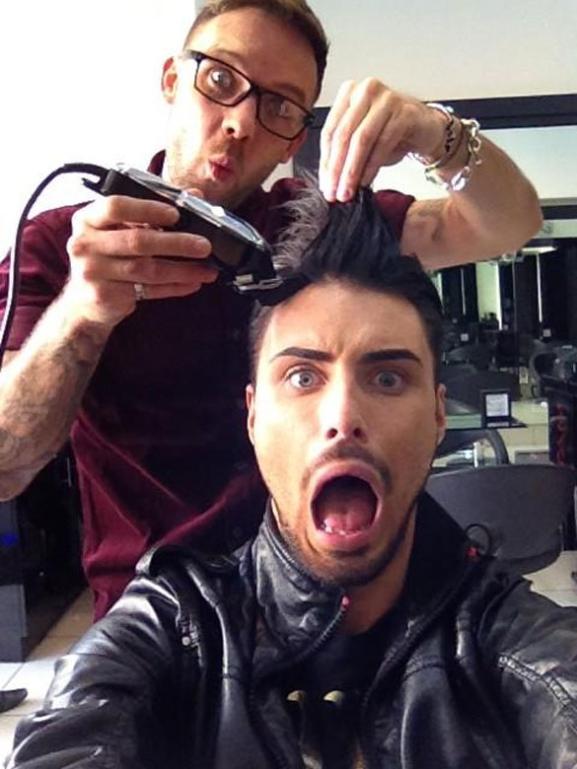 Need I say more? Yes? How about you scroll back up and glance at the tattoo of Gary Bore-low he had inked on his back, just for a photo shoot. The love-hate relationship they have on-screen, not to mention the constant name calling. Grant and Barlow are right, Rylan does love the attention and can't really sing but is that wrong? The public are voting and on their heads be it. Would X Factor be as much fun without him?
Last year, it was
Kitty Brucknell
. The year before,
Wagner
and the year before that,
Jedward
. They all served their purpose, made us cringe and entertained. My only problem is when the real talent leaves before they do and that's not necessarily their fault. At the end of the day it's a public vote and it's down to you lot if they stay longer than they should. I just feel sorry for them when it becomes a witch hunt.
Come on, you know what I mean. The fact is, if they stay in too long their pandering public turn on them and before you can say 'she's behind you!' the panto contracts have disappeared and Butlins stop calling.
Rylan may be the show clown, but he's one smart cookie to ride the media train as he is. Fingers crossed he's clever enough to realise he has to jump before he's ejected, he's a nice guy after all...
This weekend the remaining eleven finalists will be belting out a selection of Club Classics and both JLS and Labrinth will guest star on Sunday night's third live results show. Don't forget to join me! Will Rylan make it through once more?
Click the discussion bar below to leave your views...

Selena x


Don't forget to join me on Saturday night for our live blog... I can't wait to hear what you think of those crucial live performances.

Relive Sunday's X Factor here...
Click here for our MSN Entertainment page on Facebook...

Selena Ledgerton
MSN Reality TV
Selena Ledgerton

Selena is MSN TV's dedicated reality TV blogger. From X Factor to Big Brother, Selena gives you live updates throughout the shows, plus news and views during the week.
Are you shocked Made In Chelsea won a Bafta?
Thanks for being one of the first people to vote. Results will be available soon. Check for results
Yes - Made In Chelsea is rubbish

240 votes

No - Made In Chelsea is entertaining

37 votes
Total Responses: 277
Not scientifically valid. Results are updated every minute.