X Factor: Homeless Robbie Hance wows the judges while Danielle Scott curses them
All the latest news and gossip from The X Factor...
Tonight's X Factor saw two acts stand out from the crowd - for very different reasons! Robbie Hance has been homeless for the last 6 years and after popping into the auditions on a whim, the judges couldn't believe their luck. Danielle Scott was rejected by the judges twice and slammed them after falling flat.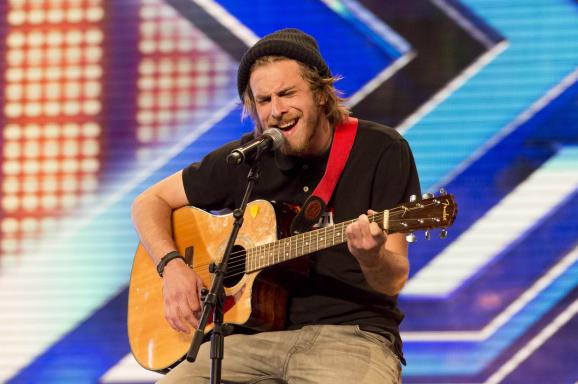 Robbie told his story to the judges: "I've been homeless for about 6 years on and off. 2 nights out of every fortnight like I'll stay somewhere like a friend's house or something but the rest of the time I'm kicking out on the street. I sleep in doorways, alleyways just trying to keep dry. As a child I felt like I was a big burden on people, I grew up in a single mother family, she had three jobs that she used to work every week, it took its toll on her so I was put into care at 13 years old. I never really gelled with any of the families or the people that I got put with so it's easier for me to shut myself away and just put my brain into things I love to do. I have always sung, I don't think there is anything else in my life that I do with such passion. This competition is obviously a big thing, it could add the element of security, it could change my life, definitely."
He performed Coconut Skins by Damien Rice and as the crowd fell silent, the judges knew they were onto something. It was edgy, soulful and emotional - one to remember!
Guest judge Rita Ora: "What do you feel like when you listen of music?"
Robbie: "You know when you listen to music and you listen to that song with the time and the place where you remember that song and it creates the scene? That's what it does."
Rita: "I think you are more than capable of doing that for other people."
Tulisa: "Robbie, I am really glad that you came today. You look like someone that has been lost for a while and you lost confidence in your skill and I think you need to realise the potential you have and how good you are."
Louis: "Robbie I think you are a very talented guy but I don't think you have had a break in life and I think you absolutely deserve that."

Gary: "Robbie I think you have got lots of talent and absolutely zero confidence and that is the only thing to work on in my perspective."
Amazing comments from the panel, but can he make it through bootcamp? Click the discussion bar below to leave your views...

Danielle Scott stood out in a different way. After performing
Turning Tables
by Adele the judges were left wanting and branded her performance as 'more of an impersonation'.
Rather than leave it at that, Danielle took it upon herself to beg and pleaded with Gary to let her sing another song. Surprisingly they folded but it wasn't to be.

Barlow raised his hand to stop the music:
"OK, so this time you didn't sound like Jesse J, instead you were out of time, you were very pitchy, there was a lot of flat and sharp notes and the singing was really really below average. "
Louis advised her to come back next year but the hopeful wasn't having it and flew into a rage.
"F*** off these are jokes, this X Factor is jokes. Get this fucking thing off me because I am fuming! I swear down, that, none of that best get shown on telly, none of this, what are you filming me for, stop filming me now, I will never come to X Factor again, never, I'm going on The Voice next time!"

Do you think Danielle could sing?
Were the judges harsh tonight?
Click the discussion bar below to leave your views...
Selena x
Relive tonight's X Factor here...

Don't forget to join me this Saturday and Sunday for our live blog. It's boot camp time!

Selena x
Click here for our MSN Entertainment page on Facebook...

Selena Ledgerton
MSN Reality TV
Selena Ledgerton

Selena is MSN TV's dedicated reality TV blogger. From X Factor to Big Brother, Selena gives you live updates throughout the shows, plus news and views during the week.
Are you shocked Made In Chelsea won a Bafta?
Thanks for being one of the first people to vote. Results will be available soon. Check for results
Yes - Made In Chelsea is rubbish

354 votes

No - Made In Chelsea is entertaining

59 votes
Total Responses: 413
Not scientifically valid. Results are updated every minute.