X Factor: Tulisa Contostavlos longs to escape the limelight as 'celebrities are fake'
All the latest news and gossip from The X Factor...
X Factor judge Tulisa Contostavlos has admitted that she regularly fantasises about a life away from showbiz as so many celebrities are 'fake'.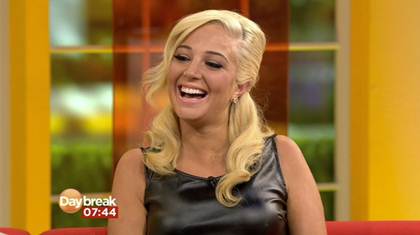 Talking to ITV's Daybreak this morning, the X Factor judge revealed that she'd loved to escape the limelight and live in the country growing vegetables.
Tulisa went on to label celebrity culture as "fake", and vowed to bring the "realness" back into the music industry. "I think the celebrities today, not all of them, but just the whole industry frustrates me because it is so fake. People pretend to be, a lot of the time, what they're not. And I don't know, it's just this whole facade that's being portrayed to the public which isn't the real case. These are all real people and I just find it silly and unnecessary, and so I want to bring that realness to this industry and say well actually, I'm actually a human being, we're not all like that."
The singer confessed she hopes to set the record straight with the release of her autobiography,
Honest
.  "I'm one of those controversial celebs or whatever you want to call it, I am actually a musician, people forget this. But I get judged a lot by the media and the public so I thought you know, I'm happy for people to judge me - I've taken that on board by doing this job, so I'm okay with that - but if you're going to judge me, judge me on the truth, and the truth is in the book."
The music star also revealed she had to pinch herself over teaming-up with US songwriter Diane Warren on her debut solo album. "She's such a legend...She really gets into people's minds and writes from their perspective. One of the best experiences about the whole trip when I was out there recording the album was going into a studio that she's been in for years, since the beginning when she first started. She has this special room that she doesn't let many people into, where she's written all of her music, and she took me into this room and it's literally - you can still see the Whitney Houston I Will Always Love You papers just scattered around. It's just insane."
Appearing later on ITV1's Lorraine, Tulisa performed her new single Live It Up and spoke on how she's more at ease with being a role model to young girls. She said: "I think I'm a lot more relaxed about everything at the minute. Whether it comes to media pressure or anything, I've become a bit laid back and actually not bothered. I'd say over this past year there's been a transition where I've felt like I was a young woman - to now, a woman."
Do you see Tulisa as a role model?
Will you be buying her story and what do you think of her solo work?

Click the discussion bar below to leave your views..
.
Selena x
Don't miss the X Factor live blog every Saturday night! Come leave your views as the show airs...
Selena x
Click here for our MSN Entertainment page on Facebook...

Selena Ledgerton
MSN Reality TV
Courtesy of ITV's Daybreak
Isn't it a shame that Diane Warren, brilliant as she is, didn't write 'I will always love you' ..... Dolly Parton did ...... before this poor vacuous deluded nothing was even born ....... false ?? ... perfect example .... role model ??? .. don't make me laugh ........ please, seriously ....
Are you sure you want to delete this comment?
Selena Ledgerton

Selena is MSN TV's dedicated reality TV blogger. From X Factor to Big Brother, Selena gives you live updates throughout the shows, plus news and views during the week.
Are you shocked Made In Chelsea won a Bafta?
Thanks for being one of the first people to vote. Results will be available soon. Check for results
Yes - Made In Chelsea is rubbish

309 votes

No - Made In Chelsea is entertaining

50 votes
Total Responses: 359
Not scientifically valid. Results are updated every minute.