The Voice: UK goes live as Ruth steals the show again
The first live episode saw Team Will take on Team Tom in a battle of lung power and vocal virtuosity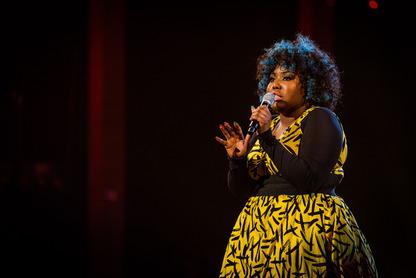 As The Voice: UK went live for the first time, the show kicked off with the four coaches singing "Beautiful Day".  To be honest, it wasn't the best performance of the night, but it was a high tempo way to start the show, and let's face it, you couldn't ever imagine seeing Simon Cowell get up there and do the same.
First up to face the live TV audience was Joelle from Team Will. She sang "I'm Going Down".  "Do you realise you just opened up the biggest show on the TV right  now?" asked Holly. "You nailed it," said Will. "You set the bar high." Jessie thanked Joelle for "an incredible performance".
Next  up was Sam Buttery.  He had a bit of a wobble in rehearsals, but as Tom said "that's what  rehearsals are for." He sang Erasure's "A Little Respect". "That was fabulous and amazing," said Sam of his experience.  "That was a timeless performance," suggested Danny.  However, Will raised concerns about tuning issues, and Jessie was less sure that Sam was up to the job.
Frances Wood was Team Will's second contestant and she sang "Ain't Nobody". Will expressed how proud he was of her. "You came and entertained," he said.  "You really sang that song in your own way," said Jessie. "If you're this good now, I can't wait to see what you're like in a few week's time," was Danny's verdict.
Adam Isaac was up next for Tom and he took on The Foo Fighters' "All My Life".  It was a hard and heavy performance. "It's great to come on Saturday night TV and play a rock song," he said after the performance.  "He's a rock star," claimed Tom. "I know I had to do something different to stand out," explained Adam.  However, Will wasn't completely convinced. "It seemed like you were playing it gently." Adam explained he had chipped a bone during rehearsals!
Jaz Ellington, one of the show's favourites was next up. His performance of Etta James' "At Last" was impressive. "I am so happy to know I am part of a show celebrating voices like yours," was Jessie's view. Tom's assessment was straightforward and to the point – "perfect", he said. "You're an incredibly gifted vocalist," said Danny. "The only worry is that it could get very middle-of-the-road."​
Leanne Mitchell had apparently suffered with her confidence during the week.  She stepped up to sing "Who Knew", and delivered her by now customary vocally powerful performance. "She can sing anything she wants to," said Tom.  "Your pitch suffered a little bit," believed Danny.
Sophie Griffin from Team Will was next up with her rendition of "Titanium".  She got very nervous in rehearsals, but Will was able to reassure her.  "The first thing I noticed was the confidence in someone so young," observed Tom.  "You did everyone back home really proud," was Danny's verdict.
The duo Matt and Sueleen took to the stage for Team Tom, and they turned back time by singing Fleetwood Mac's "Go Your Own Way". "It was a perfect song for two wonderful singers," said Tom.  "I look forward to seeing you again", was Jessie's view.
Tyler James gave us his version of "Higher Love".  "Everything you did was super mega fresh," said Will. "You found the emotion." "I've never heard anyone sing as strong with a falsetto voice," believed Tom.
Ruth Brown, who had knocked out a member of Five Star in the battle round  was Tom's next artiste and the last act of the night. She sang "Get Here " to thunderous applause. "Absolutely mesmerising performance," was Danny;s verdict. "Absolutely astonishing", said the man from The Script.  However, Jessie was actually moved to tears by Ruth's rendition.   It was perhaps the standout performance of the night, and a great way to round off the first live show.
So after show one, surely Ruth, Jaz , Leanne and Tyler are all safe, but who do you think is at risk in Team Tom, and who is going to be the first to leave Will's five-star line-up?  Let us know your thoughts.
 More on The Voice UK
MSN's special with galleries and features
Are you shocked Made In Chelsea won a Bafta?
Thanks for being one of the first people to vote. Results will be available soon. Check for results
Yes - Made In Chelsea is rubbish

229 votes

No - Made In Chelsea is entertaining

37 votes
Total Responses: 266
Not scientifically valid. Results are updated every minute.