Raising the Ruth on the first of The Voice UK's Battle shows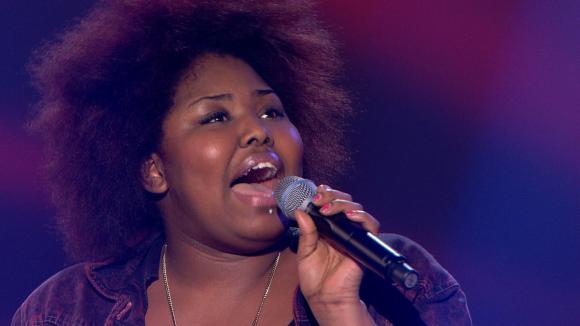 Ding! Ding! Round one of Battle weekend kicked off at 7pm on Saturday and first up was Joelle vs Jenny from Team will . After a coaching session with Dante Santiago, the two ladies took on Chaka Khan's "I'm Every Woman". "You both have such different qualities, but so powerful at the same time," said Jessie. will found himself surprised by the performance, "You blew me away," he said to Joelle and duly picked her over Jenny.
Max vs Bill was Team Danny's first head-to-head of the night and in came Paloma Faith to help Danny get the two lads up to fighting weight. "I've planned an explosion – and it's Max and Bill," he explained as the twosome prepared to step out. "Beggin'" was the song the lads took on and both of them gave it everything they'd got. "You guys were having fun with it, very entertaining," said Jessie.  Tom had "no idea" who Danny should pick.  But Danny was able to make the decision - it was cheerio Bill and well done Max.
Team Tom's first two combatants were next in the ring, which meant Sam vs Aundrea.  Cerys Matthews helped them shape up to take on "A Little Less Conversation".  An uproarious performance followed with Sam and Aundrea shaking everything they had. "Such personality as well as vocals," said Jessie. "You did that song more than justice," believed Tom. After some deliberation, the Welsh legend went with Sam, who was more than a little delighted.
Team Jessie's first bout saw Kirsten take on Toni in a battle of the power voices. "Get into the words of what you're singing", was the advice of special guest coach Ana Matronic. The two tussled via Aretha Franklin's "Think". It was an amazing performance that drew the audience to their feet. "You're fantastic," said Tom. "You sing like Ninja assassin singers," was will's view. Jessie claimed she could see that music was in Toni's heart. "Don't cry because I'll cry" warned Jessie before choosing the ex-Opportunity Knocks contestant. "That was TV history" was the coach's view of Toni's performance.
Vince v Bo was Team Danny's next match up. The two sang "With or Without You" and their voices blended beautifully together. Will thought watching Bo was like "watching a Grammy performance".  "It sounded like you should sing together," was Tom's view. Danny had to think long and hard before putting Bo into the live shows.
Tyler vs Heshima was Team will's second contest of the night. However, will's song choice didn't appeal to either man. Heshima was particularly unhappy, "I'm a big boy, I can talk," he stated. The song in question was "Yeah 3x", and the two lads gave it their best shot. "Amazing vocals", was Jessie's view. "This song was a curveball," admitted will before selecting Tyler.
Vince vs Jessica was Jessie's next eliminator. The two had delivered very original interpretations in their initial auditions, but gelled almost immediately. "It's hard to be competitive against someone you love", said Vince, Jessie's response? "You need to bring it dot com!" They competed on "We Found Love". "You picked two crackers there," Tom said to Jessie. "If I had to pick between the two, Vince would be the one for me". "This is tough", said Jessie.  But her vote went to Vince, who was a little overcome at the result.
Team will's next bout saw Jay v Jaz.  Jaz expressed concern about a developing chest infection, but got short shrift from will. The two performed "I Heard it Through the Grapevine" and received a standing ovation from the audience and the coaches.  "Television is not ready for the talent on this show," believed Jessie. "This is what The Voice is about," said Danny.  "You owned the stage," said will to Jay, before pronouncing him "better than Justin Timberlake".  But he went for Jaz – "you've got soul in a bowl," proclaimed will.
In the final bout, Deniece from Five Star faced off against Ruth, and there were tears in rehearsal as the song reminded Ruth of her late father.  "Very touching," said Tom. The two competed over Alicia Key's "No One". "That was amazing," said Danny, "in that two-and-a-half minutes I heard every note every created by music." "You feel the soul from both of them," explained Tom.  He went for Ruth and the young singer dropped to her knees in delight, bring this edition to a very memorable ending.
Are you sure you want to delete this comment?
Are you shocked Made In Chelsea won a Bafta?
Thanks for being one of the first people to vote. Results will be available soon. Check for results
Yes - Made In Chelsea is rubbish

373 votes

No - Made In Chelsea is entertaining

62 votes
Total Responses: 435
Not scientifically valid. Results are updated every minute.