The Voice:UK Live final - It's a Leanneslide!
Victory for Team Tom as red hot favourite, Bo is beaten to the title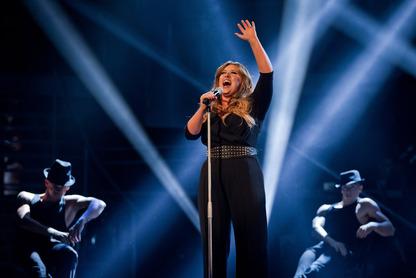 So it all came down to this.  Four artistes, four coaches - one winner.  The Voice: UK final night started off with red hot favourite Bo Bruce tackling 'Nothing Compares 2 U'. "I get shivers and goose bumps," said Danny of Bo's performance. "I know your mother is really proud, as am I - and the rest of the UK", he concluded.  "I want to express to you that I am so happy that a unique voice like yours is being heard", added Jessie.  Tom was moved by Bo's ability as a "storyteller".
Next up was Leanne Mitchell with 'It's A Man, Man, Man's World'. "What you see is what you get," said Tom of Leanne. "I think people have warmed to her and her fantastic voice." Danny described her performance as "breathtaking". "There's no stopping you," said Jessie.
Tyler James was third out and covered Michael Jackson's 'I'll Be There'. "You sang it wonderfully. You're a gentleman and are kind," said Will. Jessie reminded Tyler of their outstanding dinner date, and then described his performance as "so impressive.  You were dueting with yourself!". "When Tyler sings you can feel him putting his whole life in it," stated Tom.
Last up out of the four finalist was, of course, Vince Kidd. He took on Jimmy Cliff's 'Many Rivers To Cross'. "There's a famous saying called 'save the best till last'", said Jessie. "When he comes on, he has a lot of confidence.  Vince was a star in his own mind before he even stepped on the stage," said Tom.  Danny praised Vince on his versatility, while Will confessed he'd always been nervous of Vince's ability, "that was dope – I don't know what else to say," was his assessment.
After all four had sung, it was time for each of them to duet with their coach.  First out, Bo and Danny came together to cover Professor Green & Emeli Sande's 'Read All About It'. "She did incredible," said Danny of his co-singer. For her part, Bo was speechless.
The next duet saw Leanne and Sir Tom Jones taking on 'Mama Told Me Not To Come'. "Thank you for singing with me," said Leanne to her coach. "I know I'm going to be on a talk show one day saying 'I remember when I sang with Leanne Mitchell'", said Tom.
Tyler and Will sang 'OMG'. "This is the next guy," said Will about Tyler, before bizarrely claiming that he could river dance better than Danny.
The last duet saw Vince and Jessie singing 'Nobody's Perfect'. "That was an absolute dream," said Vince. "I wanted to find someone with a voice, no gimmicks, just someone who can sing their butt off," said Jessie. She clearly felt it was mission accomplished.
After a performance from Ed Sheeran, it was time to reveal who was going to be the first finalist to leave.  Which meant it we bid farewell to Vince. "It's been a fantastic experience," he said. "I'm ready to go now". "This young gentlemen is an incredible artist," added Jessie.
So with just three left, it was time for Bo, Leanne and Tyler to sing their favourite song from the series. So for Bo, that meant another outing for 'Charlie Brown'. "I'm lost for words, that was such a brilliant performance," said Danny. "You really are a star amongst stars."
Leanne chose 'Run To You', and delivered a very emotional rendition, which caused both Tom and Jessie to shed a tear. "She took that song somewhere else," said Tom. "She knocks me out." Danny described her as "absolutely breathtaking."
Tyler, sensibly avoided another rendition of 'Bohemian Rhapsody', in favour of "Higher Love". "This has been just the most amazing experience, you've made me a happy person," said Tyler.
Just before the final decision, there was time for an extraordinary intra-coach mash up as Jessie, Will, Tom and Danny took to the stage to sing each other's songs. 
But when the result came it was all about Leanne. Having grown as a performer over the weeks, she had blossomed at just the right time. "You deserve it," said Tom emphatically. "It gives me confidence there is justice in the world."
And with Leanne pretty much speechless, that was it.  In the end a shock result, perhaps (Bo had been the bookies' favourite), but do you think the right person won?  Let us know in the comments below – see you next year!
More on The Voice UK
MSN's special with galleries and features
Follow our live tweets for The Voice UK
Are you shocked Made In Chelsea won a Bafta?
Thanks for being one of the first people to vote. Results will be available soon. Check for results
Yes - Made In Chelsea is rubbish

210 votes

No - Made In Chelsea is entertaining

33 votes
Total Responses: 243
Not scientifically valid. Results are updated every minute.