The Voice: UK - Teams Will and Tom slim down for the semi-finals
Tyler, Jaz, Ruth and Leanne make it through to the next round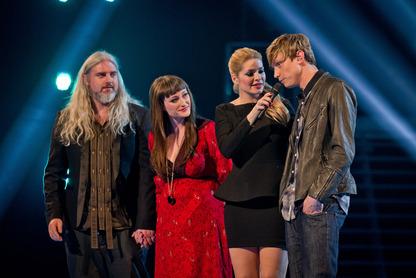 It was high stakes Sunday as Will and Tom had to cut their respective teams in half.  That meant that only one act from each quartet could be given safe passage through by the audience's votes. For Team Tom, rather unsurprisingly Ruth Brown was saved by the viewers, leaving Tom having to decide who out of Matt & Sueleen, Adam and Leanne he should save.
As Team Will's foursome lined up, it was Jaz who was safely put through by the viewer vote – again no real surprise there. So the task for Will was clear – he could save only one out of Tyler, Frances and Joelle.
Tom struggled with his decision. "You must take this as an experience and go away stronger," he said to the three, and then chose to save Leanne. Adam graciously expressed the view that Tom had made the right choice. Matt & Sueleen reflected upon their time on the show, "This has meant so much," they said, " it has been such a positive experience" – but it was time for them to leave.
"Frances you knocked it out of the box, Joelle you were powerful, but struggled on performance. Tyler – great, smooth control, Mr Cool." Will said of his three acts.  However, in his mind  he was now preparing for battle, and so needed someone who "could deal with any scenario". For Will that meant he had to pick Tyler.  Joelle said her experience had been "an absolute blessing." Frances was a little choked up, but was able to reflect on the good times she'd had.
So with Tyler and Jaz through to the semi-final for Team Will, and Ruth and Leanne through for Team Will, the spotlight falls on Teams Danny and Jessie.  Did the right people go tonight?  Who will leave the competition next weekend?  Let us know your thoughts, by leaving a comment below.
More on The Voice UK
MSN's special with galleries and features
Are you sure you want to delete this comment?
Are you shocked Made In Chelsea won a Bafta?
Thanks for being one of the first people to vote. Results will be available soon. Check for results
Yes - Made In Chelsea is rubbish

353 votes

No - Made In Chelsea is entertaining

59 votes
Total Responses: 412
Not scientifically valid. Results are updated every minute.