Battle Rounds: too difficult to choose on tonight's The Voice UK
News and gossip from The Voice UK
The Voice: UK came to Sunday nights for the first time and it was contrasting fortunes for the show's two duos.  However, more on that later.  The opening bout saw Welsh builder David take on Cassius with a rendition of Michael Jackson's "Beat It". "That was a fantastic battle," said will, but it was a tussle from Team Jessie, and the decision was down to her. "I live for this," said Jessie, before giving the nod to Cassius.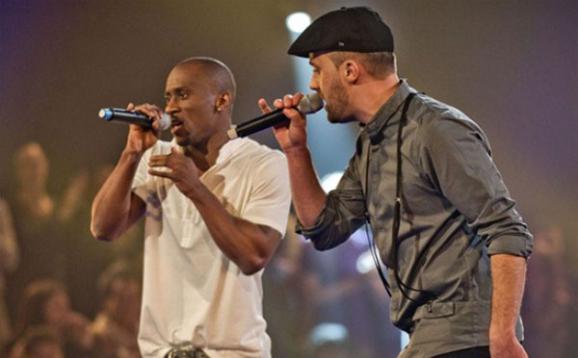 Next up was Grandma Barbara versus Leanne for Team Tom.  Two women with powerful voices, the song Tom picked for them was the lung-busting "Edge of Glory", turning this into the battle of the belters. "Barbara I thought you brought the house down," said Danny. "But if it was my decision I would probably tip Leanne." Tom claimed "this was the hardest thing I've ever done," before heeding Danny's advice and handing victory to Leanne.
Frances vs Kate was will's first team-up for the evening.  In rehearsals, both girls struggled, but their version of "Ironic", pleased the coaches. "When you guys sang in unison, I couldn't tell if it was a battle or a duet," said Jessie. "Vocally I think you are on par with each other".  However, will was able to split the difference and Frances made it through.
Aleks v Emmy J for Team Danny was our next match up and "Broken Strings" was the tune.  Aleks was nervous throughout the rehearsals. "You both seemed a little reserved to me," was Tom's observation.  Danny decided he had more he could give to Aleks, so Emmy lost out.
Ruth Ann vs Ben fought over "I Wanna Dance With Somebody".  It was a brief performance, but one that saw Ruth Ann win out over the internet sensation Ben. The decision was described by Danny as a "shock".
Ever onwards, Matt and Sueleen vs Lindsey saw the series' first two-v-one tussle.  "We got the Wild West – it was brilliant," was Danny's verdict. Jessie felt Lindsey "held her own" against the twosome. However, it was Tom's decision.  "Lindsey you have a unique sounding voice," he said but Mr Jones went with Matt and Sueleen, and the became the only twosome to make it to the live shows.
Murray took on Cheerleader Hannah in Team Danny's next bout.  "If this isn't what you do there's no point you being here," warned Danny before the twosome took to the stage to perform "Kids". "You've done Danny proud," believed in her Jessie post-performance appraisal.  Danny went for Hannah, much to no one's surprise.
Team Jessie's next match up saw Becky take on the duo Indie and Pixie.  The rehearsal process wasn't smooth sailing, as the singing twosome felt they weren't getting anything substantial to sing. This led to a little bit of tension between the three, as they took on the Beyonce song "Irreplaceable". "I was looking for some individuality," said Danny to Indie and Pixie.  He believed Becky "smashed it," but will believed that the twosome deserved Jessie's vote.  "I was seriously tough on you guys," said Jessie and put Becky through.
Team Tom was next up and it was Adam vs Denise. They sang "Use Somebody". Danny remembered Adam's nerves from the blind audition, "but you're owning it now," he said.  Tom agreed and Adam booked his place in the live rounds.
J Marie vs Sophie saw a powerhouse compete against a far less experienced performer, but in rehearsals Sophie held her own. They sang "Firework". The 17-year-old Sophie impressed Jessie.  But Tom's vote was for J Marie - as was Danny's. However, this was a Team will bout. "Sophie I forgot you were 17, and J Marie Cooper – super duper," said will.  He found the decision almost impossible to make, but went for Sophie after much agonising.
The night's final match-up saw Team Danny's David and John James come together to compete. It was another battle of youth versus experience. The two fellas sang "Dakota" and gave perhaps the best performance of the night. "John James you have what I came on the show looking for," explained Danny, who found picking a winner extremely difficult.  He picked David in the end and with that the Battle weekend was over.  Bring on the live shows!
More on The Voice UK
MSN's special with galleries and features
Are you sure you want to delete this comment?
Are you shocked Made In Chelsea won a Bafta?
Thanks for being one of the first people to vote. Results will be available soon. Check for results
Yes - Made In Chelsea is rubbish

355 votes

No - Made In Chelsea is entertaining

60 votes
Total Responses: 415
Not scientifically valid. Results are updated every minute.