The Voice: UK live – semi final night!
With just eight acts left, four have to go by the end of the weekend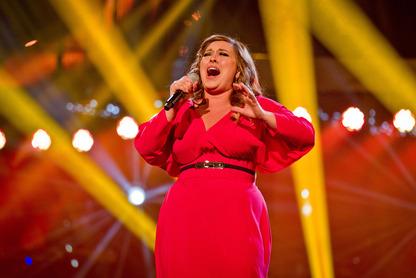 Kicking proceedings off on tonight's live show was Ruth Brown from Team Tom.  She gave us her rendition of "The Voice Within". It was a torrid rendition, with tears from the singer at the end. "Incredibly emotional performance," said Danny. "Your voice is one the UK really can't live without." Will declared Ruth was "super, super dope". "I can't wait to come out to your sell-out shows at Wembley," Jessie proclaimed.
Second up from Team Jessie was Vince Kidd. He gave us his own unique take on Amy Winehouse's "Back To Black"."You've got to be very brave to take on a song like that," said Tom. "It was the right choice to make and you did a great job". Danny appreciated the fact that, for once, Vince "sang the song straight." "Vince is an artist," said Jessie. "I'm just sitting here as an artist working with a fellow artist."
First for Team Danny was Max Milner with "Every Breath You Take". Will had to clear his throat before pronoucing, "The song selection was great, but the arrangement was exactly like The Police, so in my mind I wanted to hear Sting sing it.  There was one note where Sting goes falsetto, but you didn't." All in all, Will wasn't impressed.  "Are you watching the same thing?" asked Danny. Jessie felt Max had played it too "safe for the semi-final." Tom agreed that Max's version was too close to the original. Although he did point out that Max "did sing it really, really well." Danny was even more effusive. "I thought it was amazing."
Jaz Ellington was the first act from Team Will.  He took on "Let It Be". Jessie felt Jaz suffered from pitch issues at the beginning of the performance. "I really enjoyed it," said Tom. "I've heard a lot of people sing that song, but Jaz made it his own." "It was a very inspirational performance," added Danny. However, this was perhaps the first night that Jaz had failed to totally dominate proceedings.
Team Tom's Leanne Mitchell (who Tom saved last week) was next on stage with the Whitney Houston song, "Run To You". She got a standing ovation from the coaches. "Every hair on my head and body is standing on end," said Danny. "I felt you've been in the shadow of Ruth Brown, but tonight you might have eclipsed her." Will gave her performance a lot of "dope"."She's bearing her soul more, and taking more chances.  I thought that was a fantastic performance," concluded Tom, and indeed it was – perhaps the very best of the night.
Becky Hill was next up from Jessie's team.  Given the struggles she had last week, she needed to turn in a strong performance of Corinne Bailey Rae's "Like A Star", and it was certainly very different to her previous numbers. "You surprised me tonight," said Tom, "you have a wonderful tone to your voice.  I loved it."  Danny concurred, "my only critique would be song choice, I would have picked a song everyone knows." Jessie's defence was the she had picked the song, because she wanted Becky "to just chill out".
The penultimate act of the night was Bo Bruce with "Charlie Brown". "You really stepped it up," said Will of Bo's performance. "Every single moment was thought out. It looks like you guys are really putting in work." Jessie agreed. "I love your voice" was her simple message. "I believe you are the most individual artist in the whole show," said Danny.
The final act of the night, also gave us perhaps the most ambitious song choice of the series so far. Tyler James took on Queen's seminal "Bohemian Rhapsody". Jessie thought Tyler "did a great job of that song, it's like five songs in one." Tom had nothing but praise for Tyler's falsetto notes, "they are as strong as his full voice." Danny felt that Tyler was "being the front man that I know you are."
A high energy, albeit mimed performance from Cheryl (no surname required), brought the live show to a suitably colourful conclusion. "Don't forget why you came on the show in the first place," was Cheryl's advice to the artists, "just live your dream!"
However, four of tonight's acts are about to experience a cold awakening.  Who do you think is going to make it to the final?  And who will be the eventual winner?  Let us know in the comments below.
More on The Voice UK
MSN's special with galleries and features
Follow our live tweets for The Voice UK
Are you sure you want to delete this comment?
Are you shocked Made In Chelsea won a Bafta?
Thanks for being one of the first people to vote. Results will be available soon. Check for results
Yes - Made In Chelsea is rubbish

213 votes

No - Made In Chelsea is entertaining

35 votes
Total Responses: 248
Not scientifically valid. Results are updated every minute.