The Voice UK live: Bo Bruce blows the other acts away
Some good and some not so good performances as the spotlight turns on Teams Danny and Jessie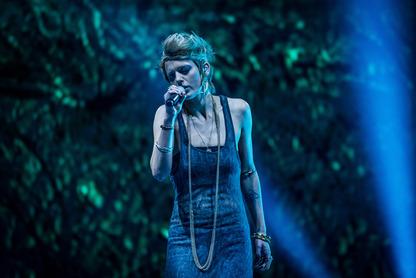 It was week two of The Voice: UK live and this time round it was Teams Danny and Jessie under the spotlight. First up tonight for Jessie was Toni Warne singing "Proud Mary". She turned in a gutsy performance. "What a way to start the show," proclaimed Holly. "I am so happy people are hearing more of your voice," said Jessie. Will believed that Toni was "zoom! You went a couple of miles down the road and then it was – like turbo boots! It was out of this world!"
For Team Danny, first up to bat was Max Milner singing "Free Fallin'". Danny noticed that Max's guitar string went out of tune, but that didn't matter. Max "knows exactly what he wants to be – he just killed it," proclaimed the man from The Script.
Next up was Ruth-Ann St. Luce singing Cheryl Cole's "Promise This". As the coaches picked up, her performance was a little off-key. "That wasn't perfect," admitted Jessie. Danny's suggestion on how Ruth-Ann could solve her pitch problem was to "try something a little up tempo next time," – assuming there is a next time of course!
Hannah Berney from Danny's team sang "Cry Me A River".  "My heart is pounding so hard, I am so proud," he said. However Jessie thought "there was too much going on.  I want to hear you sing", before adding that Hannah's voice was "flawless".
Vince Kidd was next for Team Jessie.  He picked Elvis' "Always On My Mind". "He produced that by himself," explained Jessie – "you're such an artist!" Tom reminisced about Presley. "Elvis used to make a song his own", he said to Vince, "and you've done exactly that." Will's view was pretty much summed up in one (invented) word – "Wowsers!"
Aleks Josh was Danny's next act and he also went retro with "Dream a Little Dream of Me" sung in a swing style. Danny was hugely proud of the 17-year old, believing he'd found his identity with the performance.  He was followed by Cassius Henry, who took on "Paradise". "I sat back and enjoyed you becoming the artist you deserve to be," said Jessie.  "I was expecting more moving around – a little bit pitchy in places," was Danny's assessment.
David Julien gave us his version of The Temper Trap's "Sweet Disposition". "I am the proudest man on Earth", was Danny's view of his charge. "You made that song your own," was Tom's view, after compliment Danny's curly hair. Becky Hill sang "Good Luck" for Team Jessie. "I love this girl's spirit," said Tom. "You're a modern version of Janis Joplin – you have that fire."
The final act of the night was Bo Bruce, singing Kate Bush's "Running Up That Hill". The song had a particular emotional resonance for her and that came out in her performance. "The reason I come on The Voice is to find someone like you," said Danny. "What a wonderful ending to the show," Jessie believed. And indeed it was, with Bo turning in the best performance of the night. 
With two acts to go tomorrow, there were definite winners and losers this week, but who do you think will fall at the first hurdle for Teams Danny and Jessie?  And what did you make of the news that next week Will and Tom will be taking to the stage?  Leave us your comments below!
More on The Voice UK
MSN's special with galleries and features
Are you sure you want to delete this comment?
Are you shocked Made In Chelsea won a Bafta?
Thanks for being one of the first people to vote. Results will be available soon. Check for results
Yes - Made In Chelsea is rubbish

259 votes

No - Made In Chelsea is entertaining

38 votes
Total Responses: 297
Not scientifically valid. Results are updated every minute.