More outstanding talent and a friend of Amy's grace The Voice UK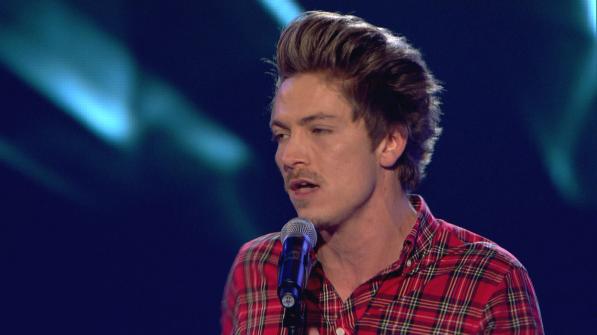 First out of the blocks tonight was R&B specialist Joelle Moses.  She attracted interest from all four coaches, and for good reason. "Within the first couple of bars I was sold," said Danny, and then promised he and Joelle would have great chemistry.  "As a female to female", said Jessie, "I would like you in my team." In the end though, Joelle went for "Mr Persuasive" will.i.am.
It wasn't all plain sailing though, and third out was Allyson Brown, who'd apparently had some success in the MOBO Awards back in the 1990s. However, she struggled to catch the ear of the coaches, and was tonight's first victim of a total abstention of seat swivel.  "You have a great voice," said Tom, and Danny reinforced the point. "I didn't turn around, because I wish Jessie would, becauseshe has so much knowledge," said will.  Which left Jessie admitting, "I should have pressed my button".  But alas for Allyson, she didn't.
Leanne Mitchell fared better with her version of "If I Were A Boy", as Tom and Danny both turned around at the same time. "I feel you can handle a wide variety of material," Tom said.  Danny claimed he would be "blessed" if Leanne joined Team Danny, but she went for Mr Jones instead.
Cassius Henry, who apparently had tasted some chart success in the past before a family tragedy derailed his career, gave a soulful performance, but had to work to get Danny and Jessie to press their buttons.  "This could be a big second break for you," claimed Danny. will.i.am muscled in to claim that both Danny and Jessie were "awesome", as the two coaches bickered over who should mentor Cassius, the singer milked the moment, before ultimately going for Jessie, who then proclaimed to the vanquished Danny  "In your face!"
Later in the show, Cris Grixti sang "Forget You", but the coaches somehow managed to forget to press their buttons, and we had tonight's second wipe out. As ever the coaches were gracious, "I thought it was good," said Tom, "I was probably conceived to one of your songs," replied Chris.
Alys Williams, who covered "Someone Like You" (a bit of a talent show standard) ,also failed to attract any interest. "I think your voice is amazing," said will.i.am. "I didn't turn around because I want to pack my team with diversity".
Perhaps the night's most emotional performance came from friend of Amy Winehouse, Tyler James. His vocal tones took their time to warm up the coaches, and only at the last moment did will.i.am hit his button. "You're awesome", claimed the coach.  "I knew Otis Redding", was Tom's main contribution to this post-song chat.
Last up was Bo Bruce (real name Lady Katherine someone or other), who got the attention of Danny and will.i.am. "That was daring and courageous and you put your style on it," said will to the singer. "I don't know what to do," said Bo when the time came to decide who to align herself with.  But she did, and it was victory for Team Danny.
So we have one more week of blind auditions, and then The Voice: UK will move on to its next stage. Can't wait.
Tyler James looked like he was under the influence of something his eyes were  so far away from the action!  He socialisd with Amy Winehouse so it is highly likely that he has already been well introduced to drink and drugs. OK we are all grown ups and we know it goes on but if he is discovered to have a drug problem then he should be removed from the show same as that **** Frankie what ever his name!
Are you sure you want to delete this comment?
Are you shocked Made In Chelsea won a Bafta?
Thanks for being one of the first people to vote. Results will be available soon. Check for results
Yes - Made In Chelsea is rubbish

338 votes

No - Made In Chelsea is entertaining

56 votes
Total Responses: 394
Not scientifically valid. Results are updated every minute.