Shocks galore as The Voice: UK final line-up is unveiled
Series favourites Jaz and Ruth fail to make it through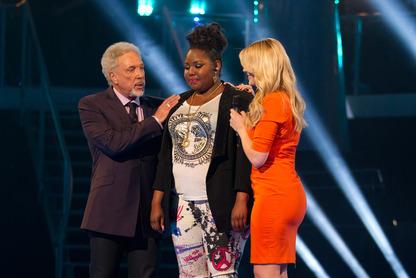 It was a tense and emotional show as the four coaches' two remaining acts went head-to-head for a place in the finals.  But before the big reveal, all eight acts were united for the first time in performance, as they took to the stage together to sing, appropriately, John Farnam's "The Voice".
However, after that we were down to business, and it's fair to say the shocks just kept on coming.
First up, for Team Danny, Bo prevailed and Max was off. "Bo is incredible, I'm so happy for her," said Max. Danny reflected he had, "gained a great friend and am gutted he's going.  This is not the last we've seen of Max Milner."
The next result was Vince v Becky for Team Jessie. It was a victory for Vince. A tearful Becky reflected upon her experience. "I've learned so much, if you want to go for it, you can! I'm so grateful to have been here." "I believed in her from day one," said Jessie. "To be 18 and have this moment, I can't wait to see her blossom into a worldwide superstar."
For Team Tom, hot favourite Ruth was deposed by Leanne. Ruth was clearly devastated by the news. "I've really enjoyed it," was about all she could say. Tom was more eloquent, "Ruth is a great singer and a wonderful person, and she will be a star, I will make sure of that."
The final result was for Team Will.  Another popular act, Jaz, bit the dust as Tyler made it through to the final. "I've learned a lot from Sir Will and all of you guys," said Jaz to the coaches. "It's not every day you get to meet people with a gift like Jaz," was Will's assessment of his fallen semi-finalist.
So eight have become four, and by this time next week, we will have our series winner.  Have the right quartet gone the distance?  Who will prevail?  Let us know what you think in our comments section below.
More on The Voice UK
MSN's special with galleries and features
Are you shocked Made In Chelsea won a Bafta?
Thanks for being one of the first people to vote. Results will be available soon. Check for results
Yes - Made In Chelsea is rubbish

316 votes

No - Made In Chelsea is entertaining

52 votes
Total Responses: 368
Not scientifically valid. Results are updated every minute.