Live Blog - The Treasure Hunt
Who will fake their way to a fortune?
The Live Blog is running now...
As always click F5 to refresh as we go along and click the discussion bar below to leave your views...
Who will face Lord Sugar's firing finger of fate?
SHOW STARTS:
It's 5.30am, and the candidates are called to Tower 42 in the City of London.
Their task is all about wheeling and dealing this week or as Lord S. puts it 'buying and negotiation'. Me, I call it blagging!

There are ten items to buy at the lowest price possible and the team shelling out the least will snatch victory. They have 10 hours... and for each item not found, there'll be a hefty fine.
Sugar takes the teams back to the very beginning, it's boys V girls... The boys Synergy and the girls Apollo.
And remember, Al's not looking for any Steady Eddies or Cautious Carols. You're gonna have to be on your toes guys!
What on earth is Stuart Baggs talking about? He's spewing Brentisms again. "I think it's all about sleep. The person who wins will have got the most sleep, because it's knackering waking up at 5am in the morning". I'm still waiting to see him do 'the dance'.
HERE'S THE LIST:
TRUFFLES
BLUEBOOK
PLAIN SINGLE TIKKA (22CARAT GOLD 6-8GMS)
CHICKEN FEET
SEWING MACHINE
TARTAN
LAPTOP MEMORY
4M KITCHEN WORKTOP
48 WHITE DINNER PLATES
Liz and Jamie are PM's this week, they both have their own focus.
Jamie's the first to lay down the law. "You can't expect the first price, we've got £1500. Start at 70% as that's close to their cost price. Have a story prepared because if you can explain why you're busting his balls for this price, it'll make more sense to him". Blag it and haggle!
Liz is getting organised. "This task is all about finding the item because we don't want to get the penalities. It's about finding the item and negotiating a price. There's no time to shop around".
Oh dear... the boys have made a prize boo boo. They have no idea what a 'bluebook' is and following their research they believe it's an American magazine - It's not.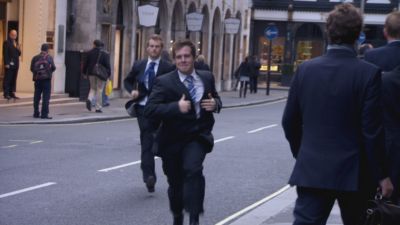 As Synergy waste taime chasing the wrong item, Jo punts for Apollo and asks a friend for a definition. They quickly discover it's another name for 'the knowledge', the London taxi drivers manual.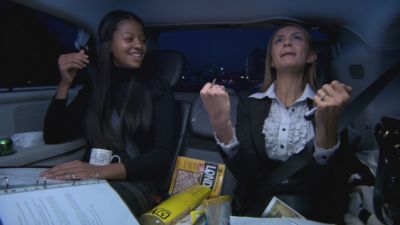 The boys may be struggling with the book but they're ahead of the girls with 'the tikka'.
The girls discover the definition earlier but thanks to Jamie's negotiating skills, he snags the gold at £25 less than the girls. He even drops the price by another five pounds as they shake hands.
Karren commends him. "Jamie has shown that he's got two key talents for negotiation. One, never take no for an answer and two, persistence and determination alone can get you the price you want. He's just proved that very well in the jewellery shop".
We're on to the sewing machine and I have to agree with Jo. She doesn't think Liz is the best negotiator and it's no surprise. She's just asked the vendor 'can we start at 50 and work our way up?' Err... That tells them that you have more cash Liz?
Jamie's back and he's flying with his buying.
He manages to land the same sewingmachine for just £35, nearly half of what the girl's paid.
It seems to be a case of swings and roundabouts tonight.
Hmmm... What Jamie has innegotiating skills, he seems to lack in common sense. He's struggling to find a 4m kitchen worktop - HELLO! B & Q... WICKES... Maybe he's not a DIY kinda guy? The girls ordered it by phone and have already been to collect it.
4 hours left...
Laura's not impressed with Stell's negotiation. She tries to push when buying the tartan but Stella scuppers the deal. "Stella's holding back a bit. She's concerned about being rude but I think to win this you have to be rude".
Laptop memory for the boys, should be £22 and Chris got it for a tenner.
The boys have five items so far and the girls have seven.
Chris and Stuart are just walking the streets searching for tartan (as Karren shakes her head) and when they call Jamie he's still on hold searching for worktops.
You wouldn't think that Jamie was the PM. He's just asked the boys for a quick brainstorm and Chris tells him he was hoping to call someone... Jamie should insist as there's no structure to what they're doing. He just says "fine" and the call ends.
The girls have struck lucky. They manage to find the truffles required but they're not so luck on the price. For just fifty grams they pay a whopping £200.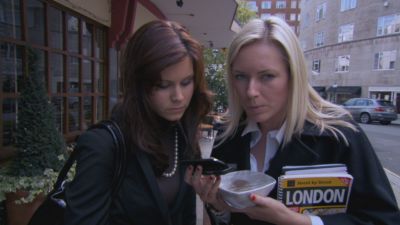 Great negotiating from Chris and Stuart! They manage to land the tartan for just £23. Chris pleads for the best price and blags that it's a gift for his Scottish grandmother. Stuart helps things along by saying they only have £3 in a change when the vendor asks for £25. Well done boys.
They're on a roll! They pass a specialist food store and manage to blag the truffles for just £100. The girls paid double!
In the dying minutes the girls land their plates at a cracking discount, just £120 quid.
Both teams race to their cars and it's off to the boardroom. They're late and it's a £50 fine before they start. 
Stuart and Chris bought five items, Jamie bought just two.
They'll be fined the list price of every item they've missed, plus fifty pounds per item. They've got their fingers crossed that the girls have missed out too - they haven't!
Synergy are gutted, the girls reveal they completed the task and bought all ten items.
THE BOARDROOM
Lord Sugar is not too impressed with the boys. He applauds Stuart and Chris for 'doing their job' but scold Jamie like a schoolboy. "Two items, well the project manager didn't set much of an example... did you?"
Jamie says he's more disappointed than anyone. "I hit a brick wall with the worktop, it was the bane of my life actuallly".
Lord Sugar doesn't want to hear it. "Well it seems to me that you were like headless chickens. The girls sat down and located the items before they went out, they had somewhere to go and knew what prices to expect".
Hmmm... this may all come down to price but the girls paid double for some of their items, could the boys win this thanks totheir negotiating skills?
THE RESULT
THE GIRLS
(INCLUDING FINES) £1094.40
THE BOYS
(INCLUDING OVER £500 FINES) £1020.50
I had a feeling this would happen. The girls paid over the odds and sometimes double. Their haggling let them down. The boys went for 'rude' and came out on top - Jo should have done the work for the girls, she'd have won this.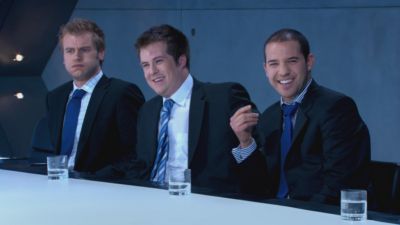 The boys head off to Paris on the Eurostar for their treat while the girls try and figure out what happened. They can't believe it when Lord Sugar tells them they paid double in some cases.
Liz is the first to say that they shouldn't have concentrated on locating ALL the items. They should have concentrated more on sourcing them and pricing.
Alan nods, "that was the problem. You didn't find out how much these items cost, you paid over the odds. For example the sewing machine was £69, the boys got that for £35".
Stella and Laura try to blame Liz for the truffle-kerfuffle.
Stella tries to say that they were told to 'go in and get it' but that's not true. Liz told them both to call with a price before they bought and they didn't. When they couldn't get through to her they just made the deal.
Nick Hewer reveals that Stella knew truffles were £2000 a kilo, so she should have known and done the maths.
Laura throws in her two penneths. She adds that she and Stella didn't gel as negotiators and implies that Stella gave up too easily. "I was trying to go lower and Stella said the price was fine".
When Stella tries to plead her case and points out she's a good seller, Laura disagrees again. "I think you took far too much credit for the numbers in task one, that was down to you and Liz together".
Sir Alan points out that Laura has never had a 'shining moment' during this process. She admits that when she was PM it was a shambles but adds that her CV speaks for itself for her age and she's worked hard, "I've never had to be aggressive".
Liz takes full responsiblity for the pricing cock up. "But I've been one of the top sales people and when I go into a big pitch it's always gone really well".
Liz blames Stella as she was the one who knew the pricing for the truffles but went ahead and bought.
Stella blames Liz. "She was PM and she didn't deliver. She didn't manage us well. She's telling us what a bad job we did now, but on the day we were doing a brilliant job".
And finally Laura blames Stella, "I think Liz made a big effort on the day, you're extremely corporate and that's what everyone has said".
Lord Sugar has heard enough: "Liz, sometimes people who do well in the early stages get a bit complacent. It's a dangerous thing... not realising what the prices should be was a fatal mistake".
"Laura, like you say you are only 22 years old and perhaps therein lies the issue..."
"Stella I don't know it you are made for my organisation. There are allegations of you being a bit wooden and corporate. I'm not sure that I need corporate style people".
Decision made, "Laura, on balance I think we're at the end of the road for you".
Laura asks for a chance to be PM. "I've been putting myself forward for three weeks and haven't been given the chance".
Alan shakes his head, "I think you've had lots of chances. The minute you said £200 you were dead in the water. That's my decision, YOU'RE FIRED!"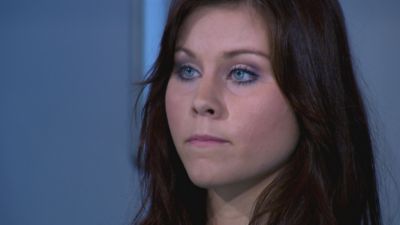 Laura thanks Lord Sugar for the opportunity and the business mogul nods. He addresses Stella and Liz, "you two are only here because of your past performances".
Next week our teams are running a London tour bus company. I'm disappointed if I'm honest as there's only two weeks left. This means we have interview week and the final - Where's QVC week? It's my favourite task?
I love seeing them squirm live on telly!

What a shame :(
See you during the week for all the latest news...


Become a fan of The Apprentice on Facebook...
Become a fan of MSN Reality TV Blogs on Facebook

Selena Ledgerton
MSN Reality TV

Images Courtesy of BBC

I cannot belive it!!
! I hate Stella!! Chris was f***n fit, smart, n he new when to shut his mouth! Stella was totally out of line saying Chris was not ask passionate as she is! Bitch!
 ...
I think the Final should have been between Liz and Chris; it'd be more exciting!
 **** Stella, Chris!! U rule man!!

@Vickster Vicks, this has been driving me crazy too - there were only 9 items featured in the episode bu
****
repeatedly mentioned a list of 10...I even watched it again on iplayer to make sure! Very few people seem to have picked up on the fact that the BBC clearly made a serious gaffe in editing the episode. Selena Ledgerton (
****
ve) has repeated the gaffe, mentioning 10 items but listing 9, because her job is to watch the show and copy down any salient points...oh, wait. And #LuLuLubi, 'QVC week' is where the contestants have to select & sell items on there. If you were a fan of the show, you'd know that.
Are you sure you want to delete this comment?
Selena Ledgerton

Selena is MSN TV's dedicated reality TV blogger. From X Factor to Big Brother, Selena gives you live updates throughout the shows, plus news and views during the week.
Are you shocked Made In Chelsea won a Bafta?
Thanks for being one of the first people to vote. Results will be available soon. Check for results
Yes - Made In Chelsea is rubbish

229 votes

No - Made In Chelsea is entertaining

37 votes
Total Responses: 266
Not scientifically valid. Results are updated every minute.