The Apprentice: Ricky Martin is hired!
One of the most annoying candidates in history turned it around...
Ricky Martin has been hired as Lord Sugar's Apprentice. The recruitment manager beat wine investor Tom Gearing, business development manager Jade Nash and technology entrepreneur Nick Holzherr to claim Lord Sugar's £250,000 investment.
He may have been professional wrestler in his time and yes, he has a showbiz name and claims (annoyingly) to be the 'reflection of perfection' but the 26-year-old beat the odds and impressed the experts to come out on top.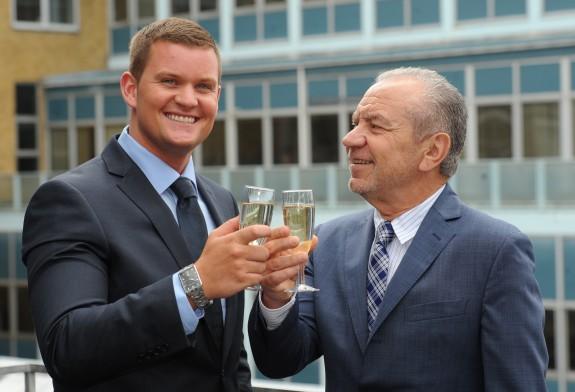 After winning, Ricky beamed: "Lord Sugar and I are going to be a powerful force to reckon with. I can't say I've digested it yet."
"I'm ecstatic. I'm in genuine shock, I'm so so pleased. Tom is incredible at what he does, great competition but I believed in myself, I thought I always I had it in me and I proved it."
As always, Lord Sugar was joined by a panel of experts throughout the interview process. Business troubleshooter Claude Littner delivered his killer questions. Magazine entrepreneur Mike Soutar told it like it was. Chief executive Matthew Riley exposed some hidden truths and infamous business battleaxe Margaret Mountford gave the candidates a grilling.
Ricky took the knock from Lord Sugar's business associates. He was hammered repeatedly for his 'arrogant and foolish' personal statement in which he compared himself to demigod Thor and referred to Lord Sugar as an 'old dog' to whom he'd teach new tricks. 
Fortunately the experts were impressed by Ricky's business plan for a recruitment agency specialising in science and technology. Business guru Claude Littner gushed about the former pro-wrestler stating that his plan was well thought out and an interesting concept. He also admired how the show had humbled Martin.
Ricky said, "When I arrived it was all about the bravado and I said these things to be noticed. I turned up as a showman but as the show went on, I developed as a businessman. I'm not that person anymore."
On The Apprentice: You're Hired Lord Sugar spoke about his decision: "When it starts you know which ones annoy you a bit and Ricky's a classic example. He came in like a bull in a china shop and then grew as time went on."

Sugar added that he wanted to go with a business model that was safe and well thought out. Runner-up Tom Gearing's plan required additional outside investment and that was a risk. Lord Sugar 'has never worked with other people's money' and he didn't intend on starting now.
Do you think the right candidate won?
Click the comment box below to leave your views...
Check out our interview with The Apprentice winner here...
Relive The Apprentice Final here...
Selena x
Become a fan of The Apprentice on Facebook...
Become a fan of MSN Reality TV Blogs on Facebook


Selena Ledgerton
MSN Reality TV
Images courtesy of BBC
Selena Ledgerton

Selena is MSN TV's dedicated reality TV blogger. From X Factor to Big Brother, Selena gives you live updates throughout the shows, plus news and views during the week.
Are you shocked Made In Chelsea won a Bafta?
Thanks for being one of the first people to vote. Results will be available soon. Check for results
Yes - Made In Chelsea is rubbish

190 votes

No - Made In Chelsea is entertaining

32 votes
Total Responses: 222
Not scientifically valid. Results are updated every minute.