In his own words: Russell Grant's Christmas Surprise
Russell Grant updates us on his Strictly activities!
This is a guest post written by celebrity astrologer Russell Grant. Despite being out of the show Russell is still very much part of the fun...

Although I am no longer part of the Saturday night fun and games this has still been a very busy week for me and all the competitors, past and Present in the "Strictly" line up.
IT was wonderful to be invited back for The "Strictly Christmas Special" and for Flavia and me to be announced as 'special guest stars' was just so amazing. It is going to be an essential DON'T MISS in the festive Christmas TV schedule. There is so much skill and dexterity to admire mingled with a few laughs along the way. So don't miss it – you'll love it.
Once again I cannot write the blog without mentioning all the drawings that are flooding in from the four corners of the country. I am surprised and touched by all the youngsters who are taking the time to draw pictures of Flavia and me and then send them to the BBC.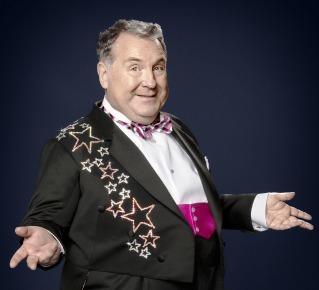 I don't know if this sneezy, chill and coldy-fluey thing is down your way, but I think I might have picked up something nasty while I was down in London. I got home to Wales in the middle of the week, headed for the Lemsip, lit the fire and put the telly on.
One thing is certain the cool, clear, mountain air of Snowdonia will do me a power of good.
Now, what did you think of Saturday's show? It was full of surprise and, of course, the unexpected. I don't think many could have predicted that Holly and Artem would be so far up the leader board after that sizzling, sexy Paso Doble, and maybe quite a few folk were surprised that Jason and Kristina came so far down the board after they produced such a special moment to entrance and enchant us.
Chelsee continues to go from strength to strength although I much prefer Pasha without the green tinge.
With so few couples left in the contest the scoreboard gets shorter and shorter each week so even the very best that any couple can produce means it has to find its place on the board.
And so Robbie and Ola's Quickstep after having reached such a high standard of energetic, entertaining performance and winning so many new friends and fans bow out of Strictly. Of course we shall all be meeting up for the final on December 17th in Blackpool and there's the "Strictly Christmas Special" to look forward too.
I don't know about you, but I think the standard of dancing and performance is getting stratospheric. I know firsthand just how much time, effort, energy, concentration and stamina goes into each of the week's training and performance. I take my hat off to everyone who is pulling all the stops out to make our Saturday night's viewing complete.
And so the dance goes on….
Thanks for being there & KEEP DANCING!
© COPYRIGHT RUSSELL GRANT ASTROLOGY LTD – www.russellgrant.com​
Thanks Russell, we can't wait to see you and Flavia in the Christmas Special either! Hope you feel better soon.

Relive Saturday night's show in pictures with our gallery

Alice Wright

Alice is MSN TV's dedicated Strictly blogger. She will give you live updates throughout the shows, plus news and views during the week.
Are you shocked Made In Chelsea won a Bafta?
Thanks for being one of the first people to vote. Results will be available soon. Check for results
Yes - Made In Chelsea is rubbish

351 votes

No - Made In Chelsea is entertaining

59 votes
Total Responses: 410
Not scientifically valid. Results are updated every minute.