Saturday Night Strictly: It was the Monster Mash
And it was a Graveyard Smash!
It's Fright Night! Television Centre was transformed into a gothic mansion tonight as Strictly Come Dancing celebrated Hallowe'en weekend. In another fun show the dancing pairs all performed routines to spooky themed songs and sported some truly shocking outfits!
After a fun professional routine to Thriller which featured our celebrities getting involved in the action (and Craig of course), a rather off-colour story about
Jerry Hall
and some awful Gangnam Style dancing we were eventually into the competition.
In a fantastically funny opener
Dani Harmer
and
Vincent Simone
performed the Cha Cha to the Scooby Doo theme, complete with orange socks and
Anton Du Beke
in a ghoulish cameo. Bruno called it 'spirited fun' and Len alikened it to a sausage sandwich - but in a good way! They score 27.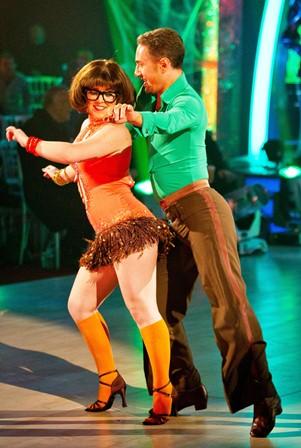 A very different second dance as
Richard Arnold
and
Erin Boag
dance the Paso Doble to O Fortuna next. Full of drama, intensity and machismo the audience loved it but the judges had some technical concerns. Craig said he was 'disappointed' but Darcey admitted Richard had obviously worked very hard and held onto his character all the way through. But they only score 22 which is a shame because I felt this was a real departure for Richard tonight.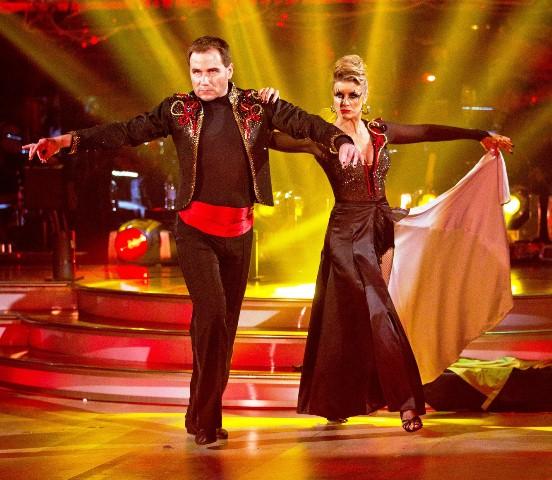 An energetic Charleston was next danced by
Lisa Reilly
and
Robin Windsor
. Heavy on the story with lots of props there seemed to be rather little dancing but it was fun. Craig felt it was 'acted well but danced poorly' which I have to say I agree with! Len and Bruno loved it which meant the judges were split over this pair. They score 26.

Sid Owen
danced a rather tame Cha Cha with
Ola Jordan
next to the theme from Ghostbusters. Darcey wanted a bit more cheekiness from Sid and Len felt it was all to safe and urged him to 'go for it a bit more'. Craig simply described it as a 'Halloween Nightmare'. They only score 17 as Craig offers a very low 2!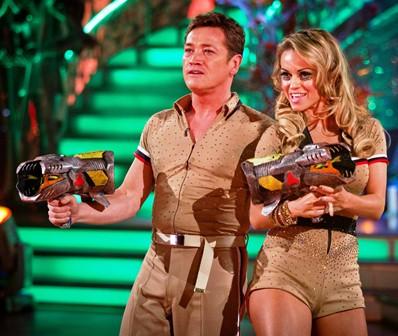 Nicky Byrne
was up next playing the mad scientist in a Tango routine to Weird Science with partner
Karen Hauer
. Not sure the theme really fitted a Tango but it was fun. Len and Bruno both liked it, Craig said that Nicky had to sort his posture out but he also liked it. Darcey felt it was 'all round entertaining' and they score 26.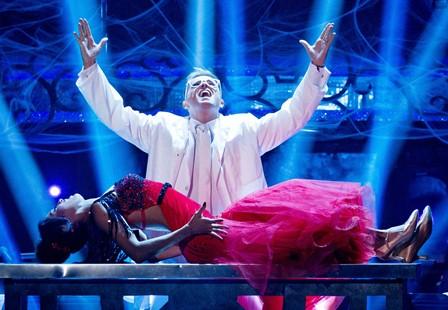 Dancing the American Smooth next was
Fern Britton
with
Artem Chigvintsev
, it was rather slow and sedate and didn't really fit in with the theme of the night sadly. Bruno felt it lacked impact, Darcey wanted her to go for it a bit more. Len suggested that Artem push Fern a bit more as she 'had the how, but needed the wow'. They score 21.
Denise Van Outen
had a great week last week, her and partner
James Jordan
attempted to recreate those good scores tonight dancing a Cha Cha as freaky circus performers. Craig said their timing, energy and spins were brilliant but had some technical advice. Len thought the leg work could have been 'crisper' but they still score 28.
Recovering from being in the bottom two last week
Michael Vaughan
was up next dancing a Quickstep with partner
Natalie Lowe
. And what a comeback it was! A fabulous, light routine that was very well received. Darcey felt he had a 'fabulous topline'. Bruno called it a 'miracle'. Len said was so glad he hadn't gone home! Craig just clapped them and they score 31.
Up next was
Victoria Pendleton
dancing a Tango as a gothic bride with
Brendan Cole
. Not having had a great Strictly experience so far she danced quite confidently tonight. Craig thought the routine was brilliant and Darcey was glad to see 'that fight' back in Victoria calling it the 'Tango of the night'. They score a generous 31.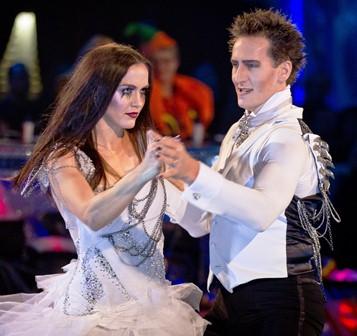 Colin Salmon
danced a Salsa next with Kristina
Rihanoff
to Stevie Wonder's Superstition. A fun, sexy routine which Darcey called 'saucy' and Len said he was very encouraged but did pick up on Colin's mistakes. Not up to their usual standard and very much a comedown after last weeks Hollywood 007 routine. They still score 24.
Penultimate dance of the night was
Louis Smith
dancing a graveyard Tango with
Flavia Cacace
. It was intense and full of great acting. Craig absolutely loved it (despite having an issue with Louis' thumb) and Darcey called it 'spookily good'. Len wanted to watch it again immediately and Bruno called it a 'Tango with bite' and the 'first killer Tango of the season'. They score the first '9' of the series (three of them) and score 35 overall. Amazing!
Finishing the show with a spirited Paso Doble was
Kimberly Walsh
and
Pasha Kovalev
dressed up as the Wolfman! Bruno felt their lines were excellent, and it was beautiful and very well danced. Craig agreed and felt it was punchy! They score a personal best with 31.
The night ends with Louis and Flavia at the top of the leaderboard with Sid and Ola at the bottom again! But who will be leaving the competition for good? Join us back here tomorrow night for the full results.
Thanks to everyone who took part in the live blog, you can read everything back
here
.
Are you sure you want to delete this comment?
Alice Wright

Alice is MSN TV's dedicated Strictly blogger. She will give you live updates throughout the shows, plus news and views during the week.
Are you shocked Made In Chelsea won a Bafta?
Thanks for being one of the first people to vote. Results will be available soon. Check for results
Yes - Made In Chelsea is rubbish

354 votes

No - Made In Chelsea is entertaining

60 votes
Total Responses: 414
Not scientifically valid. Results are updated every minute.