Jive Talking: Saturday Night Strictly In Full
We recap the first real night of the competition
Featuring a mixture of Salsas, Foxtrots, Viennese Waltzes and Jives, tonight was the first real chance for the celebrity contestants to show off what they had learnt so far. And the pressure was on because for the first time the public can vote - which means one couple will be leaving the competition for good this weekend... No one wants to be in the Dance Off and it showed!
Kicking off the show Westlife's
Nicky Byrne
and new girl
Karen Hauer
, after getting a bit of a dressing down for rule breaking last week they were obviously trying hard. Dancing a very modern version of the Cha Cha judge Len felt that it was a bit too 'boyband dancing' for him, but Bruno thought they were going in the right direction despite some technical problems. The greatest insult came from Craig (of course) who described it as 'Zumba'! They only score 18.
Colin Salmon
was up next, with lots of aches and pains, dancing an elegant Viennese Waltz with
Kristina Rihanoff
. Bruno commented on Colin's height (he is very tall) and felt the dance was a bit 'careful', Craig decided that he had a weird 'double flick hand' movement and too much 'rise and fall' but was 'dancing to his height'. The judges obviously like him and offered some very constructive criticism. They score a respectable 24.
Then it was time for a bit of fun as TV's
Dani Harmer
danced an energetic salsa to 'Mama Do The Hump' with partner
Vincent Simone
. It was slightly complicated and clumsy in parts but they were obviously enjoying themselves and the judges did too. Bruno said that Dani had 'blossomed' and Darcey suggested that she had great hips and should use the more. Dani looked thrilled and they scored a brilliant 27.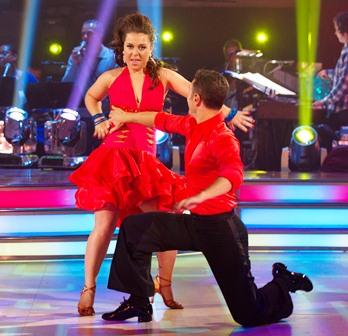 Dancing the second Viennese Waltz of the night was
Fern Britton
and partner
Artem Chigvintsev
, a very stately, beautiful routine to 'Always A Woman'. They were so happy at the end Artem lifted Fern off the ground for a huge hug. Darcey said Fern gave the audience 'such a beautiful feeling' but had some technical advice for her. There were some more comments about 'wafting' but they scored a great 24.
TV's
Richard Arnold
dances the Cha Cha next with
Erin Boag
to the famous B-52s track 'Love Shack'. Hoping to show a bit more personality Richard had donned a very flowery shirt and sported a huge quiff! Bruno called it 'blissfully barmy' and said he enjoyed it despite it being the weirdest Cha Cha he had ever seen. Craig wasn't convinced he wanted to take Erin to a Love Shack - ouch. They only managed a 19!
Trying to put last weeks disappointing performance behind her was
Victoria Pendleton
dancing a Foxtrot with
Brendan Cole
. Len called it 'clean, classy and confident' and said it was a great improvement. But she still didn't look very happy about it. And looked even less so when Craig called her 'rigid', but she is definitely back in the race and scored much better than last week with 26.
Cricketer
Michael Vaughan
was next dancing a fun jive with
Natalie Lowe
. They were all over the floor, had props and Natalie was in hot pants, it was certainly worth watching! Bruno said the timing was 'so bad it was good', Craig called it 'bizarre' and that Michael looked like he was 'busting for a wee'. There really was a lot going on (and 'mostly bad' according to Len). Bruce declared it 'my favourite' which is never a good sign... They only manage 15.
Darcey's favourite
Louis Smith
was dancing next, a Viennese Waltz with
Flavia Cacace
, and very beautiful it was too. Darcey herself said she wanted to see more of an 'emotional connection' but loved it. Len said it was the best dance of the series so far and listed the technical achievements, Bruno agreed calling it the 'Valentine card brought to life' Gorgeous! They pull the first 30 of the series.
Overcoming her mild whiplash injury
Denise Van Outen
performs a spectacularly energetic Jive to 'Tutti Frutti' with
James Jordan
. There was a standing ovation! Darcey said there was plenty of bounce and kicks, Len declared it was 'his cup of tea' and that he was delighted. Craig said one word FABULOUS! and got a kiss from James for it. Highest score of the night with 32. They also won our online poll for best dance of the night with 54% of the votes - congratulations!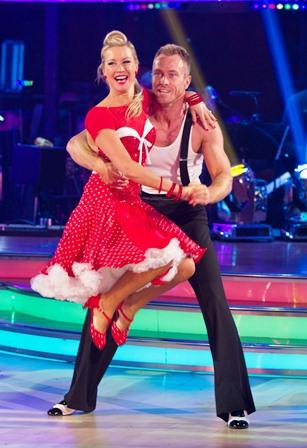 Johnny Ball
attempted a Foxtrot next with new partner
Iveta Lukosiute
, they had terrible comments last week so really pulled out the stops tonight. He looked rather scared at times I thought. Len liked their movement around they floor and Bruno felt Johnny hit 'some very nice lines' and it was much better than last week. Craig had some technical worries about the posture but felt it was a 'decent effort' and they scored 20. Well done Johnny!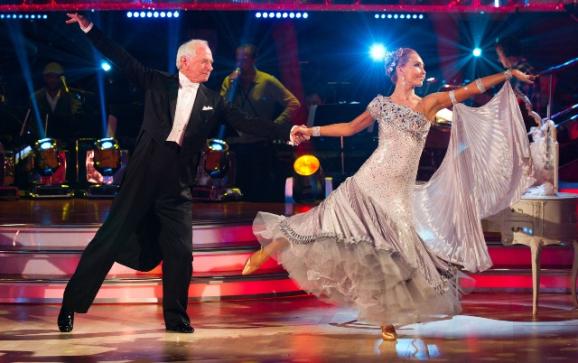 A rather racy routine next courtesy of
Sid Owen
and
Ola Jordan
, dancing a Salsa to 'Hips Don't Lie'. And those hips were NOT lying. Both of them were shaking their booty like their lives depended on it. Bruno said that the timing was sadly completely off and there was a lack of technique, Craig agreed that it was 'hit and miss' but loved the routine and the hip rotation.
A favourite from last week
Kimberley Walsh
dances a Foxtrot with
Pasha Kovalev
, it was a beautiful routine but Len felt it was a bit 'limp' and said that she needed to do better than that because their expectations of her where 'huge'. That's a bit unfair!? Bruno said the whole thing looked 'very, very pretty'. Oh dear, 'Nimble Kimble' split the judges! They still score a great 26.
Penultimate couple to take the floor was
Jerry Hall
dancing a Foxtrot with
Anton Du Beke
. Jerry was accused of just standing around and 'wiggling' last week so needed to up her game bit tonight. Len liked the mix of steps but felt that their problem was 'they were too vertical', Bruno loved watching her but was 'waiting for more' as was Craig who had nothing but negative comments for the pair who only score 18.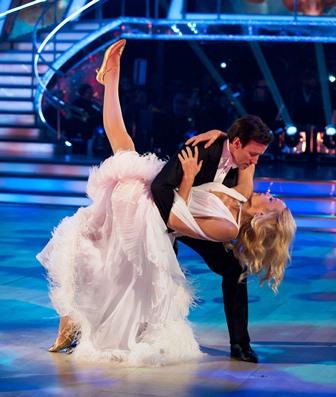 Finally, last weeks winner and new favourite,
Lisa Riley
closes the show dancing a Viennese Waltz with
Robin Windsor
. It wasn't as well received as last week but the judges still loved it, Craig called it 'light and graceful', Bruno said their routine was 'full on entertainment'. They did all agree however that Lisa was doing more of the leading than Robin! But still this couple will go far... They scored 25.
This means that Louis Smith, Denise Van Outen and Lisa Riley are now the top three on the leaderboard, with Michael Vaughan and Nicky Byrne right at the bottom.
So - the show draws to a close and the public can now vote for their favourites. Who will be facing the dreaded Dance-Off. Join us here tomorrow night when all will be revealed...
Thanks to everyone who took part in the live blog, you can read back to see what happened during the show (with comments)
here
.

Why has Nicky Byrne been "set up" by the BBC?  He's been given a novice pro who has so little idea of choreography, music or the show (and doesn't even know who Westlife is!!), she might as well have come from the moon.  He was made to start the show, had a naff outfit and has been subjected to every dirty trick in the book so far.  This is just plain NASTY!  
Are you sure you want to delete this comment?
Alice Wright

Alice is MSN TV's dedicated Strictly blogger. She will give you live updates throughout the shows, plus news and views during the week.
Are you shocked Made In Chelsea won a Bafta?
Thanks for being one of the first people to vote. Results will be available soon. Check for results
Yes - Made In Chelsea is rubbish

317 votes

No - Made In Chelsea is entertaining

53 votes
Total Responses: 370
Not scientifically valid. Results are updated every minute.