Spoilers: EastEnders' Carol struggles and Corrie's Kirsty attacks Tyrone
Preview of EastEnders, Coronation Street, Emmerdale and Hollyoaks
Welcome to another slice of soap. A lot going on, so let's get on with it! Don't forget to try this week's caption competition. It's really easy. All you have to do is come up with a line to make us all laugh. You can enter as many times as you like.
EastEnders w/e Friday 4 May
Jay feels trapped at the Mitchell house and asks Shirley if he can move in with her.
Phil's not happy. Meanwhile, Carol's finding it hard to cope.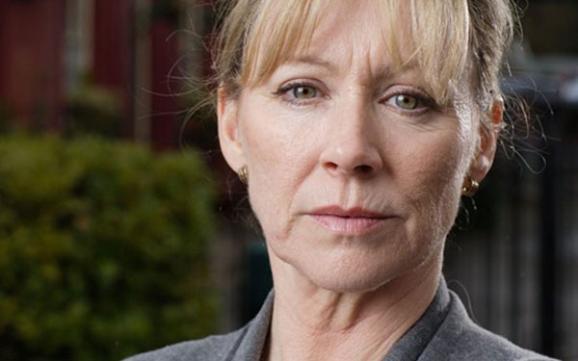 You can see full EastEnders spoilers in pictures here
Enders' talking point: EastEnders is facing criticism that it's too dreary and depressing again. This is due to the way Patsy Palmer, who plays Bianca, was written out. Do you agree? Do you think the BBC soap should be more uplifting?
Emmerdale w/e Friday 4 May
This week, Cameron's on edge, torn between Debbie and Chas. Ashley's terrified of what the future holds. He explains that he received a caution. After hearing that Ashley has returned, Sandy goes to find him. Ashley tells his father and Laurel about the caution and explains that he has resigned from his job.
Elsewhere, Sean's desperation for money gets him into trouble. Cameron comes up with a plan to tempt Chas. Ruby learns Sean's been bullied. Ashley feels daunted by his journey of seeking forgiveness. Zak's strange behaviour starts to unnerve his family.
Cameron braces himself to break up with Debbie. Ali and Ruby are unimpressed when Dan moves into the village. Lisa awaits confirmation of whether Zak's cancer has returned. Meanwhile, Cameron spends time with Chas when he should be at the hospital with Sarah. Elsewhere, Nicola's jealous of Elliot being centre of attention.
Zak's lies snowball, devastating his family. Elsewhere, Chas is furious with Cameron. Jimmy's under fire when Nicola suspects he's putting Elliot ahead of Angelica. Meanwhile, the guilt gets too much for Chas. Alicia's not impressed when Holly and David flirt. Zak struggles to limit the damage as his lies spread through the village.
Also on Emmerdale this week:
Brenda and Pollard go public with their relationship
Chas agrees to give Priya a trial shift
Jai wants kids
Emmerdale talking point: Zak's confused state is part of a storyline in which he is heading for a nervous breakdown. Do you think this is a good idea? Anyone can have problems, so are you convinced that this could also happen to Zak?
Coronation Street w/e Friday 4 May
Julie gets bad news this week, and Kirsty attacks Tyrone.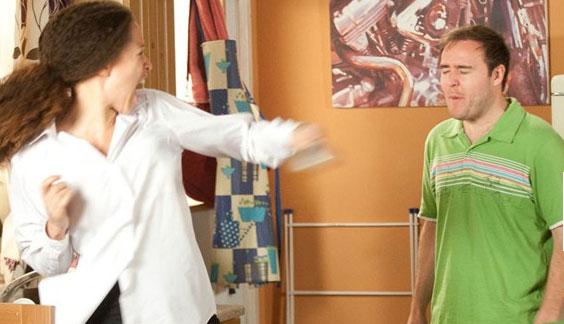 You can see full Coronation Street spoilers in pictures here
Corrie talking point: Natalie Gumede, who plays Kirsty Soames, won Best Newcomer at the British Soap Awards, but did she deserve to win over EastEnders' Jamie Foreman? And is the abuse storyline involving her character and Tyrone convincing? I don't think it is, but what are your thoughts?
Hollyoaks w/e Friday 4 May
This week, a package from the stalker leaves Mitzeee more paranoid than ever. Nancy confides in Darren about her fears following the miscarriage. Scott's return puts pressure on Annalise to tell Rob about their blossoming romance, but is she ready to take this step? Bart eagerly awaits a delivery from Joel.
 Elsewhere, Annalise worries that Scott won't want to be with her when he discovers her faults. Persuaded by Cheryl, she lays her heart on the line. Bart struggles to conceal the cannabis farm entrusted to him by Joel; when Sinead discovers it, can Bart persuade her to keep his secret? Mitzeee eagerly prepares for her television debut, but the stalker's never far from her mind.
Meanwhile, Wardy warns Scott to stay away from Annalise, leaving the star-crossed lovers racing against time to tell Rob the truth... will they get to him before Wardy does? Elsewhere, Bart's money-making scheme goes a bit wrong when Jono meddles, leaving Bart no closer to solving his financial worries.
Also on Hollyoaks this week:
Doug finds himself jealous of Ste's date
Sinead discovers Bart's secret
Mitzeee has an on-air meltdown
Hollyoaks talking point: As revealed in the spoilers, Ste and Doug will end up sharing a kiss. How do you think Brendan's going to react when he finds out? Because this, being a soap, means he will find out. What would you like Brendan to do?
Got a comment about any of these talking points or anything else happening in the soaps this week? Share it with me (but keep it clean!).
That's it for me, I'm out of here. Join me on Wednesday for more news and gossip. Don't forget to try this week's caption competition.  
On MSN: more soap spoilers in pictures here
Lorna Cooper

Nicknamed 'Coops', Lorna is MSN's TV editor. She has too many TV faves to list, but she loves good telly. Read her opinions on the world of TV.

Are you shocked Made In Chelsea won a Bafta?
Thanks for being one of the first people to vote. Results will be available soon. Check for results
Yes - Made In Chelsea is rubbish

205 votes

No - Made In Chelsea is entertaining

33 votes
Total Responses: 238
Not scientifically valid. Results are updated every minute.