Corrie reveals Betty's long-held secret
More soap news and gossip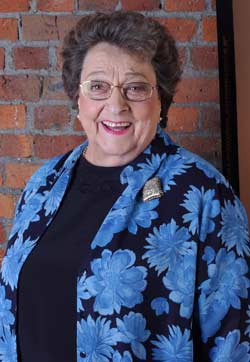 Hello and welcome to today's edition of A Slice of Soap. Have you tried this week's caption competition? It's really easy. All you have to do is come up with a line to make us all laugh. You can enter as many times as you like.

Spoiler alert!!! This blog contains details about an upcoming episode of Coronation Street.
Coronation Street producer Phil Collinson has revealed the details of Betty Williams's big secret. As we are all know, the actress Betty Driver, who played the role of Betty for 42 years, sadly passed away in October 2011 at the age of 91 following a period of ill health.
Later this month, Coronation Street will give Betty an emotional send-off, after her son Gordon, played by actor Bill Kenwright, returns to Weatherfield and announces that she's passed away.
 
Betty's tribute episode will include the revelation of a long-held secret kept by the Rovers long-serving barmaid...want to know what it is? 
Well, Corrie producer, Phil Collinson confirmed the full storyline on This Morning earlier this week, stating: "What they discover as they're clearing out her house is that Annie Walker, who was the landlady of the Rovers Return for the first 20 years of the show, actually bequeathed The Rovers to Betty in her will."
He added: "Betty carried this secret and never took up this bequest. So she's left behind a bit of a bombshell, really! Certainly for Stella in terms of who owns the pub now and what happens going forward. But more brilliantly I think, she'll always be the longest-serving landlady of the Rovers Return by right, which I think is such a brilliant tribute to her."
Hey soapsters, I don't know about you, but I'm certainly looking forward to Betty's farewell episode and all the drama that will result once the soap legend's secret is finally revealed. But what do you think of Betty's long-held secret? Let us know your thoughts by leaving a comment.
That's it for me, I'm out of here. Join me on Wednesday for more news and gossip. Don't forget to try this week's caption competition 
On MSN: more soap spoilers in pictures here
Got a comment about your favourite soap, this blog or anything else? Share it with me (but keep it clean!).
Lorna Cooper

Nicknamed 'Coops', Lorna is MSN's TV editor. She has too many TV faves to list, but she loves good telly. Read her opinions on the world of TV.

Is the X Factor better now that Simon Cowell's back?
Thanks for being one of the first people to vote. Results will be available soon. Check for results
Yes - he's the main man

68 votes

No - it's still awful

88 votes
Total Responses: 156
Not scientifically valid. Results are updated every minute.