British Soap Awards: EastEnders and Corrie are the big winners
News and gossip from the world of soap
In the biggest night of the soap awards calendar, Coronation Street and EastEnders have ended up sharing seven prizes each. The British Soap Awards will be televised by ITV1 this Wednesday.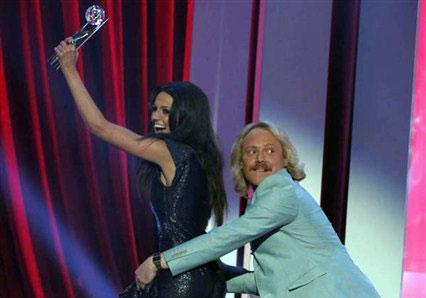 The night saw some predictable winners in the viewer voted categories (such as EastEnders winning Best Soap) and some weird results in the panel voted section; how can Coronation Street's Natalie Gumede (who plays Kirsty Soames) win over Jamie Foreman in EastEnders? That makes no sense in my opinion.
See the stars arriving for the British Soap Awards in this clip
Anyway, you can find out how the big night went; see the full winners here
Don't forget to check out the pictures of the British Soap Awards here on MSN
Are you happy with the results of the British Soap Awards? Share your view by leaving a comment.
Got a comment about any of these talking points or anything else happening in the soaps this week? Share it with me (but keep it clean!).
That's it for me, I'm out of here. Join me on Monday for more news and gossip and a preview of the soaps. Don't forget to try this week's caption competition.  
On MSN: more soap spoilers in pictures here
Are you sure you want to delete this comment?
Lorna Cooper

Nicknamed 'Coops', Lorna is MSN's TV editor. She has too many TV faves to list, but she loves good telly. Read her opinions on the world of TV.

Are you shocked Made In Chelsea won a Bafta?
Thanks for being one of the first people to vote. Results will be available soon. Check for results
Yes - Made In Chelsea is rubbish

197 votes

No - Made In Chelsea is entertaining

32 votes
Total Responses: 229
Not scientifically valid. Results are updated every minute.