Corrie actor wouldn't mind Terry Duckworth getting bumped off
More soap news and gossip
Hello and welcome to today's edition of A Slice Of Soap. Have you tried this week's caption competition? It's really easy. All you have to do is come up with a line to make us all laugh. You can enter as many times as you like.
Hey guys, wasn't it great seeing soap legend, Terry Duckworth,  make his explosive return to Coronation Street on Monday night?  Apparently 9.3 million of us tuned to see his long-awaited return. 
However, if 52-year-old actor, Nigel Pivaro, who's played Terry Duckworth on-and-off for over thirty years, had his way,  the legendary soap character might possibly be killled off.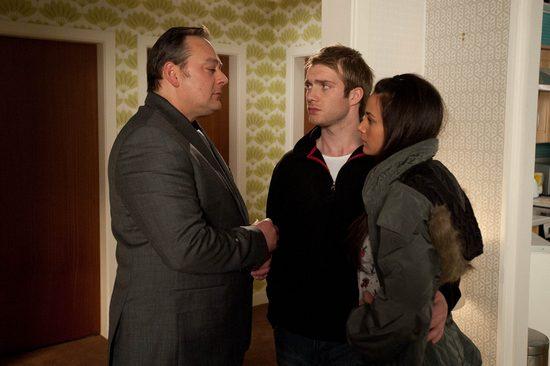 Speaking on This Morning earlier this week, Pivaro stated: "...I wouldn't mind getting killed off," and admitted: "I don't mind the character dying as long as I'm there. If Terry or a character like him with so much history is killed off it needs to happen with a bit of panache, but I want to be a part of it."
Can you believe that soapsters? Pivaro's only just stepped back onto the cobbles, and already he's stating that he wouldn't mind having his alter ego, Terry Duckworth bumped off! All I can say is thank goodness for the likes of William Roache, aka, Ken Barlow, who's been on the Street for over 50 years.. I tell you, by the time he's ready to leave Corrie, the child actor who plays his grandson will be collecting his pension.
Anyway, what are your thoughts on the return of Terry Duckworth to Coronation Street?  Loving it...hating it...or is it time to lay the character to rest? Let us know your thoughts by leaving a comment.
That's it for me, I'm out of here. Join me on Friday for  the result of  this week's caption competition
On MSN: more soap spoilers in pictures here
Got a comment about your favourite soap, this blog or anything else? Share it with me (but keep it clean!).
Lorna Cooper

Nicknamed 'Coops', Lorna is MSN's TV editor. She has too many TV faves to list, but she loves good telly. Read her opinions on the world of TV.

Are you shocked Made In Chelsea won a Bafta?
Thanks for being one of the first people to vote. Results will be available soon. Check for results
Yes - Made In Chelsea is rubbish

296 votes

No - Made In Chelsea is entertaining

47 votes
Total Responses: 343
Not scientifically valid. Results are updated every minute.