June Brown taking time off EastEnders: how should she go?
Mores soaps news and gossip
Hot on the heels of Patsy Palmer, it's now been reported that June Brown, who plays Dot Branning, will be taking time off EastEnders to write her autobiography.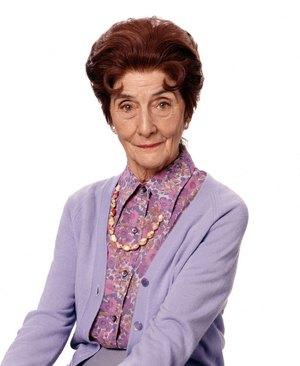 A quote in the mirror from an insider says: "She has admitted the filming can be exhausting and she feels some time off is long overdue." The tiring schedule of working on a soap is something we've heard most recently from Patsy Kensit, who appeared in Emmerdale.
Although the exit isn't permanent exit, six months without Dot will certainly feel like a very long time. June Brown has filmed her exit scenes and will be seen leaving the show around the middle of May.
How do you think she will be written out? In my opinion, one of the easiest ways is to tie her exit to Jim Branning in some way. Fans won't question that. It's how I'd write her out. But how would you do it? And do you think EastEnders will miss Dot? Share your view by leaving a comment.
That's it for me, I'm out of here. Join me on Wednesday for more news and gossip. Don't forget to try this week's caption competition.  
On MSN: more soap spoilers in pictures here
Are you sure you want to delete this comment?
Lorna Cooper

Nicknamed 'Coops', Lorna is MSN's TV editor. She has too many TV faves to list, but she loves good telly. Read her opinions on the world of TV.

Are you shocked Made In Chelsea won a Bafta?
Thanks for being one of the first people to vote. Results will be available soon. Check for results
Yes - Made In Chelsea is rubbish

316 votes

No - Made In Chelsea is entertaining

52 votes
Total Responses: 368
Not scientifically valid. Results are updated every minute.