I'm A Celebrity: Helen Flanagan faces an Ostrich but fails another Bushtucker Trial
All the latest news and gossip from I'm A Celebrity Get Me Out Of Here!
Helen Flanagan doesn't seem to be having much luck in the I'm A Celebrity… Get Me Out Of Here jungle. Our resident screaming flamingo has faced every Bushtucker trial so far and has threatened to quit if the public continue to vote for her. Shame she's blown another one then isn't it?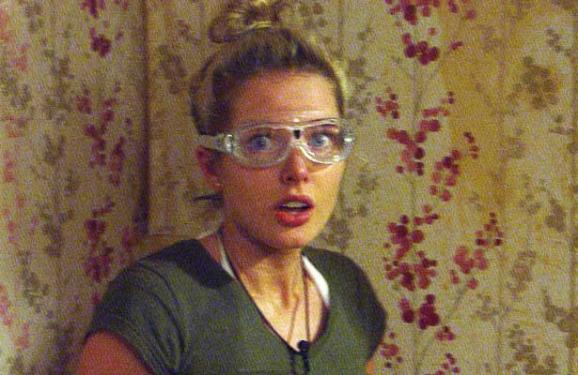 Nominated by the public to face Cruelty Towers, Helen appeared in fighting spirit and even told her fellow camp mates "I'm chilled. I'm gonna do it!"
One person who was anything but chilled was Eastenders Charlie Brooks who couldn't quite believe the pampering Helen received before the challenge. "Can you actually believe that Brian did her show laces up for her.  It all just kind of miraculously happened.  Life just revolves around her."
"I think if she gets no stars her shoe laces are not being done up and that girl needs a short sharp shock."
THE TRIAL:
Hidden inside Cruelty Towers were ten stars and each star was worth a meal for camp. Helen had ten minutes to explore five rooms each containing jungle critters. These included snakes, a crocodile, an ostrich spiders, offal, flies and even a collapsing ceiling.
Alarm bells started to ring the moment the hotel door opened. "Can I just get my head together. I need to decide if I want to do this or not."
"I need a moment to decide, I need to get my head together.  I'm really scared. I am getting worked up. It just makes me want to go home. If they're going to keep doing this to me every single day I want to go home. I just really want people to stop voting for me. I'm not happy at all. I don't want to do it."
Finally deciding to give the trial a go, Helen opened the door and met Olly the Ostrich. She did well to talk him down as he was butting and hissing but struggled to reach the required star. Ant McPartlin advised her to 'unscrew it' and as she did the lights went out and it was all over. "I'm a celebrity get me out of here!"

As soon as left she was kicking herself. "I didn't realise it was going to go dark, that freaked me out.  Oh I wish I could have gone in there now, I feel really stupid.  I wish I could have gone back in there now.  Can I go back in?"
"I do not want to go back to camp."
"I've got to make an impression and they are going to start getting annoyed. I'm annoyed with myself, I didn't do the best I could do and that's what irritates me.  I could have done better than I did."
When she headed back, the camp mates all rallied around her and asked her about the challenge.  Charlie continued to ask how many stars she won but Helen ignored her.
David later commented in the Bush Telegraph, "Am I disappointed, yes, am I upset, no.  She said she tried her best and that's all you can ask from our little Helen."
But an unconvinced Charlie admitted that she was disappointed she only made it into one room and questioned the Corrie stars efforts.

Do you think Helen's time is up?
Should ITV give her a vote break?
Or should she just leave?

Click the discussion bar below to leave your views...

Selena x

Don't forget to join me every night from 9pm for our live blog! I can't wait to hear what you think of the celebrities antics. 
All the latest images from our rolling gallery...


Why fragile celebrities should stay away from reality...
Click here for our MSN Entertainment page on Facebook...

Selena Ledgerton
MSN Reality TV
Are you sure you want to delete this comment?
Selena Ledgerton

Selena is MSN TV's dedicated reality TV blogger. From X Factor to Big Brother, Selena gives you live updates throughout the shows, plus news and views during the week.
Is the X Factor better now that Simon Cowell's back?
Thanks for being one of the first people to vote. Results will be available soon. Check for results
Yes - he's the main man

63 votes

No - it's still awful

84 votes
Total Responses: 147
Not scientifically valid. Results are updated every minute.