Sarah Jessica Parker and Kate Hudson to star in Glee
Emma Roberts looks at the news that Sex And The City actress Sarah Jessica Parker and movie star Kate Hudson are the set to star in the fourth series of Glee.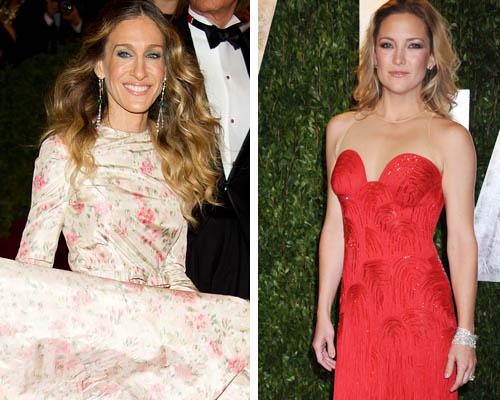 We're suckers for good television cameos and the makers of Glee have always been very generous when it comes to serving up glitzy celebrity appearances on their show.

We've seen Britney Spears, Ricky Martin and even a surprisingly impressive Gwyneth Paltrow strut their stuff on the musical show and now, we can expect Sarah Jessica Parker and Kate Hudson to pop up on the upcoming fourth series.

We can only imagine SJP singing about stilettos and her designer wardrobe – it's almost as exciting as a Sex And The City musical (which we hope will still happen one day!)

The news that Kate Hudson is set to appear on the show has also got our eyebrows suitably raised and we reckon she's going to fit right in with the Gleeks. Still, we can't help but remember her (intentionally) dire performance of You're So Vain in the movie How To Lose a Guy In 10 Days...

We're not just talking about 5-second cameos though – it has been confirmed that Kate will be appearing in  seven episodes in the fourth series and SJP is also set to appear in a number of episodes.

Fox boss Kevin Reilly, broke the exciting Glee news earlier today in the States and he also revealed that the fourth series of the show will take place in a performing arts school in New York. The action in the fourth series will follow a handful of graduating seniors as they pursue their dreams of stage fame in the Big Apple.



Don't fret McKinley High fans though – Kevin also revealed that, as well as in New York, the show will also follow a group of new students who join the Ohio-based school. Eek – we can't wait to be introduced to some more Gleeks, although we're also happy that we'll still be able to follow the stories of the characters that we have grown to know and love.


Are you excited about Sarah Jessica Parker and Kate Hudson appearing in Glee? Leave your comments in the box below!
Are you sure you want to delete this comment?
Lorna Cooper

Nicknamed 'Coops', Lorna is MSN's TV editor. She has too many TV faves to list, but she loves good telly. Read her opinions on the world of TV.

Is the X Factor better now that Simon Cowell's back?
Thanks for being one of the first people to vote. Results will be available soon. Check for results
Yes - he's the main man

232 votes

No - it's still awful

276 votes
Total Responses: 508
Not scientifically valid. Results are updated every minute.