James Bolam heading out of New Tricks
News and gossip from the world of TV
Just days after the BBC announced a further two series for New Tricks, the show has been rocked by star James Bolam's decision to quit.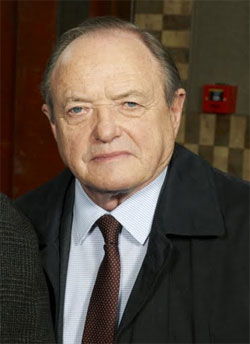 While similar returning dramas (including Hustle and Spooks) have been axed, New Tricks - which stars Amanda Redman, Dennis Waterman, Alun Armstrong and James Bolam - is still going strong.
The latest series peaked as high as 9.7 million viewers, putting it above even the return of Downton Abbey.
As the BBC's most-watched drama (yes, over and above Doctor Who), cast stability has been a key basis for its success.
However with James Bolam calling it a day, the show will lose someone who has appeared in all eight series.
According to the Daily Telegraph, he has voiced a concern that the show has gone "stale".
However New Tricks, a series about a band of ex-coppers brought out of retirement to work on unsolved and open cases, has comprehensively dominated its time slot. It remains as popular as ever with viewers.
As Jack Halford, the highest-ranking ex-officer on the team, James Bolam has enjoyed a boost late in his professional career. Producers are desperately trying to persuade the ex-Likely Lads star to return. Whether they're successful remains to be seen.
How do you feel about James Bolam's imminent departure from New Tricks? Do you think the show will remain as popular without him? Share your views by leaving a comment.
● Follow the TV editor on Twitter: coops_msntv
Are you sure you want to delete this comment?
Lorna Cooper

Nicknamed 'Coops', Lorna is MSN's TV editor. She has too many TV faves to list, but she loves good telly. Read her opinions on the world of TV.

Should Gary Busey be in the Celebrity Big Brother house?
Thanks for being one of the first people to vote. Results will be available soon. Check for results
Total Responses: 181
Not scientifically valid. Results are updated every minute.