What I watched last night: thoughts on Homeland
Why EVERYONE's talking about Homeland by guest blogger Kerri-Ann Roper
It's been building up for weeks now, but last night's episode of Homeland was nothing short of explosive. So, before I waffled on any longer, I have to say - there are spoilers in this blog, so if you haven't watched the show yet, you may not want to read further...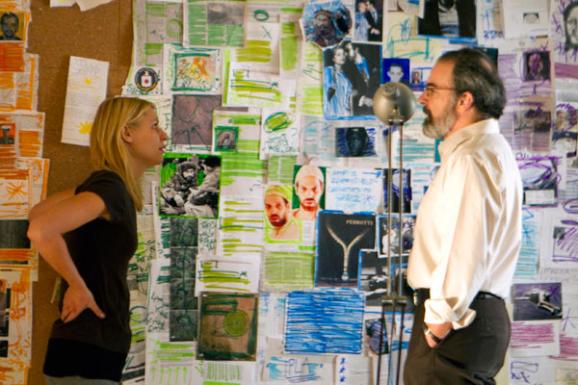 If, however, like us here on MSN TV, you're slightly besotted with Homeland, read on and be sure to tell us what you think in our comments below.
First off, in the wake of last week's explosion, an unhinged Carrie Mathison (Claire Danes) was nothing short of sublime. Her acting rose a notch (if that's possible), creating what I think is the perfect accompaniment to the speeding up of the storyline ahead of next week's episode.
We also got to see more of Brody's (Damian Lewis) layers peeled back. Now that we know where his allegiance lies (ahem), I'm on tenterhooks to see where the writers take his character.
I hate to be a killjoy, but we do know the second season is being filmed so just where and how last night's 'vest' will be used, is going to be interesting. If it even gets used at all...
This brings me back to initial thoughts on Brody. As the quintessential anti-hero, there are moments where I like him, and then there are moments where I can't stand him - as in, by the end of last night's instalment. I guess that's the point though, and it's a demonstration of the genius of Homeland's showrunners Howard Gordon and Alex Gansa.
I love that the political storyline doesn't override the other various storylines of the characters for the moment. I'm guessing with the second series, we'll probably get more political goings-on, especially if Brody is voted in, which again, you presume he will be.
My ever-growing suspicion (which is based on no proof at all!) is that Carrie's come dangerously close to not only exposing Brody, but another big player we haven't yet met...
What do you want to see happening? And what are your thoughts on the show? Tell us below.
Kerri, MSN senior editor
● Follow MSN Entertainment on Twitter
Are you sure you want to delete this comment?
Lorna Cooper

Nicknamed 'Coops', Lorna is MSN's TV editor. She has too many TV faves to list, but she loves good telly. Read her opinions on the world of TV.

Are you shocked Made In Chelsea won a Bafta?
Thanks for being one of the first people to vote. Results will be available soon. Check for results
Yes - Made In Chelsea is rubbish

196 votes

No - Made In Chelsea is entertaining

32 votes
Total Responses: 228
Not scientifically valid. Results are updated every minute.