Glee cast open up as Glee: The 3D Concert Movie hits cinemas
News and gossip from the world of TV
If you're a Gleek, today's the big day. Glee: The 3D Concert Movie hits cinema screens. The film includes footage shot during the cast's national concert tour and offers a look into the lives of passionate Glee fans (the Gleeks).
We caught up with cast members Lea Michelle (who plays Rachel Berry) and Chris Colfer (up for an Emmy as Kurt Hummel) to talk all things Glee.
But first, check out the trailer for Glee: The 3D Concert Movie.
* Glee The 3D concert movie in cinemas from today and the Glee Season 2 on DVD is out on 19 September
MSN's Jess Edwards was the lucky girl to sit down and interview Lea Michelle and Chris Colfer.
How was filming in New York?

Lea: Amazing. I love filming Glee; I feel like I have the greatest job in the entire world. I'm a singer from Broadway and I get to be on this TV where I get to sing Barbara Streisand songs with my best friend so I feel so lucky.
I'm a New Yorker through and through, born and raised, all my family's there. So to get to do Glee in New York, I said, would probably be the happiest, luckiest girl in the whole world. So that was just a taste and it was so fun and I'd love the opportunity to get to do that again...

What was it like getting to perform on the stage of Wicked?
Lea: Oh. We were crazy kleptomaniacs. We kept running around thinking 'what can we steal' but we couldn't because everything was like massive.

Chris: Or chained down!
Lea: Yeah, probably they knew we were coming. I found a broom, I was like running around and they couldn't get the broom out of my hand - it was an Elpheba broom, not just a janitor's broom. What if I was like 'this broom sweeps the stage of wicked' (Laughs).

Lea: But we were in such a time crunch when we were there we literally had three hours to shoot that whole scene so we couldn't really explore the way we would have crazy liked to. But it was so awesome that we got to do that.
We heard you've been doing some sightseeing while you've been in London?

Chris: Yes we went to the Tower of London. Oh god I should be a tour guide, I really should.

Lea: He really should. He was saying things and the tour guide was like amazed, his face was kinda freaked out and he'd be like (in her best English accent) 'how do you know all this'.
And then I would ask questions and he would be like: 'you are so stupid. That is wrong. Where did you get that from?' I think he hated me! But Chris was fantastic and it was so much fun.

Lea, is it tough playing a character that not everybody likes? And Chris is it tricky for you playing a storyline that's got a lot of responsibility attached?

Chris: Erm yes, but I think people dislike me just as much as they'd dislike Rachel. But I do think it's hard to be role models in the positions that we are because unfortunately some people who watch the show sometimes can't separate the character from the actor.
At times, if we were to do anything stupid or say something in an interview that was a little off-key then unfortunately it would reflect on the character. So yeah, there is pressure.

Lea: I think that if you are a fan of Glee and if you do watch the show, you'll understand Rachel, who she is and how she's grown. It was sort of a season one thing with Rachel when she didn't know who she was or how to handle certain situations and I think the great thing about her is how she has grown in being more of a team player.
It's more the people who don't watch Glee who have that perspective and the ones that do really understand the intricacies of our characters.
Chris: I was so Rachel in high school
Who do you think is most like their characters in real life?

Lea: I think we all have little bits of our characters in us equally.

Chris: Yeah, more than we're willing to admit sometimes.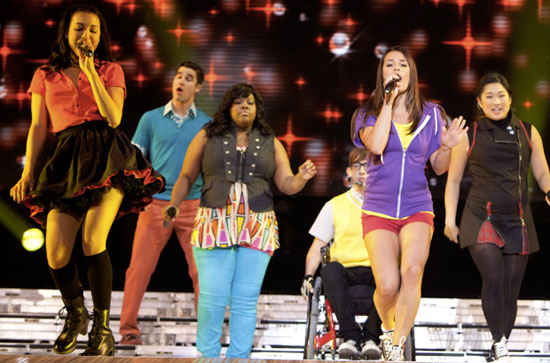 * Glee The 3D concert movie in cinemas from today 
 
What do you have in common? Lea, are you a mad Streisand fan for example?

Lea: Yes. Absolutely! I come from Broadway and I love performing on stage very similar to Rachel. But not only that, I understand her drive. You know if you watched the last two episodes of the last series, Rachel said: 'I'm going to New York, this is what I'm going to do, I'm going to be a performer' and I am and was very much like that when I was younger.
I was very driven and on the path of what I wanted to be. Also what I relate to and love most about Rachel is how she doesn't let what other people think is right or cool mould who she is. She does what she thinks is right not what is 'cool'. And I did that in high school - I was not doing drugs or going to parties or things like that.
I knew what I wanted to be and what I wanted to do and I didn't let other people influence me or try to change who I was to fit a certain mould. Like getting a nose job for example, I didn't want to do that because people said I should and because everyone in high school was doing it. That's what I love the most about Rachel and what I can relate to as well.
Beyoncé's over here as well, have you heard any feedback about Put a Ring On It, or from any of the artists that you've covered?

Chris: Erm, we've heard a lot from some of the artists that we've covered but I've never heard from Beyoncé, no. She's a little busy.

Lea: Yeah, a little busy ruling the world.
Chris: Exactly, her and the girls.

You're taking the show to Dublin soon, is it your first time there and what do you plan to do should you get any free time?

Chris: I am going to find myself a Leprechaun and take him back to the states. (Laughs) No, I'm very Irish, my family is all Irish and St. Patrick's day in my house is crazy so I'm very excited to go and see my heritage… and find a leprechaun.

Lea: This will be my second time in Dublin, I went before after I graduated in high school. I loved it and am so excited to go back. For us, we did the Glee tour last year in the states and we were hoping that this year we could come overseas because we do have such an incredible fan base here.
Getting to meet our fans and sight-see and see the world has been such a great thing about being on this show.

Where would you like to go on tour that you haven't been to yet?
Chris: Mars

Lea: Rome, to see my people in Italy!
Chris: And my people on Mars.
Do you have any favourite numbers from the second season?

Lea: Erm, Happy Days is one of my favourite moments from last season. I got to do Happy Days and My Man of Barbara's this year, I recorded a couple of others but they didn't make it on, but those two were amazing. And then we did Rocky Horror and Britney – there were just so many fantastic songs from last year!

For the new season do you have a wish list for the music involved?

Chris: I just want Julie Andrews, all I want is Julie Andrews to come play My Grandmother and then I'll be happy. It's all I need.

Lea: I like being surprised. I like hearing through the grapevine 'Gwyneth Paltrow is going to be in next week's episode' and I'm like 'you're lying' and then I'm doing a seen with her and I'm like 'Oh my god'. So I think not knowing is more fun.

Chris: It would be great if the Queen could come and do an episode

Lea: Yeah why don't you ask her, ring her up!

The third season of Glee returns to TV screens on Sky1 soon
● Follow the TV editor on Twitter: coops_msntv
Lorna Cooper

Nicknamed 'Coops', Lorna is MSN's TV editor. She has too many TV faves to list, but she loves good telly. Read her opinions on the world of TV.

Should Gary Busey be in the Celebrity Big Brother house?
Thanks for being one of the first people to vote. Results will be available soon. Check for results
Total Responses: 436
Not scientifically valid. Results are updated every minute.