Sneak a peek at Shirley MacLaine in Downton Abbey!
MSN's Lara Martin reckons you won't be disappointed...
We gave a very unladylike scream that would surely have made the Dowager Countess frown when it was announced the fabulous Shirley MacLaine would be joining Downton Abbey for its upcoming third season – and it looks like we won't be disappointed!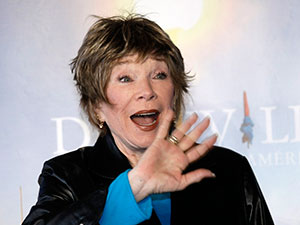 A sneak peek of the legendary actress's massively anticipated appearance was screened during a glam American Film Institute tribute to her which aired on US TV last night.
As all Downton fans know, Shirley will star as Martha Levinson, the mother of Lord Grantham's US-born wife Lady Cora, who is played by Elizabeth McGovern. And appropriately enough it was Shirley's new on-screen daughter who introduced the clip.
In a tantalising exchange which has made us realise how much we miss our weekly dose of Downton, Shirley's character is seen meeting the formidable (and frankly amazing) Dowager Countess, played to perfection as always by Dame Maggie Smith.
And it looks like the Dowager Countess will have some competition this season when it comes to the best lines of the episode!
"Oh dear, I'm afraid the war has made old women of us both," quips Martha, proving in one short sentence why we were right to be so excited about her addition.
We'll have to wait until the third series airs later this year to see how the relationship between Martha and the Dowager Countess pans out, although Shirley has been dropping a few hints.
She teased TV Guide Magazine by saying the characters' relationship is "probably not what you think," and told E! Online the two would clash on an "intellectual level." Interesting.
Downton Abbey's third season is slated to air later this year. We can't wait!
Click
here
to see the Dowager Countess in action!pa
Lorna Cooper

Nicknamed 'Coops', Lorna is MSN's TV editor. She has too many TV faves to list, but she loves good telly. Read her opinions on the world of TV.

Are you shocked Made In Chelsea won a Bafta?
Thanks for being one of the first people to vote. Results will be available soon. Check for results
Yes - Made In Chelsea is rubbish

168 votes

No - Made In Chelsea is entertaining

26 votes
Total Responses: 194
Not scientifically valid. Results are updated every minute.