Breaking Bad: the best US show not airing on TV in the UK
News and gossip from the world of TV
Acclaimed drama Breaking Bad is the creation of Vince Gilligan, who'd previously worked on The X-Files. It tells the story of Walter White (played by Bryan Cranston - still best known here for sitcom Malcolm In The Middle), a high school chemistry teacher who discovers he is dying of lung cancer.
Desperate to pay for his treatments, and secure his family's financial security, Walt forms an unlikely partnership with former student-turned-drug dealer Jesse Pinkman (Aaron Paul), using his scientific knowledge to make the best crystal meth on the market. However, he is soon trapped in a sinister world of drugs and crime.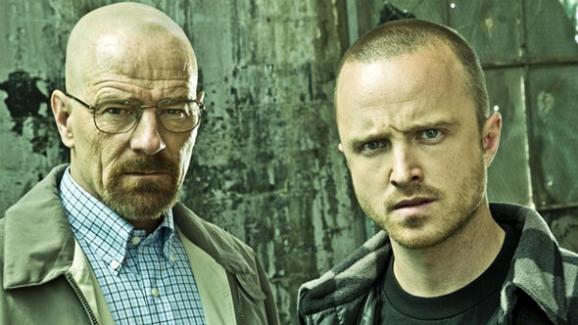 The fifth season of the AMC show (the same home as Mad Men) premiered in the US last night to rave reviews: Entertainment Weekly's Ken Tucker said it was "satisfying and tense and funny and witty and ruminative."
Reuters hailed it as a "a brilliant mix of character-driven drama" and The Hollywood Reporter applauded its "five consecutive seasons with no significant slip."
Writing for The Slate, June Thomas praised Breaking Bad for "its precision plotting" while Maureen Ryan of the Huffington Post simply brands it as "one of the great shows of television's Golden Age."
In addition to much critical acclaim, Breaking Bad has won numerous awards including the American Film Institute's TV Programme Of The Year, six Emmys (with three of those going to its star for Best Actor), two Television Critics Association Awards and two Writers Guild of America Awards.
Yet for all the accolades and gongs, Breaking Bad isn't currently scheduled on any channel here in the UK; it's a US import Brits - on a significant scale - refuse to love.
We have embraced controversial dramas such as The Sopranos, Game of Thrones and Dexter. Heck, we're even fond of desperately unfunny imports Two and a Half Men and 2 Broke Girls. But Breaking Bad has been rejected as firmly and swiftly as spam.
Watch the trailer for Breaking Bad season five
Back in 2008, digital channel FX picked it up and launched a campaign to heighten awareness. At its height, Breaking Bad achieved consolidated ratings of around 120,000 viewers. Purely for illustration, contrast this with Falling Skies which premiered with nearly 450,000 viewers in overnight ratings alone. 
A year later, the show was snapped up by Channel 5 for sister channel 5USA with season one given - wait for it - the 11pm time slot.
Season two fared even worse; there were times when it aired after midnight over the Christmas period. How on earth can any series grow viewership at that time of the night? Little wonder it didn't dent 5USA's top 10. I certainly wasn't surprised when the broadcaster passed on season three.
Sadly, in both cases, Breaking Bad failed to find an audience. However, I will argue until the cows come home that 5USA's treatment was woeful - utterly disrespectful of the programme and its fans.
The question many would love answered is simply this: why has Breaking Bad not succeeded in the UK? After all, drama series revolving around amoral characters, drugs, profane language and a high body count are not exactly unique to telly viewers these days.
I've heard assertions about Breaking Bad varying from "unlikeable characters" and "depressing central premise (Walt's cancer)" to "excessive violence". Yet all of these objections can just as easily be applied to The Sopranos (first aired on terrestrial Channel 4) or The Wire (which received a complete run on FX and BBC2, and is now a fixture on Sky Atlantic).
In addition to its bizarre scheduling, fans also point to a lack of notable promotion by 5USA.
With the fifth season now under way in the US, the prospect of a TV run on this side of the Atlantic is even slimmer. Who'd invest in what's likely to be a pricey show that has already performed disappointingly on two channels?  
Breaking Bad's dedicated fans (and we are a fanatical bunch) will carry on watching regardless - on DVD, on streaming service Netflix or via "other means" (if you get my drift).
Irrespective of all the conjecture and arguments, there are no easy answers to this conundrum; Breaking Bad appears destined to become one of the best US shows rejected by TV viewers here in the UK.
* Breaking Bad airs every Thursday on Irish language channel, TG4
MSN TV editor Coops
● Follow MSN Entertainment on Twitter
● Follow the TV editor on Twitter
Are you sure you want to delete this comment?
Lorna Cooper

Nicknamed 'Coops', Lorna is MSN's TV editor. She has too many TV faves to list, but she loves good telly. Read her opinions on the world of TV.

Is the X Factor better now that Simon Cowell's back?
Thanks for being one of the first people to vote. Results will be available soon. Check for results
Yes - he's the main man

38 votes

No - it's still awful

49 votes
Total Responses: 87
Not scientifically valid. Results are updated every minute.