Interview: Come Dine With Me's Dave Lamb
Dave Lamb on DVD, Come Dine With Me - Extra Spicy
Who hasn't watched at least one episode of Come Dine With Me? It started off as a cheap afternoon filler for Channel 4 before achieving cult status and a move to more prominent time slots, including primetime.
Arguably, the man who makes the show a cut above the rest is narrator Dave Lamb. He started voicing Come Dine With Me as a part-time job back in 2005, and now he steals the show with his sarcastic commentary.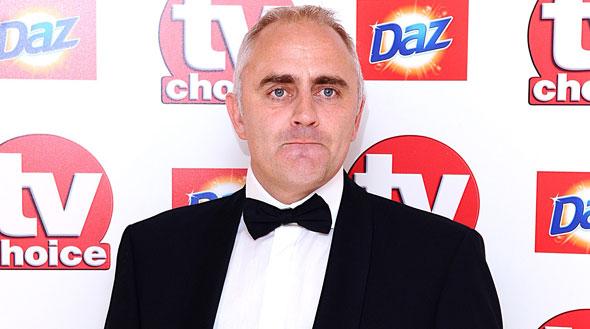 I caught up with Dave Lamb to talk about Come Dine With Me - Extra Spicy; as the name suggests, the DVD is packed with all new highlights of never-before-seen material. It's extra spicy, extra naughty and extra shocking... far too hot for TV.
Do you have any favourite Come Dine With Me – Extra Spicy moments?
It's a really, really good DVD. The most important thing to say is that it is certificate 15 - it's not for kids.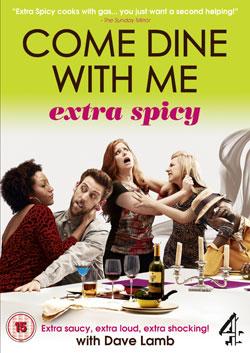 I watched it last night and it's only just a 15, by the skin of its teeth. It's hilarious, but outrageous. There's a lot of nudity, there's a lot of swearing, there's a lot of vomit. It's an extraordinary thing. I'm amazed we've been allowed to make it. 
How surprised are you by the success of Come Dine With Me?
I'm very surprised, I auditioned because they were getting comedy writer performers to audition so we could bring a few extra lines to the script.
I thought I was signing up for five half-hour episodes of a daytime show. I ummed and ahhhed about whether I should do it or not. Thank goodness I did, because it's just gone mad. It's gone crazy.
Do you write your own scripts?
No, because they've gone away and filmed about 75 hours of this stuff. They have to cut it down to 23 minutes for the daytime, so they have to know exactly what story they're going to tell with the pictures.
They have to write the script I come in and sight read the script to the pictures, but because I'm watching it for the first time, I can react to it. I'm allowed to ad lib, because we can always go back and get the scripted version after I've tried something and it's gone horribly wrong.  
I must say you make it seem very natural. I would never have known it was scripted.
That's the voiceover thing. That's what I'm paid to do really, make it sound like it's all spontaneous. 
In a way, you're almost like bacteria; you've bred and spread quite a few cutting comperes on different programmes now. I'm talking about the likes of Four Weddings, May The Best House Win… How do you feel about all these imitators?
To be honest, I don't watch reality TV myself, so I am unaware of them. Well, I'm aware of them because people tell me about them, but I've not heard any of the other programmes, so I don't know how I feel about it.

To a man, because they are usually men, they all imitate your style, and your delivery. It's uncanny. Your Australian counterpart is different. Have you heard him?
No, I haven't heard him. I'm doing the Come Dine With Me Ireland and the Come Dine With Me South Africa myself; I think it's quite fun for the other countries as well, having some sort of eccentric British voice compering the whole thing. I think it works. It seems to work for them anyway.
I think you should just do them all.
Well I'm doing four different versions at the moment, so that's plenty.

What international or regional differences have you noticed?
It's all being shown after the watershed in the Irish and South African ones, so the difference is that they're slightly more raucous. And there is a bit more swearing. In the Irish one, they're all really up for the craic.
I know it's a bit of a stereotypical thing to say, but the people who go on it tend to be on there to have a good time and not to push their own agendas, not to play a game and try and win at all costs. They tend to go on there because it's a laugh, and the South African ones - I get the feeling they've never seen the English version. The funniest thing about the South African version, is the use of the word alcoholic. In South Africa, you are an alcoholic if you drink alcohol.
Whether or not you drink one or 100?
Yeah, exactly. So they'll often say: "Of course I'm alcoholic, so there will be wine there tonight." And what they mean is, I drink alcohol. It's a bit of a shock the first time you hear it.
I have seen various suggestions, and I actually heartily endorse this one, for you to be the host of the Eurovision Song Contest. How do you feel about that?
Well! Crikey! The idea of being in a booth with a bottle of whiskey, watching the Eurovision song contest? That sounds quite good to me! But following in the steps of the master - the Wogan? - it's Graham Norton who does it at the moment, yeah? - I mean, those are big shoes to try and fill.
It's flattering, of course it is. I think I'd get a bit annoyed at the way the British are treated at Eurovision. I think I might be quite bitter if I attempted to commentate; I think it's scandalous. We get badly treated on that programme, I think.
Come Dine With Me (transmission times for the shows here)
Come Dine With Me - Extra Spicy: get the DVD here
Lorna Cooper

Nicknamed 'Coops', Lorna is MSN's TV editor. She has too many TV faves to list, but she loves good telly. Read her opinions on the world of TV.

Are you shocked Made In Chelsea won a Bafta?
Thanks for being one of the first people to vote. Results will be available soon. Check for results
Yes - Made In Chelsea is rubbish

201 votes

No - Made In Chelsea is entertaining

32 votes
Total Responses: 233
Not scientifically valid. Results are updated every minute.