Dancing On Ice Exclusive: Jennifer Ellison backstage blog
"Disaster struck on Tuesday and I cracked a rib in training."
Well it's been another eventful week on Dancing on Ice. Disaster struck on Tuesday and I cracked a rib in training. It's been really painful ever since and it's made it very hard to train properly.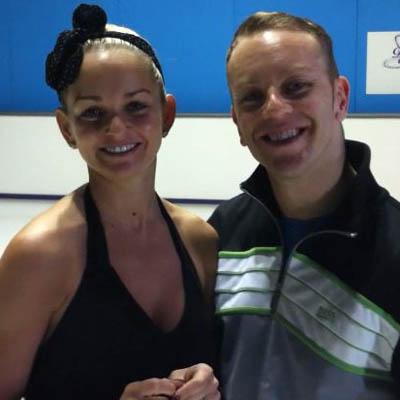 It's been quite stressful and feels like we are the walking wounded because Dan pulled his hamstring last week, and this week it's my ribs. But there's no other option but to continue to rehearse through the injury otherwise we would be out of the competition.

My mum came up with a cunning plan, she cut up part of the dogs bed and Dan strapped it round my body with gaffer tape, which kind of cushions my ribs. The end result is that I look a bit of a lunatic but it has really helped. If you were at any one of the rinks up north this week you would have seen me skating round with a bit of a pink and blue polystyrene foam dogs bed stuck to my side. It's not dignified but it does make it more comfortable when Dan lifts me up.

At the beginning of every practice session Dan having get the gaffer tape out and tapes it all together, I sometimes think he would like to tape up my mouth as well.
So from that you should realise that this week there's some big lifts in the routine. Some of them are a bit worrying. There's one called the crucifix where I roll up onto Dan's back, it's a bit worrying and I've nearly broken Dan's back a few times.

The problem is we are doing a lot of lifts so everytime we practice and Dan picks me up it's on my side where my ribs hurt - but I'm from up north and I can handle it, so bring it on!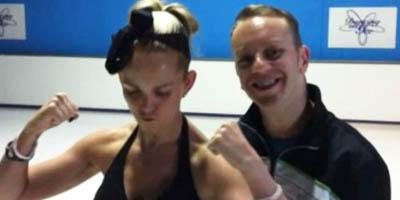 I can tell the whole show is going to start to pick up a lot of pace now. We've had four days to work on our performance for Sunday, whereas last week we'd had four weeks, as a result it's all been a bit tense to say the least.

It's especially hard when you've never really skated before. This is going to be a big challenge this week but everyone's in the same boat now, so it's going to be interesting on Sunday.

I've been out on the ice two to three hours every day this week and having to travel about three hours a day to get the rink and back. At the end of the week I've been down in London and appeared on Daybreak Friday morning.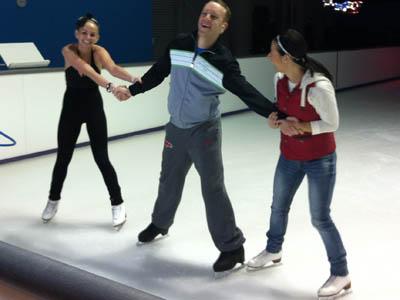 I'm really looking forward to skating for the cinema special - with songs from famous films - and we are dancing to a track I know really well. So wish me well and if you fancy voting for me and Dan on the night then, thanks very much.

If you want to follow my tweets I'm on @jelliofficial and there's a Facebook page at http://on.fb.me/ABIw​oT

Watch Jennifer's exclusive video blog here.

Dancing on Ice is on ITV1 this Sunday from the earlier time of 6.10pm to 8.30pm, and the results show Dancing on Ice: The Skate Off is on 9.30pm to 10pm also on ITV1.

Are you sure you want to delete this comment?
Selena Ledgerton

Selena is MSN TV's dedicated reality TV blogger. From X Factor to Big Brother, Selena gives you live updates throughout the shows, plus news and views during the week.
Are you shocked Made In Chelsea won a Bafta?
Thanks for being one of the first people to vote. Results will be available soon. Check for results
Yes - Made In Chelsea is rubbish

334 votes

No - Made In Chelsea is entertaining

56 votes
Total Responses: 390
Not scientifically valid. Results are updated every minute.