Dancing on Ice - Live Blog: The Result!
Who will leave? It's time for the dreaded 'ice pick'...
The Dancing on Ice Live Blog and Chat is running now...
(Scroll down for full coverage of tonight's show)
As always press F5 to refresh as we go along and click the discussion bar below to leave your comments...
I'll be here to leave my views, be sure to let me know what you think of tonight's result!
SHOW STARTS:
Tonight the producers will force the celebrity skaters to decide who goes... The format runs in the normal way but when it comes to the skate off, it will be the amateurs not the experts who vote.
Will they err towards practical or tactical?
It's time for the result, let's find out!
Click the discussion bar below to leave your views...
Truth be told, it has to be one of the three D's tonight - Dave, Denise or Dom. The other skaters are in a different league, well apart from Johnson but he'll get the public vote for determination and guts!
Robin Cousins is looking forward to 'the ice pick'. "The skaters say how they're like family and get on so well but as competitors they need to do be able to do this..."
THE RESULT:
Through to next week are...
DENISE WELCH (SHOCK!)
VANILLA ICE (DESERVED)
SAM ATTWATER...
COMEDY DAVE (YOU'RE HAVIN' A LARF!)
LAURA HAMILTON
JENNIFER METCALFE
JOHNSON BEHARRY (NO SURPRISE THERE)
CHLOE MADELEY
JEFF, KERRY AND DOM REMAIN...
The final celebrity through to next week is...
KERRY KATONA (SHE'S SCREAMING!)
Oh no, our Jeff is in the skate-off! Will the celebs send him home when it comes to the dreaded 'ice pick'?
God I hope not!
If all's fair it should be Dom's time to go. Jeff has far more to give and out-skated him tonight, it all rests on how they perform in the skate off - fingers crossed Jeff will dig his picks in and remain upright.
JEFF BRAZIER
Jeff keeps his composure and they perform the lunge without error. The step sequence is heartfelt and endearing and he makes the lift! He strikes his final pose and it's a clean run...
Woohoo! He punches the air with excitement - so chuffed for you lad! Gonna be tough to beat that Dom, the pressure's on.
DOMINIC CORK
Dom gives it his best shot but come on, there's a lot of pulling his parter around while she kicks and waves and not much else... few 'cuddly' lifts but there's less skill require for those than supporting mid-air.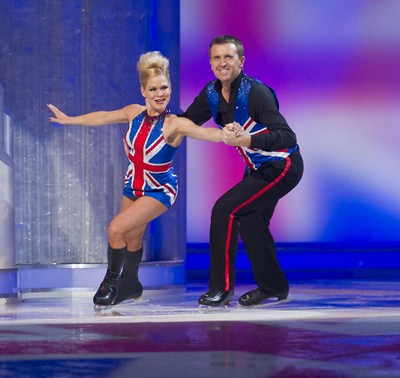 THE ICE PICK
The skaters must choose the celebrity they feel performed best. The final two stand on the ice and as each celebs vote they must skate to join them. Five votes needed to go through...
Kerry, Laura, Jennifer, Vanilla Ice, Sam and Chloe vote Jeff - he's through and Dominic Cork leaves us tonight.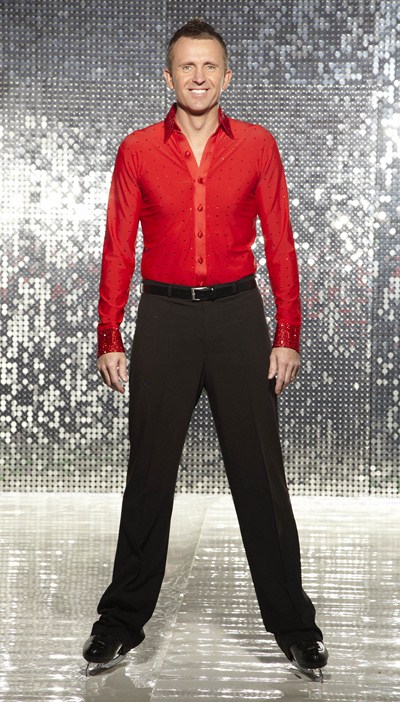 Dom has relished every moment and is a real fan of the show. He's been surprised by how much he's enjoyed the whole process.
"I have loved it and for one reason, Alexander is the one who should take all of the applause. I hope she comes back next year because whoever gets her will be a lucky man.
I've loved spending time with everyone, even the judges!"
Do you think the right man left?
Click the discussion bar below to leave your views...
NEXT WEEK: Stop the press people, over the next three weeks the celebs must master three required elements - the steps, the spin and the jump. And then by week three, they'll have to perform a Chris Fountain special!
See you through the week for all the latest news and back stage goss...
Selena x
Click here to 'like' Dancing On Ice on Facebook...
Click here to 'like' MSN Reality TV Blogs on Facebook...
Click here to follow our live tweets...

Selena Ledgerton
MSN Reality TV

Images/Video Courtesy of ITV
Selena Ledgerton

Selena is MSN TV's dedicated reality TV blogger. From X Factor to Big Brother, Selena gives you live updates throughout the shows, plus news and views during the week.
Are you shocked Made In Chelsea won a Bafta?
Thanks for being one of the first people to vote. Results will be available soon. Check for results
Yes - Made In Chelsea is rubbish

258 votes

No - Made In Chelsea is entertaining

38 votes
Total Responses: 296
Not scientifically valid. Results are updated every minute.