Britain's Got Talent: Pudsey and Ashleigh Win!
It was a close call but the dog had it's day and Jonathan and Charlotte were left standing...
I have to say, I can't tell you happy I am. Ashleigh Butler and Pudsey the pooch have won Britain's Got Talent 2012. In a final that can only be described as sensational, the pair wowed the judges with their Mission Impossible routine and left show favourites Jonathan and Charlotte standing.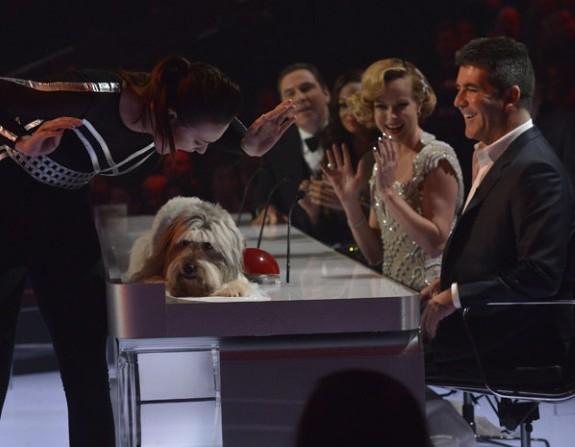 It was a tough night to call with amazing performances from Irish singer-songwriter Ryan O'Shaughnessy, Brit-band The Loveable Rogues and of course pop-era sensation Jonathan and Charlotte... but the moment Pudsey and Ashleigh began, you just knew that it was theirs.
Pudsey was on top form and as the Mission Impossible theme kicked in, Ashleigh jumped into action and her best friend shadowed her every move. The pair crept, leapt, crawled and clambered their way through a save-the-world style routine and with every stunt and trick, the crowd squealed with joy. The judges looked on and were particularly taken by the desk section as Pudsey crept on his belly infront of them as steathily as Tom Cruise himself!
One standing ovation later and the result was obvious.
Simon was in awe: 'One of my favourtie ever acts. You know how much I love dogs. I adore both of you Ashleigh and Pudsey. You've got better and better. What you've done is such a short time is a miracle.'
David enthused: 'I can't believe you've come out here and done another new act. The nation has fallen in love with you and Pudsey.'

On hearing they'd won, Ashleigh burst into tears and hugged her hound to within an inch of his life. "I'm so proud of Pudsey!" Ant McPartlin reminded her that she'd just won half a million pounds and she was literally lost for words. One person who wasn't lost for words was Simon Cowell, finally he had his winning dog act. "My working life is now complete!"
Jonathan Antoine and Charlotte Jaconelli were the last to perform with a powerful rendition of The Prayer.
Simon was touched: "Tonight's made me feel quite emotional. You're both talented and your loyalty and friendship makes you special."
Amanda managed to censor herself after wanting to curse: "Just ridiculously good. If I could swear, I would say .... me, you're brilliant!"
Jonathan Antoine couldn't believe they made the Top 3, "to get such amazing comments from the judges is brilliant. Thank you so much to everyone who's voted!"

Charlotte Jaconelli was humble in defeat. "Wow, second place out of all this talent. That's amazing!"
Do you think the right act won or should Jonathan and Charlotte have snatched the top spot?

Click the discussion bar below to leave your views...
Selena x
Click here to relive tonight's grand final.
Become a fan of MSN Reality TV Blogs here...
Become a fan of MSN Britain's Got Talent here...
Follow our live tweets...

Selena Ledgerton
MSN Reality TV
Are you sure you want to delete this comment?
Selena Ledgerton

Selena is MSN TV's dedicated reality TV blogger. From X Factor to Big Brother, Selena gives you live updates throughout the shows, plus news and views during the week.
Are you shocked Made In Chelsea won a Bafta?
Thanks for being one of the first people to vote. Results will be available soon. Check for results
Yes - Made In Chelsea is rubbish

316 votes

No - Made In Chelsea is entertaining

52 votes
Total Responses: 368
Not scientifically valid. Results are updated every minute.