Britain's Got Talent: Malakai Paul stole the show
The 9 year old blew the judges away
Malakai Paul has to be a contender for the Britain's Got Talent final. The 9 year old blew the judges away with his rendition of Beyonce's Listen after breaking down in tears.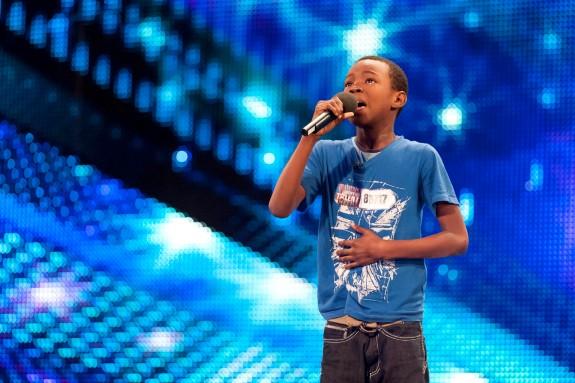 As the judges welcomed Malakai to the stage it was obvious he was nervous but as he started to sing, the tears welled in his eyes - he suffers from stage-fright.  
 
Sobbing, he was forced to halt his performance and his mother Toni-Ann ran on stage. Alesha Dixon joined the pair to try and reassure him. 
 
"Are you alright sweetheart? You were doing so good! Is he okay to sing on?" 
 
Malakai was the first to say yes and as he gathered himself, shouts of "Come on Malakai" rang out. With his nerves aside, the youngster gave the performance of his life and the judges said it all. 
 
Alesha – "Malakai, it's very, very simple, you are a star. It's a natural raw talent, that's what we are looking for. That was amazing sweetheart."
 
David – "I thought that was a really special audition, I agree with Alesha, you're a total star."
 
Simon –"I've got to tell you, what I like about you; you're brave, you know you, you got off to a bad start but you picked yourself up and people are going to like you a lot."
 
Amanda – "Absolutely brilliant, well done."

Backstage Dec congratulated him, "what was it like when you were up there, the whole place was on their feet, you got a standing ovation from everybody, how did that feel?"
 
Malakai was overwhelmed once more. "I felt proud."
He has to be a cert for the final!
Click the comment box below to leave your views...

Selena x
Join me here every Saturday night for the MSN Britain's Got Talent live blog. As always I'll be giving my views but I want to hear what you think of each performance... see you then!
Become a fan of MSN Reality TV Blogs here...
Become a fan of MSN Britain's Got Talent here...
Follow our live tweets...


Selena Ledgerton
MSN Reality TV
Are you sure you want to delete this comment?
Selena Ledgerton

Selena is MSN TV's dedicated reality TV blogger. From X Factor to Big Brother, Selena gives you live updates throughout the shows, plus news and views during the week.
Are you shocked Made In Chelsea won a Bafta?
Thanks for being one of the first people to vote. Results will be available soon. Check for results
Yes - Made In Chelsea is rubbish

289 votes

No - Made In Chelsea is entertaining

45 votes
Total Responses: 334
Not scientifically valid. Results are updated every minute.