Celebrity Big Brother: You wouldn't think they passed!
All the latest news and gossip from the Celebrity Big Brother house...
Oh why don't you all go home! Sorry but whatever happened to showing a little emotion?
The housemates have passed this week's BBTV shopping task and frankly, you'd only know it thanks to Julie Goodyear. Julie was called into the BBTV studio late this evening to give her final news report and therein she told the house that they had 'exceeded Big Brother's expectations' and would receive a luxury shopping budget.
Not only that but Big B thought they did so well, he threw in a party with music, canapes and drinks. Woohooo, I hear you cry... but no. The housemates barely batted an eyelid on hearing the news and if wasn't for Julie's cheeky celebrations in the task room, you'd have thought they'd failed. I've never been so happy to see a soap star jiggle their parts for joy!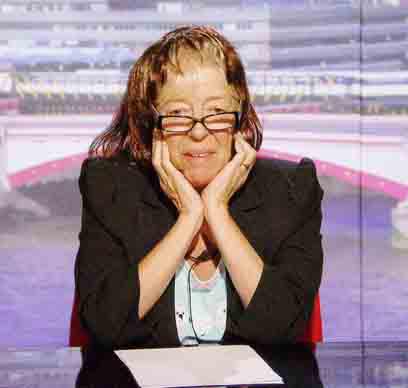 Back in the living area there was no cheering or clapping and even when their party started, it was much of the same. Julie and Ashley were the only housemates to get up to dance (and that wasn't till the third track), Coleen and Martin swayed in their seats and the party had barely begun when Julian offered to make everyone a cuppa - says it all doesn't it?

At least if they'd stood up it would have looked like they were trying. They didn't even hover around the buffet for a gossip and a dance, instead they decided to sit down and eat the canapes as though they were in a restaurant. Zzzz...

Gimme a nudge if anything exciting happens won't you? This lot really need to lighten up!

Fingers crossed they'll have a little more get up and go tomorrow as two of them will be getting up and going, it's eviction night. Will it be Martin, Julie or Prince Lorenzo? You decide!
Who would you like to see the back of?
Click the discussion bar below to leave your views...

Selena x


I'll be here daily with all the news from the house but don't forget to join me LIVE  from 8pm tomorrow for the Celebrity Big Brother semi-final. It's another double eviction. Who goes? As always I'll be giving my views but what I really want to know is what you think. See you there!

Follow our Live Tweets...
Click to join MSN Entertainment on Facebook
Check out the MSN Big Brother special...

Selena Ledgerton
MSN Reality
Images (C) Channel 5
Are you sure you want to delete this comment?
Selena Ledgerton

Selena is MSN TV's dedicated reality TV blogger. From X Factor to Big Brother, Selena gives you live updates throughout the shows, plus news and views during the week.
Are you shocked Made In Chelsea won a Bafta?
Thanks for being one of the first people to vote. Results will be available soon. Check for results
Yes - Made In Chelsea is rubbish

332 votes

No - Made In Chelsea is entertaining

56 votes
Total Responses: 388
Not scientifically valid. Results are updated every minute.