Celebrity Big Brother task: Last of the big spenders?
All the latest news and gossip from the Big Brother house...
And we thought the tasks couldn't get any bigger... how does blowing a grand sound?
Over the next two days the housemates will take part in the ultimate shopping task. They have to literally shop till they drop and spend, spend, spend! This is BIG one people, so I'll be popping back with updates over the next 48 hours.
BIG SPENDER TASK:
This morning the housemates were blasted out of bed via the wonder that is Shirley Bassey, yes you guessed it - Big Spender! Julie jumped out of bed and shook what her mamma gave her and the housemates fell about applauding and giggling as she thrusted her way through every beat.
They knew it had to be task time and frankly, the huge piggy bank in the garden pretty much gave it away!
Big Brother's voice rang out...
"Housemates will be given a £1,000 shopping budget if they are able to spend the same sum during the task. Each housemate will be given a personal cheque book which they can use to buy items. Their cheques are deposited in a giant piggy bank. The total amount spent by housemates during the task will equate to the amount they have to spend on their shopping, with the upper limit being £1,000."
So how can they spend the money?
Oooh, I feel like I'm watching Brewsters Millions don't you?
BREAKFAST
Housemates will begin the task by buying their breakfast
UPDATE: The housemates received a plethora of breakfast goodies. Big brother provided trays of cereal, milk, yoghurt, fruit, juices, bread, croissants and more. The more they eat the more they spend but anything left and the money will be refunded - uh oh.

Only £32 spent - it's no time to be watching your waistlines guys!
BIG BROTHER'S CLOTHING EMPORIUM
There's a catch to this one. Big Brother will call one housemate to the Diary Room and offer them the chance to buy a zentai suit (it's skin tight and hot in there!). The problem is that they'll be offered another, then another, then another... it's a chance to blow a lot of cash but they have to wear every suit they buy.
UPDATE: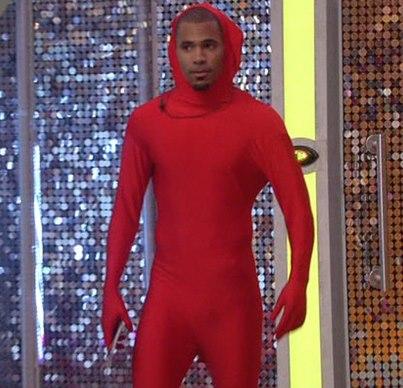 Harvey was selected for this challenge and he managed to sqeeze into six suits, he could have done more methinks - only £30 spent.

"Know that I am doing this for the team!" Yep, not great for your 'so solid' street cred that one Harv'.
BIG BROTHER'S FUN FARE
All housemates will be offered a chance to splash the cash in Big Brother's Fun Fare. They can pay and play on the kiddies rides, throw money into the coin pusher machine, go crazy on the waltzers or Pie a Celebrity. As is always the case, there's a catch.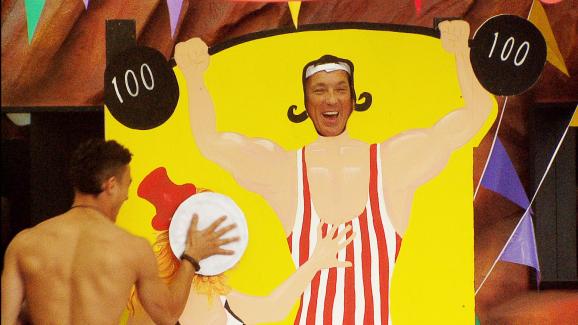 UPDATE:
The housemates spent an impressive £181 on rides and treats. They did well considering each ride was a forfeit. The attractions the housemates chose became theirs for the duration of the task.

For pure dedication The Prince and The Situation deserve a medal. Spinning on a waltzer for two hours can't be fun!
Trash for Cash
I'd love a go at this one! One celebrity housemates will be offered a stay in Big Brother's Hotel - they'll be warned they have to pay for any damages. Short story, they've got 3 minutes to rock n' roll the room and trash the place - game on! 
UPDATE:
Couldn't be happier that Martin was chosen for this challenge. Well he is a musician and  has played a Kray twin. Who better to trash a hotel room? £212 worth of damage, rock n' roll!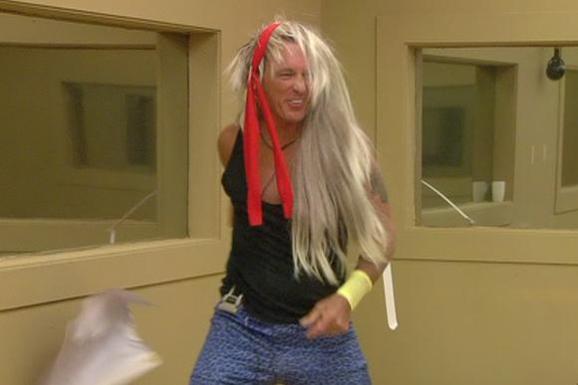 Pedalo
Two housemates will be offered the chance to pay to spend an hour in a swan pedalo. (Lame? We'll have to wait and see...)
UPDATE:
It wasn't that lame, they had the chance to spend £30 if they pedalled back and forth in the pool for an hour. Thankfully they made the best of it and had a giggle. A walk in the park for Julian and Julie.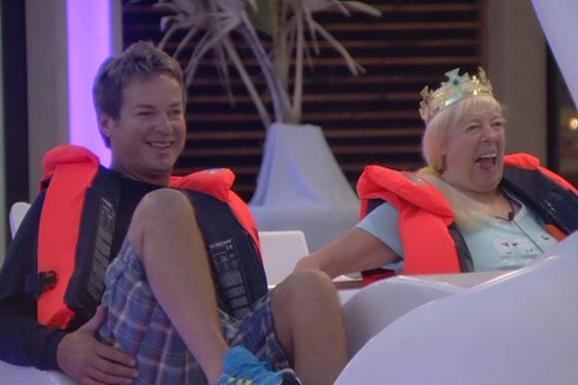 Still to come...
On Your Head
Are the celebrities above doing their own shopping? Has 'the help' being doing it for years? Yes I'm talking to you Your Highness! This is one task that'll tell us as the housemates will be tested on the prices of household items. Guess correctly and the price of the item will be deducted from their total, guess incorrectly and it'll be dropped on their head - ouch!
Shot Till You Drop
Six housemates in one VIP area with the offer of as much booze as they can cram in. Phahahaha! If you're thinking that we're gonna see some blasted celebrities then you couldn't be more wrong! Risky Sours, Bloody Scary and Sam-puker... get the picture? They have to finish them for the money to be spent, fail and it's refunded.
I have to say, I think this task is genius.

Will they blow the dough in time?
Click the discussion bar below to leave your views...
Selena x
I'll be here daily with rolling news from the house so be sure to pop back. Don't forget to join me LIVE for every eviction on our live blog, it doesn't get more 'real-time' - you'll have a ball, trust me.
Click here for our who's who gallery from launch night...
Join our Big Brother MSN page on Facebook here...
Become a fan of MSN Reality TV Blogs on Facebook
Follow our Live Tweets...
Check out the MSN Big Brother special...

Selena Ledgerton
MSN Reality
Images (C) Channel 5
Selena Ledgerton

Selena is MSN TV's dedicated reality TV blogger. From X Factor to Big Brother, Selena gives you live updates throughout the shows, plus news and views during the week.
Are you shocked Made In Chelsea won a Bafta?
Thanks for being one of the first people to vote. Results will be available soon. Check for results
Yes - Made In Chelsea is rubbish

332 votes

No - Made In Chelsea is entertaining

56 votes
Total Responses: 388
Not scientifically valid. Results are updated every minute.