Big Brother: Rave On
The latest news and gossip from the world of Big Brother
Glow sticks at the ready!

Last night housemates were challenged to down a cinnamon shot to win a 90's Rave Party. It sounds simple enough but unfortunately there was a twist - the cinnamon was powdered!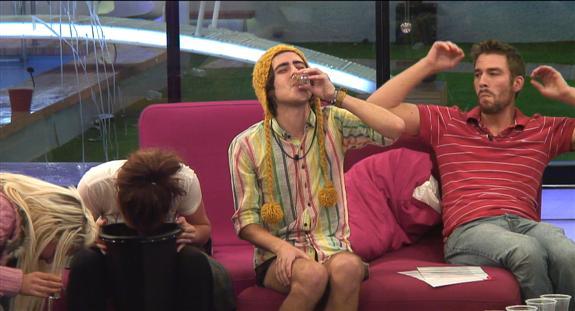 At the klaxon, the group had to swallow the teaspoon of cinnamon without drinking any liquid or letting any of the cinnamon escape from their mouths.
 
In order to pass three out of the seven housemates had to swallow the lot!

UPDATE: Harry, Aaron and Jay successfully managed to swallow their cinnamon shot so as promised, Big Brother provided glow sticks, mesh armbands, luminous tights, tutus and wigs. I don't remember wearing a tutu back in the day?




The good news is that it lifted the housemates spirits after Jem's departure, whistle posse blow!


Click the discussion bar below to leave your views...


Selena x


Join our Big Brother MSN page on Facebook here...
Become a fan of MSN Reality TV Blogs on Facebook
Don't forget to pop back regularly for all the Big Brother news and updates.


I'll be here posting like crazy, there'll be coverage of all the action as well as live blogs and chat. Yep, you heard me... it's all here so be sure to add us to your favourites and don't miss a trick! Back soon with more...



Selena Ledgerton
MSN Reality TV
Selena Ledgerton

Selena is MSN TV's dedicated reality TV blogger. From X Factor to Big Brother, Selena gives you live updates throughout the shows, plus news and views during the week.
Is the X Factor better now that Simon Cowell's back?
Thanks for being one of the first people to vote. Results will be available soon. Check for results
Yes - he's the main man

114 votes

No - it's still awful

144 votes
Total Responses: 258
Not scientifically valid. Results are updated every minute.