Celebrity Big Brother: Rhian Sugden interview
We spoke to the glamour model about sharing a bed with Ashley and life in the house...
Why was Rhian's boyfriend a no show, did she really fancy Ashley and what does she think of 'The Gods' antics? All this and more as we speak to the latest Celebrity Big Brother evictee...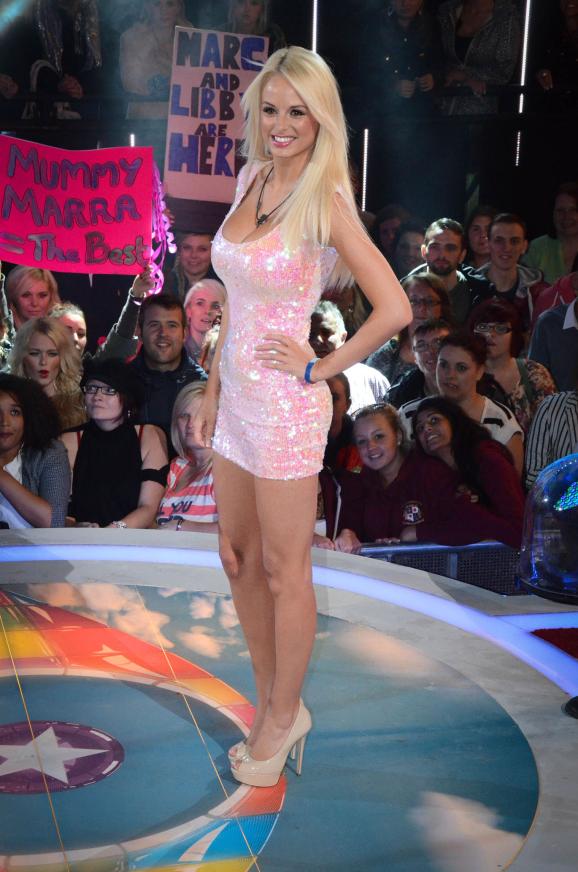 Your boyfriend didn't turn up to the eviction last night, was he upset with something you did?
No, he was here in the hotel waiting for me. He just wants to stay out of the limelight... he's proud of me.

Why do you think you were evicted?
I think it's because I gave up. I just got tired of trying to justify myself. I realised after the gunge tank task that everyone thought I'd been leading Ash on, so I'd had enough. I'd like to think that's the reason anyway, I haven't seen all of the press cuttings yet.
So what happened with your boyfriend?
We'd said all along we'd play it down. That backfired with me in the house as people thought I was playing games. It was a conversation we'd had together. I didn't write his name on the sheet for him to come to the evictions but he turned up of his own accord to come and see me as some people had said he wouldn't.

Do you think befriending Ashley backfired?
Yes, I shouldn't have said some of the things I said. Whenever I said I liked him, I meant as a friend but he took it the wrong way.
Do you think 'The Gods' have made their own click?

Harvey has manipulated Ashley yes. Everything that Harvey says Ash would do and Harvey was doing everything Julie did. If I wasn't out last night it would have been Friday. I think that's who will be there at the end... Julie, Harvey, Ashley and The Situation.
You said you wanted to change people's perception of you, do you think you did that?

No matter how I was edited at least I was being myself. I've read some tweets and everyone says I've come across well. As long as my friends and family know that I'm being me, that's fine with me. People are going to love me or hate me whatever I do, I've done my best and that's all I could do.
Would you do it again?
I wouldn't go back into that house, no. If Ashley wasn't in there then maybe.

You seemed to get on well with Samantha, what did you think of her?
She's so lovely, she wouldn't hurt anyone. It's funny to think that such a controversial journalist can be so different in reality. I really liked her.

You said you were the quietest housemate, why do you think that is?
I was asked a lot of maths questions like I was being tested and I slipped up on one. Someone always had something to say or stepped in when I spoke. I felt overshadowed a lot of the time. I should have strapped on a pair and spoke up more.

Who would you like to see when you leave the house?
I'll be seeing Coleen, she's invited me to her Halloween Ball - she's lovely. I'll speak to Danica, I'll speak to them all really.

Who do you want to win?
I said Danica last night but thinking about it, I want Julian to win - he's so funny.
And finally what would you like to get out of this experience, what are your plans for the future?
I have no idea. I said I wanted to get into TV but after speaking to Julian, I'm thinking about theatre. Maybe I'd make a good Tinkerbell... the list is endless.

Are you disappointed Danica didn't leave last night?
I know I am!
Click the discussion bar below to leave your views...
Selena x
Follow our Live Tweets...
Click to join MSN Entertainment on Facebook
Check out the MSN Big Brother special...

Selena Ledgerton
MSN Reality
Images (C) Channel 5
Are you sure you want to delete this comment?
Selena Ledgerton

Selena is MSN TV's dedicated reality TV blogger. From X Factor to Big Brother, Selena gives you live updates throughout the shows, plus news and views during the week.
Are you shocked Made In Chelsea won a Bafta?
Thanks for being one of the first people to vote. Results will be available soon. Check for results
Yes - Made In Chelsea is rubbish

354 votes

No - Made In Chelsea is entertaining

60 votes
Total Responses: 414
Not scientifically valid. Results are updated every minute.