Big Brother: Nominations Revealed!
WARNING: CONTAINS SPOILERS
It's been an emotional roller-coaster for the housemates over the last few days and as the shopping task came to an end, they thought it was finally over... wrong! Big Brother had one surprise left, face-to-face nominations!
As 'Good Housemates' Luke S, Sara and Scott celebrated their win and their immunity from nominations, the eye in the sky announced: "Nominations will take place in five minutes, can housemates please gather around the campfire".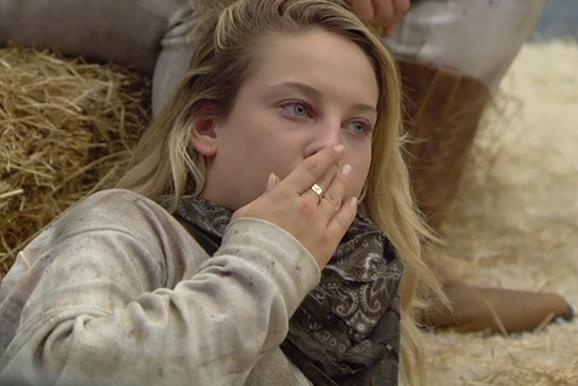 Sat around the fire, they were given a pack of cards with housemates' faces on and had to pick two. Lauren received the most nominations with Luke A a close second.

Lauren took it upon herself to confront the housemates who voted for her while Luke A was tearful and struggled with the news. Thankfully Lauren and Deana tried to give him some support - he just wants to be loved bless him.

Deana may have been a shoulder to cry on but as the night went on, rather than discussing the nominees, she discussed the nominations. Needless to say Big Brother wasn't having it and by 1am the hot water was turned off once more.

Please note Deana... saying "We mustn't talk about this" will not get you out of breaking the rules!

Are you happy with this week's nominees?
It seems Conor's been given a reprieve doesn't it?
Click the discussion bar below to leave your views...
Selena x
Join me every Friday LIVE from 9pm to comment on the eviction, you can even take part on your mobile! I'll be right here every day with all the news from the house, so be sure to pop back. It's gonna be emotional...

Big Brother house revealed!
Join our Big Brother MSN page on Facebook here...
Become a fan of MSN Reality TV Blogs on Facebook
Follow our Live Tweets...
Check out the MSN Big Brother special...

Selena Ledgerton
MSN Reality
Images (C) Channel 5

Here you go again!,any chance to degrade Deana and you are straight there. Whilst you will not show the evilness of CONor who we can see in the background swearing about other inmates and still saying he HATES dearest Deana.O.K. most of the housemates swear, but only as in general speach,not about an individual. What do you think CONor has learnt about himself? NOTHING he beleives he coan threaten any woman and he will certainly continue to do so with avengance.After all BIG BROTHER did not chastise him in any way.
Are you sure you want to delete this comment?
Selena Ledgerton

Selena is MSN TV's dedicated reality TV blogger. From X Factor to Big Brother, Selena gives you live updates throughout the shows, plus news and views during the week.
Are you shocked Made In Chelsea won a Bafta?
Thanks for being one of the first people to vote. Results will be available soon. Check for results
Yes - Made In Chelsea is rubbish

353 votes

No - Made In Chelsea is entertaining

59 votes
Total Responses: 412
Not scientifically valid. Results are updated every minute.