Celebrity Big Brother: Jasmine's mum enters the house...
All the latest news and gossip from the Celebrity Big Brother house...
Yesterday, Marilyn Galsworthy (Jasmine's Mother) entered the Big Brother house on the pretence of being a new housemate, celebrity psychic Shelley. (Yes, I thought it was lame too!)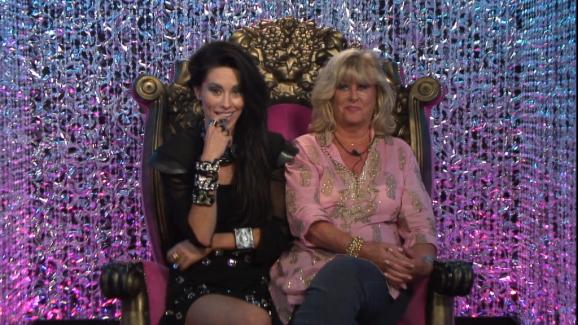 In order to win a special prize for Jasmine, Marilyn had to convince the housemates she was a genuine celebrity housemate and give a number of psychic readings. If housemates rumbled Marilyn they would win a reward this evening.
All the predictions were fed to her through an earpiece by Jasmine who was watching from the small task room.

Marilyn gave the following psychic readings:Martin
– She senses he too has the gift
Samantha
– She can sense her dog is trying to communicate and he misses her
Coleen
– She sensed Coleen gets bored easily and asked if she was getting bored of their conversation
Danica
– Danica refused to have a psychic reading
Rhian
– She is filled with secrets
Julian
– Lives somewhere haunted
Ashley
– Senses swarms of girls in his future
Prince Lorenzo
– She sees a big love and that a marriage is coming up soon.
As the majority of housemates did not believe Shelley was psychic and suspected that she had entered the house as part of a task Jasmine and Marilyn FAILED their secret mission and housemates were rewarded with dinner, drinks and music last night. Happy days :)
Would you like to see Jasmine back in the house?
Click the discussion bar below to leave your views...
Selena x
Follow our Live Tweets...
Click to join MSN Entertainment on Facebook
Check out the MSN Big Brother special...

Selena Ledgerton
MSN Reality
Images (C) Channel 5

I would like to see the psychotic lunatic Jasmine standing in a court room answering a charge of defamation of character and public slander. I would like to see her lose every penny that she has earned for going into the house in the first place. The only house I would like to see this vindictive zealous low life go into is a big publicly funded one called a prison. I am utterly amazed that the BB producers have allowed this evil cretin the airspace to publicly call another housemate a Prostitute and a
****
live on national television. I sincerely hope that there is a very astute lawyer out there somewhere prepared to advice Danica when she comes out of the house. You reap what you sow BB and you have sown the seeds of a very big litigation against yourself and the Jasmine moron. We go on in this country about equality and fair play, would you BB have allowed this highly viewed public slander to continue if Danica was anything other than white? I think not. Perhaps this is the difference between channel four and channel five, I truly believe that any channel four producer would have immediately evicted the foul mouthed Jasmine and would have distanced BB from her comments instead of allowing her to go back in and repeat them. Viewings are one thing but common decency is another. You are right out of order BB channel five and I for one sincerely hope that Danica nails your
****
to the wall in a court of law when she leaves the house. As for Selena Ledgerton try finding yourself before you comment on others and oh! you are not Victoria Beckham nor Danica no matter how much you would like to be either!  

Now then, Jasmine's Mum. Marilyn was it? Reminds me of one of those cleaning programme women: the one that always had her blond hair scrapped back and sported pink rubber gloves with matching fur cuffs. Eye shape, lips, makeup and voice, very similar. Aggy was the name or was that t'other one? Apologies  if wrong.

Are you sure you want to delete this comment?
Selena Ledgerton

Selena is MSN TV's dedicated reality TV blogger. From X Factor to Big Brother, Selena gives you live updates throughout the shows, plus news and views during the week.
Are you shocked Made In Chelsea won a Bafta?
Thanks for being one of the first people to vote. Results will be available soon. Check for results
Yes - Made In Chelsea is rubbish

342 votes

No - Made In Chelsea is entertaining

56 votes
Total Responses: 398
Not scientifically valid. Results are updated every minute.