Big Brother: By far the weirdest task ever, funny though!
All the latest news and gossip from the Big Brother house...
Okay, is anyone else getting a bit freaked out?
The White Room task continued today with the most bizarre challenge yet... and it was only a quiz!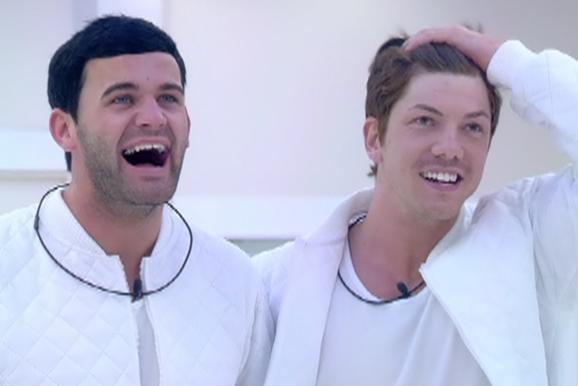 Becky and Ashleigh took part in a white-themed quiz to win a meal for their favourite White Room housemate. Ashleigh was playing on behalf of Luke S and Becky was playing for Conor, unfortunately the girls just managed to embarrass themselves - sorry but it's true!

Their answers (are you ready for this?):

Regan, Nixon and Clinton were all residents of which famous house?

A: Santa Claus

B: That's So Raven

In the 1975 film Jaws the beach goers of Amity Island where attacked by which creature?

A: White Shark

B: Shark

Who is this song by…['My Everything']

Both: Barry White

Which famous cliffs might you see from the Ferry on the way back from France?

Both: White Cliffs of Dover

Which sleepy princess was friends with 7 vertically challenged men?

Both: Snow White

A mixture of vodka, cream and coffee liqueur is known as what?

A: Tia Maria

B: Baileys

What do celebrities do to get a sparkly Hollywood smile?

Both: Teeth Whitening

If a person is frightened, and looks a bit pale, they are often described as what?

A: Death

B: Shocked

What is the title of this song? [Michael Jackson – Black or White]

Both: Black or White

What term is used to describe immature fish fried in a light batter?

A: Cod

B: Sushi

In the board game Cluedo, what is the Houskeeper called?

A: Butler

B: Mrs White

In the 1992 film Reservior Dogs, Harvey Keitel plays a criminal known as who?

A: Dog Snatcher

B: Burglar

On which road in London will you find a statue of King Charles 1st ?

A: Trafalgar Square

B: Bond Street

What is the Beatles 1968 album commonly referred to as?

A: The Beatles

B: The Legend

What might you see on your television if you haven't tuned it in properly?

A: A Fuzzy Thing

B: White Screen

Which Snooker player was known as the 'Whirl Wind' ?

A: Paul Something…

B: Mr. White

What did Alice follow down a hole into wonderland?

Both: White Rabbit

What was 90's TV funny man Michael Barrymoores famous catchphrase?

A: Super Market Sweep

B: It's all white white

What was Bing Crosby dreaming of in his 1942 hit song?

Both: A White Christmas

If Big Brother was to say that Big Brother thinks all housemates are very interesting and intelligent, Big Brother would be telling you a what?

A: Truth

B: A White Lie

If you're not laughing at those answers there's something seriously wrong, come on ladies - jeeze!
At the end of the quiz, Becky scored six correct answers and Ashleigh scored three. Big Brother revealed that one housemate could earn bonus points if they were the fastest to down two pints of milk - yep, pointless and weird.
Regardless of the madness, Becky gulped it down in record time and took the win. Tonight Conor receives a colourful banquet while Luke S will be punished.
But what will the punishment be?
I'll be back soon with more.
UPDATE: Can we stop this 'White Room' malarky now please? Conor's punishment is to sort a vat of beans (white and orange) with chopsticks. Frankly it's about as interesting as watching paint dry and HAS BEEN DONE! Come on Big B, the word of the day is 'originality' ...and new housemates! Go on, chuck a couple in with just 11 days to go, it'll drive 'em crazy!
Click the discussion bar below to leave your views...
Selena x
Join me every Friday LIVE from 9pm to comment on the eviction, you can even take part on your mobile! I'll be right here every day with all the news from the house, so be sure to pop back. It's gonna be emotional...

Big Brother house revealed!
Join our Big Brother MSN page on Facebook here...
Become a fan of MSN Reality TV Blogs on Facebook
Follow our Live Tweets...
Check out the MSN Big Brother special...

Selena Ledgerton
MSN Reality
Images (C) Channel 5

Are you sure you want to delete this comment?
Selena Ledgerton

Selena is MSN TV's dedicated reality TV blogger. From X Factor to Big Brother, Selena gives you live updates throughout the shows, plus news and views during the week.
Are you shocked Made In Chelsea won a Bafta?
Thanks for being one of the first people to vote. Results will be available soon. Check for results
Yes - Made In Chelsea is rubbish

295 votes

No - Made In Chelsea is entertaining

47 votes
Total Responses: 342
Not scientifically valid. Results are updated every minute.