Big Brother Task Update: Who's immune from nomination?
Have they passed the task and who will nominate face-to-face tonight?
So the good, the bad and the really ugly housemates took part in three challenges in all. But who came out on top and panned the most nuggets in the Rocky River of Gold? The winning team will be immune from nomination and win a special prize!
Sheriff Conor and his Deputy Caroline chose good housemate Scott, bad housemate Adam and really ugly housemate Luke A to become the shooters who would be shooting paintballs at their fellow housemates.
Good housemate Scott chose to shoot at ugly housemate Becky bad housemate Adam chose to shoot at good housemate Luke S and really ugly housemate Luke A chose to shoot at bad housemate Ashleigh. Unfortunately for 'the bads' Ashleigh declined to take part in the task and therefore they were disqualified.
After the bum shaped targeting session, The Sheriff and his Deputy decided that good housemate Scott had the best aim and awarded his team with 30 seconds of panning for gold time in the river.
Time for a hoedown dance off! The teams choreographed and performed their own dance routine while accompanied by a live ukulele band. Both Sheriff Conor and Deputy Caroline found it difficult to choose but granted 'the uglies' first prize and time in the Rocky River of Gold.
Task Three: Spaghetti Western
This was an all-you-can-eat extravaganza - shlurp! The good housemates, Luke S, Sara and Scott probably won't eat for the rest of the day but they managed to bag 30 seconds of panning for gold time.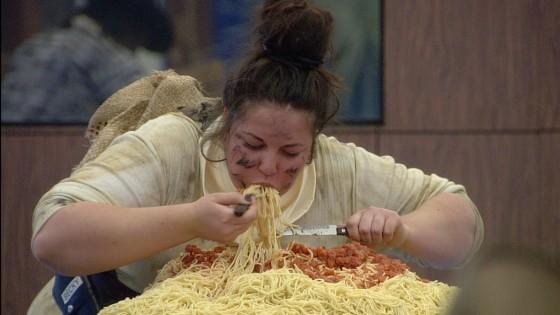 The Rocky River of Gold
As the housemates prepared for the final challenge, it was obvious they meant business. Whoever won this task would be granted immunity from today's nominations and win a special prize... and let's not forget the small matter of the shopping budget.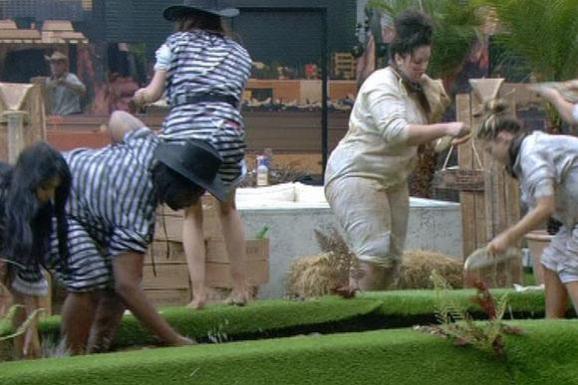 THE RESULT:

The good housemates were permitted 2 minutes panning for gold as they won 'Raw Hide' and 'Spaghetti Western', The bad housemates were allowed just 1 minute as they won no tasks and The really ugly housemates won 'The Hoedown' so bagged 1 minute 30 seconds.

As they panned for gold it became obvious that the bad housemates were anything but. Sadly they had the technique but not the time and the good housemates prevailed. I guess those mini-tasks really did count eh?

Luke S, Sara and Scott win immunity from tonight's nominations but they'll have to do without luxuries as all three teams failed to gather enough gold. Basic shopping budget are the worst three words to hear in that house.
Luke S was so disgusted that he complained to Big Brother. "You've made this too hard on purpose." I'm guessing he's cranky because he's hungry. It's only gonna get worse Luke!
Click the discussion bar below to leave your views...
Selena x
Join me every Friday LIVE from 9pm to comment on the eviction, you can even take part on your mobile! I'll be right here every day with all the news from the house, so be sure to pop back. It's gonna be emotional...

Big Brother house revealed!
Join our Big Brother MSN page on Facebook here...
Become a fan of MSN Reality TV Blogs on Facebook
Follow our Live Tweets...
Check out the MSN Big Brother special...

Selena Ledgerton
MSN Reality
Images (C) Channel 5

Selena Ledgerton

Selena is MSN TV's dedicated reality TV blogger. From X Factor to Big Brother, Selena gives you live updates throughout the shows, plus news and views during the week.
Are you shocked Made In Chelsea won a Bafta?
Thanks for being one of the first people to vote. Results will be available soon. Check for results
Yes - Made In Chelsea is rubbish

201 votes

No - Made In Chelsea is entertaining

32 votes
Total Responses: 233
Not scientifically valid. Results are updated every minute.