Big Brother: Who nominated who?
All the latest news and gossip from the Big Brother house...
It's that time again people. We know that Lydia and Deana are up for eviction on Friday but the question is who put them there? Who's lied through their teeth and stabbed their buddies in the back?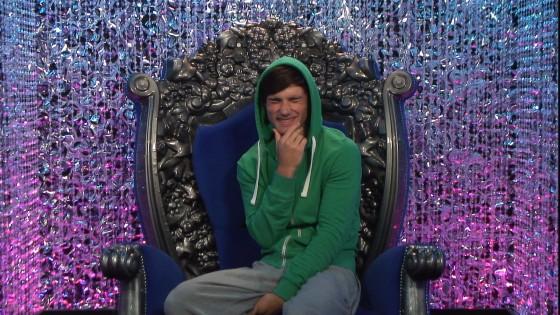 Lydia is the first housemate to nominate and she picks Conor and ex-bed mate Shievonne. She and Shievonne have never recovered from the whole 'dirty looks' argument.
Next up is Conor who nominates Deana and Lydia. Conor reveals that he was less that impressed with Deana during the Confusing Cuisine task, I have to agree - she didn't try at all did she?
Sara is the next housemate to enter the diary room and chooses Luke A and Luke S. Her reasons are no surprise she feels no connection with either of them, never has.  
Luke S nominates Lydia and Deana, as does Becky - do we really need to say why? Both Becky and Luke S have felt nothing but bad vibes from Lydia and since the Confusing Cuisine task, Becky's barely spoken to Deana... she even bitched about her (gasp!)

Shievonne is the next into the diary room and nominates Scott and Adam. I'm surprised by this one, I thought she'd go for Lydia - bit of a wasted vote if you ask me and curious considering she never actually refused Adam's wedding proposal???
Luke A nominates Luke S and Caroline, Adam nominates Caroline and Shievonne, Ashleigh chooses Lauren and Lydia and Scott goes for Lydia and Adam. Let's tally up the scores...

There are only four housemates left to cast their nominations. At this point, all 14 housemates could face the public vote. Lauren is the eleventh housemate to nominate and she chooses Deana and Luke S, Deana nominates Luke S and Conor, Arron opts for Lydia and Deana and finally Caroline nominates Adam and Luke A.
The result of the nominations means that housemates Lydia and Deana will face the public vote with 6 and 5 votes respectively. Arron and Lauren cast their votes and changed 14 into just two. Can't say I'm surprised, Arron has called Lydia 'boring, depressing and annoying' - kinda says it all.
Who will leave on Friday?
Click the discussion bar below to leave your views...
Selena x
Join me every Friday LIVE from 10pm to comment on the eviction, you can even take part on your mobile! I'll be right here every day with all the news from the house, so be sure to pop back. It's gonna be emotional...

Big Brother house revealed!
Join our Big Brother MSN page on Facebook here...
Become a fan of MSN Reality TV Blogs on Facebook
Follow our Live Tweets...
Check out the MSN Big Brother special...

Selena Ledgerton
MSN Reality
Images (C) Channel 5
Edited and published @ 10pm
Are you sure you want to delete this comment?
Selena Ledgerton

Selena is MSN TV's dedicated reality TV blogger. From X Factor to Big Brother, Selena gives you live updates throughout the shows, plus news and views during the week.
Are you shocked Made In Chelsea won a Bafta?
Thanks for being one of the first people to vote. Results will be available soon. Check for results
Yes - Made In Chelsea is rubbish

195 votes

No - Made In Chelsea is entertaining

32 votes
Total Responses: 227
Not scientifically valid. Results are updated every minute.