Celebrity Big Brother Task: The acid test
All the latest news and gossip from the Celebrity Big Brother house...
This evening, one housemate faces a very difficult decision. They must choose which housemates receive their letters from home and which housemates have their letters destroyed. It's time for the acid test!
Big Brother gathered the housemates on the sofas and asked one housemate to come the Diary Room - this housemate is the letter picker for the task (shudder).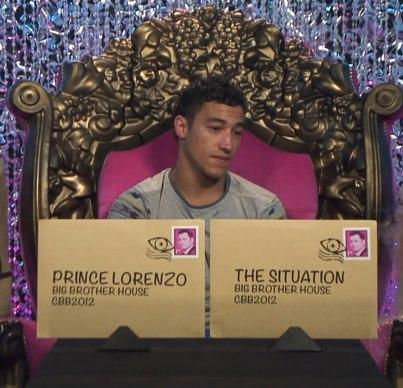 Ashley sat in the legendary chair. On one side of him was a mail sack containing all of the housemates' letters from home, on the other was a barrel of 'acid'.
Ashley was told that only half of the letters in the sack could go back into the house, the rest must be destroyed and it's all up to him.
Ashley was not happy with what came next. Big Brother ordered him to choose two letters at random from the sack, save one and place the other in the vat of acid. He was instructed to continue doing this until there were no letters left.
The problem is, Ashley has no idea that the other housemates are watching from the sofas! Fingers crossed they'll understand. Ashley was told if he didn't do it, then all the letters would be destroyed.
Who'll get their letter from home?
Would you like your letter from destroyed? I know I wouldn't.
Good luck Ashley, I think you're gonna need it!
Click the discussion bar below to leave your views...
Selena x
I'll be here daily with all the news from the house but don't forget to join me LIVE on Wednesday from 8pm for the Celebrity Big Brother semi-final. It's another double eviction. Who goes? As always I'll be giving my views but what I really want to know is what you think. See you there!

Follow our Live Tweets...
Click to join MSN Entertainment on Facebook
Check out the MSN Big Brother special...

Selena Ledgerton
MSN Reality
Images (C) Channel 5
I am SSSSSSSSSSSSSSSSSSSS​SSoooooooooooooooooo​oooo Glad that Julie Goodyear has been found out what a bitch she really is. From the 2nd day I knew she would be a back stabber. Also she is soooooo disgusting the way she swears and chews that gum, and the make up!!!!!  She is like an old street walker (a slag!!!!) She has done herself no favours at all. I think she has really showed herself up!
 Then she says "I cant understand why all the girls have been voted out "???? She is the one who has voted them all out. is she stupid or what!!! She must be the next, cant stand her!!!!!!
Are you sure you want to delete this comment?
Selena Ledgerton

Selena is MSN TV's dedicated reality TV blogger. From X Factor to Big Brother, Selena gives you live updates throughout the shows, plus news and views during the week.
Are you shocked Made In Chelsea won a Bafta?
Thanks for being one of the first people to vote. Results will be available soon. Check for results
Yes - Made In Chelsea is rubbish

359 votes

No - Made In Chelsea is entertaining

60 votes
Total Responses: 419
Not scientifically valid. Results are updated every minute.