Celebrity Big Brother: The Situation brands Danica as 'fake'
All the latest news and gossip from the Celebrity Big Brother house...
Four housemates are up for eviction tonight but two have stood out all week thanks to their explosive arguments. The bickering between Danica and The Situation continues but The Situation believes he's finally figured Danica out... as a fake!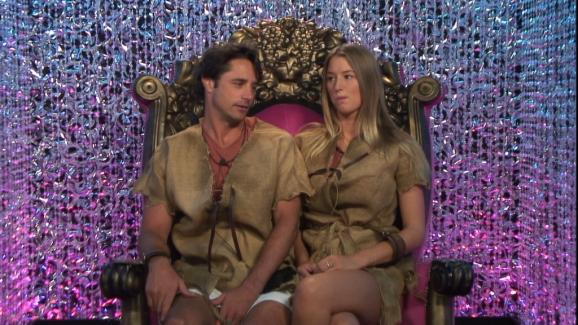 Since the pair kicked off initially the smarmy comments have come thick and fast, but yesterday The Situation tried to calm the waters by reassuring Danica that he didn't have a problem with her. Her reaction was nonchalant and in turn Mike felt once again rejected. "I just don't think I like you anymore."
Danica shook her head saying that he was a "strange one" and pointed out that nothing had changed between them "apart from me saying I'm in a relationship".
Earlier in the week Danica had been strapped to Prince Lorenzo as part of the Gods and Mortals task and she believed that caused the initial argument. "Take your jealousy elsewhere. I am fed up of pussy footing around you. I'm done now. I couldn't give a s***.
"You're upset because you fancy me and I don't fancy you back. If I want to talk to Lorenzo, I love Lorenzo. I really really like him.
"I don't want to be with you, I want to be your friend. You can't be friends be someone that gives you abuse all the time."
The Situation was shocked and explained that that was not the case. According to him the argument had started because Danica and Lorenzo both laughed at Ashley when he completed his sacrifice. He told Danica that she was "delusional" and "one of the fakest people he has ever met". Hilariously she replied "I love my fake t*ts!"
The Situation set her straight. "I meant your character. Your character is fake!"
Will the non-stop bickering help or hinder them tonight? Who will climb the stairs and take the walk of shame? God I hope it's Danica!
Click the discussion bar below to leave your views...
Selena x
I'll be here daily with all the news from the house but don't forget to join me LIVE from 9pm tonight for the eviction. Who goes? As always I'll be giving my views but what I really want to know is what you think. See you there!

Follow our Live Tweets...
Click to join MSN Entertainment on Facebook
Check out the MSN Big Brother special...

Selena Ledgerton
MSN Reality
Images (C) Channel 5
oh come on. first she started flirting with the situation then she started asking the prince when he married would his wife become a princes. she has been like a bee around a honey pot with him since, I can understand why the situation called her a fake. who the hell does she think she is. get her out friday. 
I hate girls ( I shan't insult women by referring to her as a woman! ) like Danica. She's a professional "man user"or, to put it bluntly, a prostitute. Jasmine was right about her. She gives men the impression she has feelings for them when she has none. Then when she's reeled them in she drops them like a red hot brick.  First she broke The Situation's heart, then she trampled all over it. I hate her so much I've voted to save all three of the other nominated housemates. 
Are you sure you want to delete this comment?
Selena Ledgerton

Selena is MSN TV's dedicated reality TV blogger. From X Factor to Big Brother, Selena gives you live updates throughout the shows, plus news and views during the week.
Are you shocked Made In Chelsea won a Bafta?
Thanks for being one of the first people to vote. Results will be available soon. Check for results
Yes - Made In Chelsea is rubbish

196 votes

No - Made In Chelsea is entertaining

32 votes
Total Responses: 228
Not scientifically valid. Results are updated every minute.