Celebrity Big Brother Task: Take the plunge results
All the latest news and gossip from the Celebrity Big Brother house...
So who took the title of super sucker extraordinaire? It was a close race but Lorenzo pipped Martin to the post with a whopping 20 toilet plungers. Resembling an over zealous Dalek, the Prince giggled his way through the challenge... well he couldn't really take it seriously could he? I mean look at him!!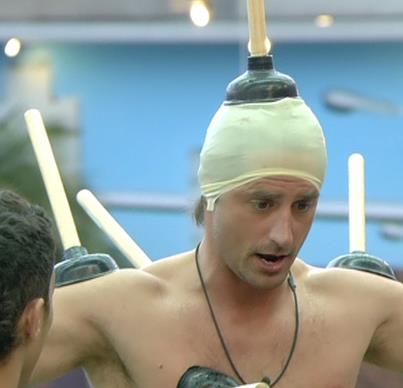 It was worth the pain though. After taking the pain of 20 enormous suckers, Lorenzo and his team (Coleen, Julian and Ashley) won a takeaway of pepperoni pizza and salad. They chowed down with their feet up while Martin, Harvey, Julie and The Situation were served up that old Big Brother favourite... gruel!
As a strange twist, the eye in the sky pulled out another old faithful - the red button. Lorenzo was told that he was in charge of punishing the losing team and every time he pushed the red button, they would have to leap in the hot tub.
Unfortunately for the Prince, it seems he's having none of it and is yet to press the button. No doubt Big Brother will have a punishment prepared if he doesn't do it but he's sticking to his guns...
Would you push the button?
Do you think he did well taking 20 plungers?
I'd say 'don't try this at home' but hell, I'd love to see someone give it a go!
Click the discussion bar below to leave your views...
Selena x
I'll be here daily with all the news from the house but don't forget to join me LIVE on Wednesday from 8pm for the Celebrity Big Brother semi-final. It's another double eviction. Who goes? As always I'll be giving my views but what I really want to know is what you think. See you there!

Follow our Live Tweets...
Click to join MSN Entertainment on Facebook
Check out the MSN Big Brother special...

Selena Ledgerton
MSN Reality
Images (C) Channel 5
Well I can't comment, as I don't watch live TV, oh well I guess it was fun to watch for albeit 10 mins of action within a period of 1 hour.....
Perhaps there should be a highlights edition episode made to be made viral via the likes of youtube for the whole world to enjoy!
The plunger task looks uncomfortable, but I am sure they will bring in some nicer tasks and rewards!
Are you sure you want to delete this comment?
Selena Ledgerton

Selena is MSN TV's dedicated reality TV blogger. From X Factor to Big Brother, Selena gives you live updates throughout the shows, plus news and views during the week.
Are you shocked Made In Chelsea won a Bafta?
Thanks for being one of the first people to vote. Results will be available soon. Check for results
Yes - Made In Chelsea is rubbish

252 votes

No - Made In Chelsea is entertaining

38 votes
Total Responses: 290
Not scientifically valid. Results are updated every minute.