Celebrity Big Brother Task: Housemate hot topics
All the latest news and gossip from the Celebrity Big Brother house...
Once again it's been a task-tastic week in the CBB house. Martin and Julian brought the house down with their ballet performance and enjoyed a swanky dinner dance with the female judges. Big Brother didn't take long to throw another task their way though...
The female judges were more than impressed with all the male dancers. They were in tights, what do you expect! Julian and Martin stood head and shoulders above the rest and I'm sure the ladies were more than happy that they chose them as after champagne and canapes, Julian happily whisked them one by one around the floor.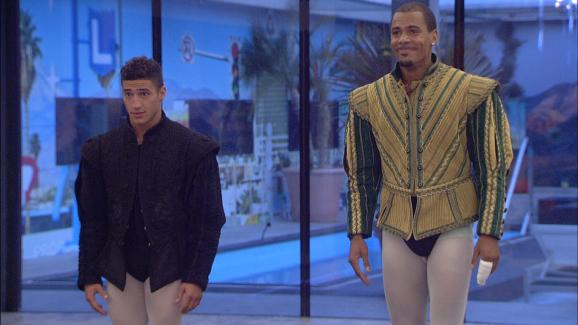 After a wonderful night, the atmosphere this morning was heavenly. The housemates banded together to clean up and many offered to help the nominees prepare for tonight's eviction. All was well until Big Brother decided to stir the pot. There's nothing like a chat show to dig up a few skeletons!
For today's task Big Brother handed Coleen the role of chat show host. She'll be leading the debate as the group discuss the 'Housemates' Hot Topics'.
Joining Coleen on the panel are Danica, Samantha and Julie and let's just say they'll have a few tricky subjects to talk about... statements they've made themselves!

TOPIC 1
SAMANTHA'S VIEWS ON A SUCCESSFUL MARRIAGE.
Samantha statement: "Independence, a career, who needs them? A husband who prizes your looks not your mind is the key to a happy marriage. I ask his permission before booking a hair appointment and discuss with him what I will have done. There are down sides to being pretty. The main one being that other women hate me for no other reason than my lovely looks."
Is being a trophy wife the way to keep your man happy?
TOPIC 2
DANICA'S ATTITUDE TO FLIRTING.
Danica's statement: "I love flirting with men and women – I can't help myself. I often get my boobs out."
So is flirting fine when you've got a boyfriend?

TOPIC 3
DISCUSS WHETHER HONESTY REALLY IS THE BEST POLICY?
Coleen's statement: "It's lies and loss of trust that keeps you awake at night."
So is honesty really the best policy?
TOPIC 4
THEY DON'T MAKE THEM LIKE THEY USED TO.
Julie's been in show business for the past 50 years. How would you compare current celebrities with the people you started out with in your career?
Sounds like fun doesn't it?
Do you get the feeling a few home truths are on the way?
Brace yourself!
Click the discussion bar below to leave your views...
Selena x
I'll be here daily with all the news from the house but don't forget to join me LIVE from 9pm tonight for the eviction. Who goes? As always I'll be giving my views but what I really want to know is what you think. See you there!

Follow our Live Tweets...
Click to join MSN Entertainment on Facebook
Check out the MSN Big Brother special...

Selena Ledgerton
MSN Reality
Images (C) Channel 5
Selena Ledgerton

Selena is MSN TV's dedicated reality TV blogger. From X Factor to Big Brother, Selena gives you live updates throughout the shows, plus news and views during the week.
Are you shocked Made In Chelsea won a Bafta?
Thanks for being one of the first people to vote. Results will be available soon. Check for results
Yes - Made In Chelsea is rubbish

196 votes

No - Made In Chelsea is entertaining

32 votes
Total Responses: 228
Not scientifically valid. Results are updated every minute.