Celebrity Big Brother: Jasmine Lennard interview
We spoke to the first Celebrity Big Brother evictee about speaking her mind and 'skanky girls'...
Jasmine Lennard may have been evicted from the Celebrity Big Brother house but she made no apologies about her behaviour. Her time was all about telling it like it is and her interview was no different. Brace yourself!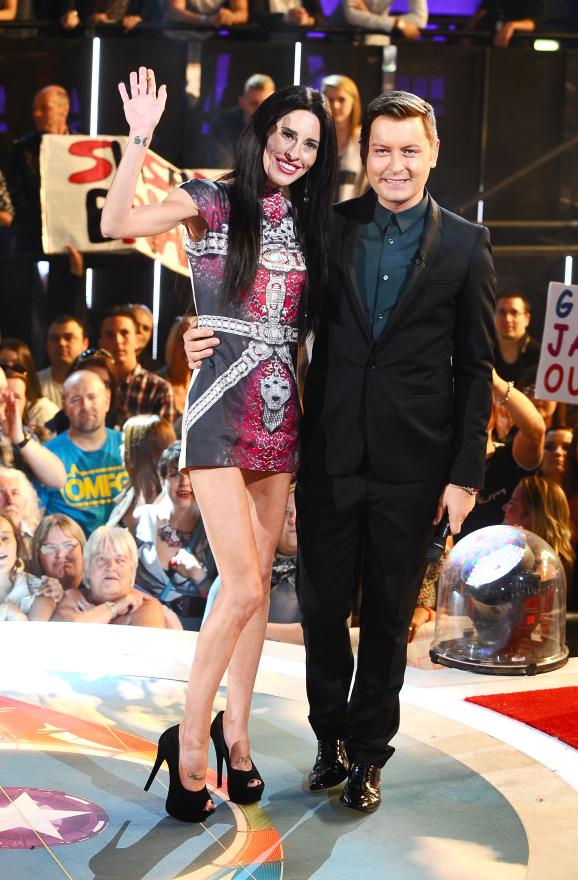 Now you've escaped the house, how do you feel about your time there?
I'm absolutely stunned about how the story has been written. I think the show is genius and hysterically funny. I'm taking it all with a pinch of salt and I hope I've entertained everybody.

So what really happened with you and Rhian?
The reality was that when I walked into the house I deliberately tried not to be intimidating to her at all. I was like a big sister to her but they didn't show any of that. On that night she realised that people may be seeing her as this kid. She was having an emotional night and I went to her bed... I realised very quickly that she was being manipulating. I knew she was going to burst into tears, I saw exactly what she was doing. She wasn't genuinely feeling anything she was saying at that moment and I ran from the situation. She deliberately said that I was intimidating her and I left as I knew she was trying to put me in a bad light.
You said that Simon Cowell was the love of your life. Do you think you could get back together?
I can't predict the future. We have a strong solid friendship that means the world to me. We care about each other very much and that's the bottom line. I don't think I'll ever have a conventional relationship but neither will he.

Were you upset about not being able to talk about it because of the injunction?
Yes, I think it's terrible that you have to have an enormous amount of money to be able to speak the truth. It was put in place years ago and it wasn't in a bad way. When you have a lot of money or power, people are there to protect you and it was them not him. We have continued our friendship.

When did you last see Simon?
I can't answer that.

Are you surprised that Danica and Lorenzo have been flirting?
No one saw it. As far as anyone was concerned it was Danica and Mike and me and Lorenzo but I'll look forward to watching it. It's a pantomime but it's a brilliant one... I'd rather be a b*tch than be the dumb-dumb or the gold digger. (Ouch!)

Were you disappointed to be nominated?
100%, it was a tragedy. I hadn't mentioned once that I missed my child, I did but I hadn't said. I was told that that's a line that people use as an excuse for nominating you and that's what happened. But I'm pleased it happened, my son is my life... I wanted to show that I'm a great mum, clear things up about past relationships and entertain people and I feel like I've done that.
Speaking of being a mother, Julie was a bit of a mother to you... do you think she was sincere?
I think that she was sincerely insincere. I think she's a phenomenal actress who has played me. If I saw her I would have to shake her hand but it's like being stabbed in the back by your nanna. She's a wonderful b*tch but do I still like her after all this, I'd have to say yes.
I know I've been made to look the villain but I think I've played the villain well.

Who would you like to see after the show?
Everyone is welcome at my dinner table apart from Danica and Rhian.

Who would you like to win?
I would like Samantha to win or Lorenzo.

What do you think of the housemates hiding the knives and being scared of you?
I didn't feel that at all. I was intimidated by a few people in there. I felt intimidated by Danica at times and Harvey when he'd had a drink in him. I mean come on... do you really believe that that girl who takes her clothes off for a living, who's been in some of the roughest bars in Manchester and taken Jordan on. Do you really think she's intimidated by me. She should get a medal for her acting!

Why did you call Danica a prostitute during your time in the house?
I don't know if you've seen her website but she said she wants a multi-gym on it. What is she going to do in return for that? I say it like I see it and I'm quite sure I'm not wrong.
Do you agree with Jasmine about Danica?
Do you think she should have been the first to leave and who's next for the chop?
Click the discussion bar below to leave your views...
Selena x
I'll be here daily with all the news from the house but don't forget to join me LIVE on Friday for the next eviction. Who goes? As always I'll be giving my views but what I really want to know is what you think. See you there!

Follow our Live Tweets...
Click to join MSN Entertainment on Facebook
Check out the MSN Big Brother special...

Selena Ledgerton
MSN Reality
Images (C) Channel 5
I've seen this idiot on other shows, the hair's longer & her tongue's the same  If not longer & it is. Her problems: 1) Wants to be famous. 2) Calls others prostitutes, golddiggers, etc. yet has an "affair" with a man double her age (who'se rich, powerful &  in the media spotlight constantly) & is "gagged " for it. On that how's it an affair if she & he's unmarried? 3) Knew the other two girls were far prettier than her, that's why she hated them & didn't she show it!  4) Is only 27 yet looks like a wreck & acts like one too! 5) Has no respect for others. 6) Her & her sisters are named after her dad's misstresses, no wonder she's got issues! 7) She moans "no one stays for weetabix!" Well  watch your antics on t.v. in all you've done so far & realise you're a bitter & nasty person. A truly poor excuse of a human being, sad but true! An adult brat if ever there was one!
Are you sure you want to delete this comment?
Selena Ledgerton

Selena is MSN TV's dedicated reality TV blogger. From X Factor to Big Brother, Selena gives you live updates throughout the shows, plus news and views during the week.
Are you shocked Made In Chelsea won a Bafta?
Thanks for being one of the first people to vote. Results will be available soon. Check for results
Yes - Made In Chelsea is rubbish

312 votes

No - Made In Chelsea is entertaining

51 votes
Total Responses: 363
Not scientifically valid. Results are updated every minute.