Celebrity Big Brother: Jasmine slams Rhian over Ashley's crush
All the latest news and gossip from the Celebrity Big Brother house...
We're four days in and the honeymoon period is well and truly over. The masks are slipping and the housemates real feelings are rising to the surface. Last night Ashley revealed all about his secret crush but Rhian didn't reciprocate and the aftermath caused uproar in the house.
It all started when Ashley confessed his feelings to Rhian.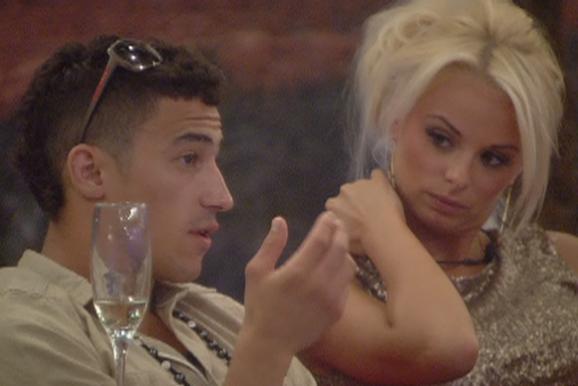 Initally it was all rather sweet as the Olympian revealed he had a soft spot for the page 3 stunner, unfortunately Rhian revealed that she is off the market and wasn't in a position to persue a relationship with anyone.

Ashley was visibly hurt and as the night went on, it was obvious that he couldn't take the rejection. Ashley approached Rhian and as the pair whispered during the party, Rhian did not look impressed.
Later she told her pals that Ashley said she was 'stupid' for not realising that he fancied her and that her stupidity would jeopardise her position in the House come eviction. Needless to say, word spread like wild fire and an argument erupted as Ashley and Rhian fought their corners.

The row came to a head in the garden as Rhian was furious over Ashley's 'stupid' remark.  Ashley accused Rhian of attention seeking saying she wanted to get everyone else involved and she flipped.

Inside the house the remaining housemates began to feel a little sorry for Ashley as his behaviour was obviously down to his age and the rejection. Jasmine disagreed and sided with Ashley, she told Rhian that she was acting like a 'b*tch' by not letting the argument go. "You should focus on the fact that it's a compliment."

Finally the argument fizzled out and the pair spent the night apart. The housemates continued to whisper about it, so I get the feeling that this isn't over... stay tuned!
Click the discussion bar below to leave your views...
Selena x
I'll be here daily with rolling news from the house so be sure to pop back. Don't forget to join me LIVE for every eviction on our live blog, it doesn't get more 'real-time' - you'll have a ball, trust me.
Click here for our who's who gallery from launch night...
Join our Big Brother MSN page on Facebook here...
Become a fan of MSN Reality TV Blogs on Facebook
Follow our Live Tweets...
Check out the MSN Big Brother special...

Selena Ledgerton
MSN Reality
Images (C) Channel 5
Selena Ledgerton

Selena is MSN TV's dedicated reality TV blogger. From X Factor to Big Brother, Selena gives you live updates throughout the shows, plus news and views during the week.
Are you shocked Made In Chelsea won a Bafta?
Thanks for being one of the first people to vote. Results will be available soon. Check for results
Yes - Made In Chelsea is rubbish

296 votes

No - Made In Chelsea is entertaining

47 votes
Total Responses: 343
Not scientifically valid. Results are updated every minute.